Restaurant and bar openings: January 23–29, 2014
Bunna Cafe, Vino Levantino and more roll out in NYC.
By Christina Izzo Tue Jan 21 2014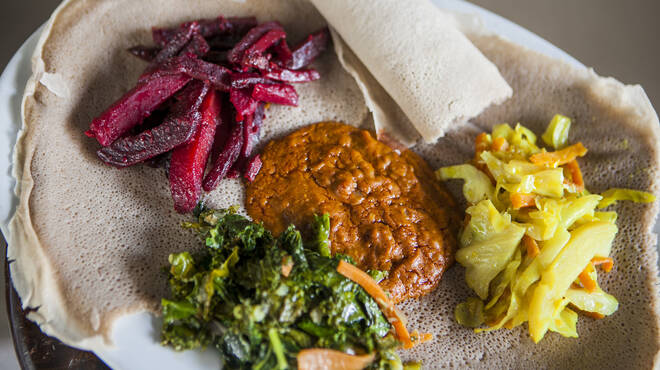 Combination plate at Bunna Cafe Photograph: Erica Gannett
The following venues are expected to open by January 29th. Always call ahead, as openings can be delayed.
Bar Bordeaux In partnership with the Bordeaux Wine Council, Laurent Manrique focuses on all things French for this bar next to his midtown brasserie, Millesime. Spotlighting the 8,000 châteaus of the famed port city, the 30-seat bar—decorated with crystal chandeliers, printed armchairs and Pop Art paintings of Brigitte Bardot—serves 16 reds, whites and rosés by the glass and more than 50 bottle, along with tasting flights. Small bites include deviled eggs, foie gras, and oysters with sausage and salt cod. 92 Madison Ave at 29th St (212-889-7100)

Bunna Cafe When shrimp-and-grits staple Mama Joy's bowed out of Bushwick, it made way for a restaurant with roots touching even farther south: Ethiopia. Founded by Sam Saverance and Ethiopian expat Liyuw Ayalew, the wandering vegan pop-up—running in North Brooklyn since 2011—hosted African lunches out of Mama's vacant space starting in July 2013 and has since moved in permanently. The brick-walled joint honors Ethiopia—widely hailed as the birthplace of coffee—with traditional coffee ceremonies and live Abyssinian music. Java is made in a jebena pot and infused with cloves and cardamom, served with snacks like ambasha bread or cooked barley. Those looking for heartier options can dig into vegetarian plates, served on a bed of injera bread, like misir wot (red lentils in berbere sauce), keysir selata (sautéed and chilled beets) and shiro (garlicky ground chickpeas). Along with pureed juices (mango-avocado-papaya), beverages include Ethiopian beers (Castel, Harar), tej (honey wine) and cocktails, such as a whiskey-spiked Shai spiced tea. 1084 Flushing Ave between Irving and Knickerbocker Aves, Bushwick, Brooklyn (347-295-2227)

Vino Levantino The Turks & Frogs team is behind this Upper West Side wine bar, named after the culturally diverse Levant region of the Ottoman Empire. The white-marble bar—set beneath chandeliers and mounted wine barrels—highlights 45 varieties of vino, ranging from Italian to Israeli. Light bites include roasted eggplant with ricotta and pomegranate, feta-stuffed burekas (phyllo-dough pastries), and lamb chops with baby arugula and lime sauce. 210 W 94th St between Amsterdam Ave and Broadway (212-280-3333)

The Wayfarer Located in the lobby of the Quin Hotel, this bi-level seafood grill revives the wood-and-leather look of Gotham's old-line gentlemen's clubs. In the downstairs grand parlor, find a 3,700-square-foot dining room featuring dishes from Braden Reardon (BLT Steak), including raw-bar items (Jonah crab claws, littleneck clams), Ecuadoran prawns with lime salsa, and Belgian Dover sole with caper-and-parsley beurre monté. Evelyn Drinkery cofounder Christian Sanders is behind the cocktail list, offering drinks like the Columbus Side Car (raisin-infused Louis Royer Force 53, fennel agave, apricot liqueur and Black Mission fig bitters) and the Man About Town (Woodford Reserve, green chartreuse, Carpano Antica, Scotch rinse). 101 W 57th St at Sixth Ave (212-691-0030)
You might also like
---