Family Happiness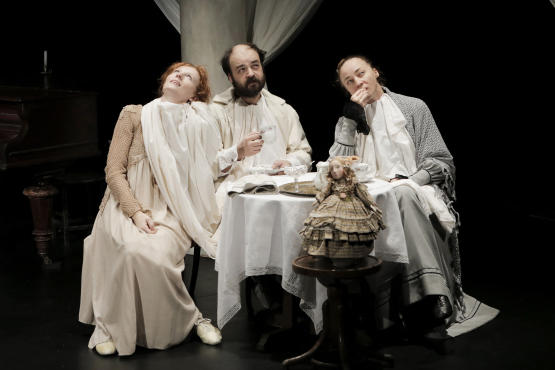 Photograph: Jennifer Taylor
Time Out rating:
<strong>Rating: </strong><span class='lf-avgRating'>3</span>/5
Time Out says
Posted: Tue Jan 22 2013
Theater review by Helen Shaw. Baryshnikov Arts Center. Adapted and directed by Piotr Fomenko. With Ksenia Kutepova, Alexey Kolubkov. 2hrs 30mins. One intermission.
Piotr Fomenko's Family Happiness, an adaptation of Leo Tolstoy's 1859 novella, has an odd push-me-pull-you effect. For much of its two and a half hours, I found myself bristling at its gender dynamics, annoyed by a scatty heroine whose "simplicity" is meant to be synonymous with charm. It isn't just the 19th-century mores that feel archaic; the 21st-century production does too. Yet this Russian-language anti–love story also contains some very real charms—and it's worth noting that the late Fomenko (who passed away last year) was one of Russia's master directors. One should seize the chance to experience his particular blend of comic business, the lazzi he has devised for his romantic commedia.
Tolstoy's tale of a May-December courtship between 17-year-old Masha (Kutepova) and 36-year-old Sergei (Kolubkov) becomes here a dreamy portrait of disappointed hopes. Lit by a single candle, Masha spins on a chair underneath a fluttering black veil, thinking of her past. In flashbacks to her teenagehood, she races lightly around the set—skittish, half on tiptoe. Her love for the reluctant, much older friend of the family (they woo with dolls and giggles and tumbling off ladders) sours, of course, once reality and boredom set in. Masha's flightiness looks very different when the couple moves to Petersburg, and we watch—and shudder—as she realizes her need for her husband's sobriety and guidance. Originally devised in 2000, Happiness is notable mainly for Fomenko's whimsical staging moments: a trio using one sheet as a napkin, a musical interlude in which Masha sings to European admirers. These remain as unrushed, frequently sweet interludes. Yet the work has staled. Twelve years of repertory performance have left some of its effervescence strangely flat—perhaps even the performers have grown tired of the old child-bride routine.—Helen Shaw
Users say
<strong>Rating: </strong><span class='lf-avgRating'>0</span>/5
Near Baryshnikov Arts Center
Also on at Baryshnikov Arts Center