Ndebele Funeral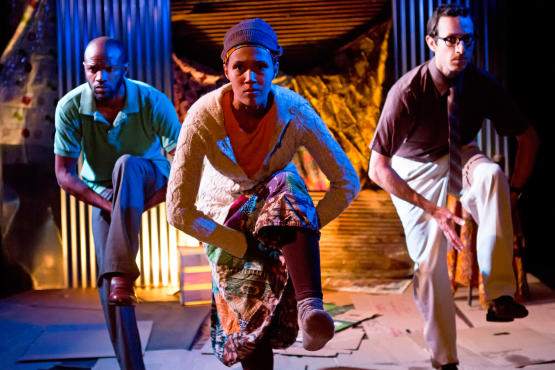 Ndebele Funeral Photograph: Hunter Canning
Time Out rating:
<strong>Rating: </strong>4/5
User ratings:
<strong>Rating: </strong>5/5
Rate this
Time Out says
Thu Aug 15 2013
Between scenes in the penetrating Ndebele Funeral, characters sometimes break into gumboot dancing. This rapid-fire storm of stomping, clapping and leg-slapping began as an empowering release for South African miners, and it's also fitting for Zoey Martinson's three characters and their thwarted postapartheid lives. Daweti (Martinson), who's dying of AIDS in a Soweto shack, has given up on life. Amid a home strewn with garbage, beer bottles and cigarettes, this former aspiring lawyer has taken materials provided by the government—intended to replace her destroyed door—and used them to build her coffin, much to the horror of her old college friend Thabo (Yusef Miller) and the agitation of ineffectual white bureaucrat Jan (Jonathan David Martin). Martinson comes up short in her resolution, reaching for a bold finale that turns melodramatic; it's too much for a 75-minute show that till then had been treading a higher road. Still, Awoye Timpo's intimate production keeps the audience on edge, and it's a very fine showcase for her cast, especially the soulful Miller. The playwright slathers on the symbolism, mixing in potent bits of magical realism, but her characters resonate with the specific pain of unfulfilled dreams and promises.—Diane Snyder
Click here for full TONY coverage of the 2013 New York International Fringe Festival.
Write your own review