We're Gonna Die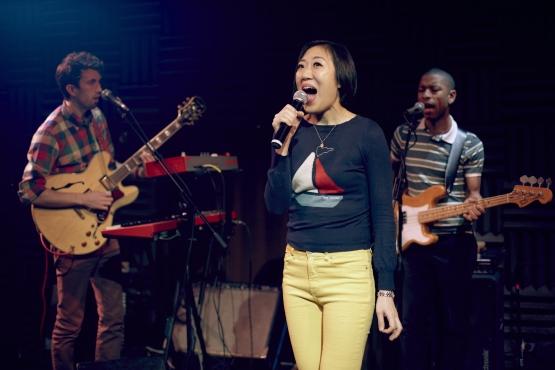 Young Jean Lee and Future Wife in We're Gonna Die Photograph: Blaine Davis
Time Out rating:
<strong>Rating: </strong><span class='lf-avgRating'>4</span>/5
User ratings:
<strong>Rating: </strong><span class='lf-avgRating'>5</span>/5
Rate this
Time Out says
Posted: Mon Aug 27 2012
We're Gonna Die. By Young Jean Lee and Future Wife. Dir. Paul Lazar. With Lee. 50mins.
I don't care how devoutly you dedicate yourself to dialectical flexibility: Young Jean Lee will give you whiplash. Her ability to stake out aesthetic territory and then abruptly abandon it makes her unpredictable; her tendency to excel at each new genre makes her terrifying. In the enormously touching cabaret-style We're Gonna Die, Lee jettisons everything that has armored this au courant young playwright against the world. She abandons archness, cynicism and metaphor; she comes out from behind the writer-director's anonymity and places herself center stage. After a brisk career of provocative, avant-garde work (The Shipment and Lear) Lee does the unexpected again: She spins 180 degrees to embrace convention, naked autobiography and the unironic pop song.
Lee's purpose-built band Future Wife backs her as she tells us stories about childhood friendships, romantic bustups and family tragedies from the philosophically absurd (a grandmother's handed-down hymn to aging) to the brutally painful (her father's illness and death). Each anecdote sets up a song, and each song imparts some simple but useful sentiment to battle despair. In someone else, would it be so astonishing, this simple foray into sincerity? Or would there be something hokey about the pragmatism, the wish to sing catchy, rock-y songs she describes as, "About what to do if you're in pain...not that I hope you're in pain"? Perhaps. Yet Lee's palpable nervousness—she's a natural storyteller but performance comes less easily—serrates the experience so it saws through our natural detachment. Director Paul Lazar doesn't even let her hide behind a mic stand, and Lee purchases our hearts with her bravery's own coin.—Helen Shaw
Users say
<strong>Rating: </strong><span class='lf-avgRating'>0</span>/5