Bite my style
Three fashion victims ask their well-heeled friends to help them find a new look.
By Photographs by Michael Kirby Tue Sep 2 2008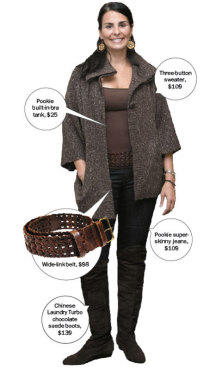 RECOMMENDED: See all of this year's fall fashion content
Before
CASE 1: THE NEW MOM
Caroline Denunzio39, Morningside Heights; visiting nurse
"The baby is five months old and I'm still having a hard time finding clothes. The only pants that fit me are my maternity jeans. I'm wearing a ton of black and brown because they're dark and slimming. I'm just really lucky that higher waists are in style."
STYLISH FRIEND
Heidee Tabudlong, 33, Harlem; emergency-room nurse
"Caroline has a nice style, but it's conservative and stuck in the '90s. She's afraid to try new things, look sexy and show a little skin."
Stop No. 1
Pookie & Sebastian
Heidee picks a pair of skinny jeans, which causes Caroline to put up a fight right from the start. Once she's in the complete outfit, though, everyone agrees she looks great. "It's flattering to her figure, opens her face up and complements her skin tone," says Heidee. Caroline likes the look and loves the fact that "the boots make my legs look longer and slimmer than they really are." 1069 Third Ave at 63rd St (212-991-9636, pookieandsebastian.com)
CASE 2: THE SCHLUBBY HUSBAND | CASE 3: THE WORKING GIRL
---
FALL FASHION '08:
What fashion archetype are you? | Bite my style | What's mine is yours+1 = style | It all goes together | Who wears the trou?