Our nominees for best Oscars viewing parties
Whether you're gunning for Gravity or holding your breath for Her, here's where to catch the glitzy dresses and teary acceptance speeches
By Lucy Cohen Blatter Wed Feb 19 2014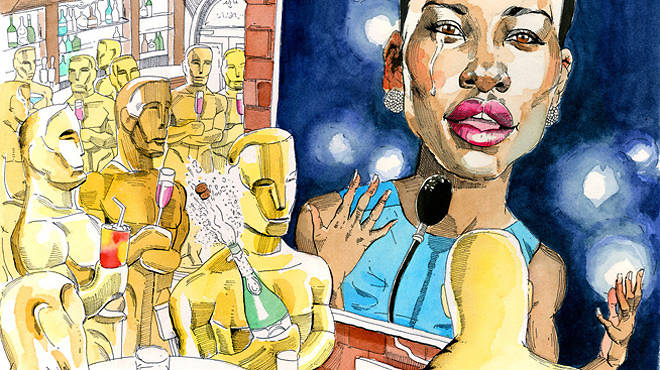 Illustration: Lupita Nyong'o

You may not be quite famous enough to make it to the Dolby Theatre for the Oscars on Sunday 2, but that doesn't mean you have to watch the show while eating takeout in your sweatpants, either. Get gussied up and head to one of these Academy Awards screening parties to soak up the glamour.

RECOMMENDED: See all Oscars coverage
Williamsburg's premier movie house and eatery is rolling out a red carpet for photo ops, which means this is the place to rock your plunging-neckline dress à la Amy Adams in American Hustle. Your ticket includes a $25 food-and-beverage voucher so you can play along with a drinking game throughout the telecast, or make use of themed specials like the August: Osage County–inspired "Eat the F*cking Fish" (cornmeal-battered catfish, $13) and vodka-infused sweet tea ($8).
Ellen DeGeneres isn't the only hardworking host on duty come Oscar Sunday. The king of one-line zingers, Murray Hill, is emceeing his 13th annual gala, complete with celebrity impersonations, movie spoofs, trivia, interviews from a fake red carpet and hilarious running commentary. Think the glitterati have all the fun? Here, guests compete for best- and worst-dressed (the latter is arguably still preferable to the "Three Sheets to the Wind" award for most intoxicated Oscar attendee).
Prove your movie-geek mettle at this pregame trivia show; prizes for the winning team include vouchers for On Location TV and movie tours, sweet treats and more. After you've won over the crowd with your smarts, take it easy and watch the action unfold on two large screens. But you're not off the hook for long: During the ad breaks, quizmaster and TONY copy chief Noah Tarnow will test individuals on their IMDb knowledge.
---
---
Here are the ten New York experiences you simply can't miss.
Don't fret, penny-pincher—each of these fun cheap date ideas will cost you $30 or less.
Tired of swamped tourist traps, huh? Check out these alternative things to do in New York.
Find more popular Things to Do features