Public eye: Kayon Watson, 27
New York street interviews: Stories from the sidewalk as told by real New Yorkers about their lives in the city that never sleeps.
By Kate Lowenstein Wed Sep 18 2013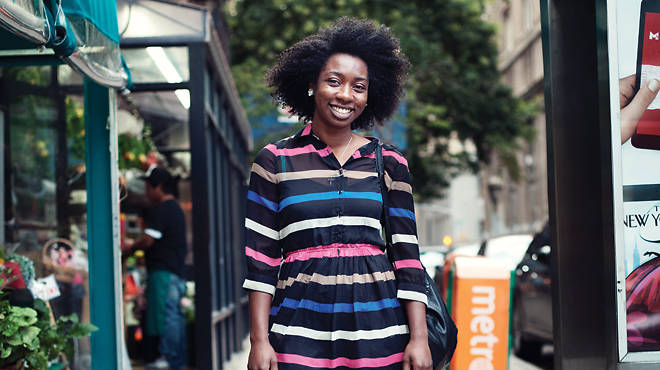 Kayon Watson, 27 Photograph: Allison Michael Orenstein
16th St at Third Ave

What are you up to? I'm on my way to Bible study.
Do you hate gay people? Noo nooo nooooo. We're all human, and I'm called to love you the way I love myself. My perspective is not about what divides us, but what we all share together. If that's your friend, then you love your friend, whether you agree with your friend or not. Or your family.
Are young Christians breaking away from the socially conservative Christian pack? I think now the twentysomething Christian is focused on loving God, loving people. That's the basis of everything you should be doing. In Bible study, we mostly talk about how exciting our dreams are and how we want to see each other reach our dreams.
What are your dreams? I have a lot of dreams. Right now I'm the director of social impact at a handbag line called Chiyome.
What's the social impact part? We source the material from local minority businesses; most of the leather is vegetable-tanned, and we hire and train survivors of human trafficking in New York.
Tell me about the human trafficking situation here. JFK is the fifth-largest entry point for trafficking in the world, and New York City is the second-largest city of consumption—purchasing and using people who have been trafficked.
For sex? Yes, and also labor. People might get tricked into thinking they have a job here, and they end up slaving away at a restaurant or massage parlor. Like, 1,300 people a month are flown in and out of New York for those purposes. But there are really good organizations in the city. They're heroes, these people. They help these women get their lives back and become independent again.
And you guys do too. Yeah, we're an employment resource for them.
Are the bags available? The bags the ladies are making are still in progress—we just launched that branch of the company this summer, so they'll be available in December. Till then, you can buy the regular bags online.
So are you going to charge, like, $5,000 for them so they can have It-bag status? Nah, we'll keep the prices in line with what we're already doing—in the $200–$500 range. We want everyone to carry them, not just celebrities.
More from Kayon
"In Yoruba, a Nigerian tribal language, Kayon means 'God has heard,' and in Persian it means 'being.'"
You might also like
---
Users say
Keep up the good work Kayon
Events calendar for New York City
Take a break from Christmas shopping and check out...

The maxim "a little goes a long way" is not one Dy...

This annual holiday bazaar, run by the people behi...
65

more events »
Time Out videos
---
---
@TimeOutNewYork
Subscribe to Time Out New York on Spotify for playlists and recommendations from our Music team.


Check out New York's best restaurants, hottest street style, cool apartments and more.