Rev up your fitness regime
By Lisa Ritchie Tue Jan 11 2011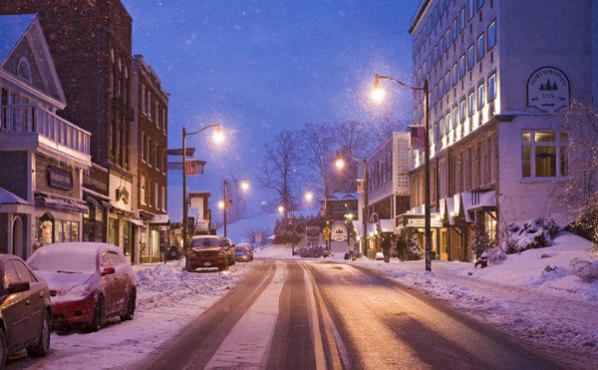 Much of Lake Placid's aprs-ski action is found on and around Main Street. Photograph: Dave Schmidt
Instead of sweating it out in a gym, play it cool like a gold-medal athlete on an exhilarating winter-sports trip to New York's Olympic village, Lake Placid. The state-run facilities (whiteface.com) include ice-skating (indoor or outdoor on the 400-meter Olympic speedskating oval; $8, children and seniors $5, skate rental $3) and more than 30 miles of woodland cross-country ski trails that mix gentle terrain with challenging up- and downhill courses ("explore" rates, including trail pass and equipment rental, start at $38 for one day). In contrast to gym staples like stationary biking, cross-country skiing works your entire body. "Not only are you supporting your weight—you're not sitting on a seat—but you're also using your upper body and your core strength," explains ski instructor and trail groomer Rick Costanza. "Your abdomen, your shoulders, your arms—the whole thing is working, and out in the cold you burn quite a few calories just to stay warm."
RECOMMENDED: Fitness guide to NYC
Want more of a challenge? Try your hand at biathlon, which combines cross-country skiing with target shooting ($55 including lesson, trail pass and equipment rental). "The beauty of biathlon is the contrast: You have the very aggressive nature of cross-country skiing, which is one of the most physically demanding sports, then all of a sudden you have to stop and become totally focused and try to shoot," says Costanza, who runs the biathlon program at the Olympic Sports Complex. "Straight shooting with a resting heart rate is hard enough, but when you're trying to shoot fast and still hit your targets and get out of there and keep skiing, it's a whole new adventure."
When you've worked up a thirst, head to the Lake Placid Pub & Brewery (813 Mirror Lake Dr between Parkside Dr and Searle Ln; 518-523-3813, ubuale.com) alongside Mirror Lake, where most of the aprs-ski action is clustered. The award-winning house Ubu Ale is also a key ingredient in the pub's signature beef stew and chili. Accommodations run the gamut from unironically retro motels to the luxurious Lake Placid Lodge (lakeplacidlodge.com). If you prefer a contemporary take on Adirondack style, Anthony and Andrea Dawson-Ellis offer design-mag-worthy apartments in their renovated 1905 Haus on Mirror Lake (518-523-3005, thehauslp.com); rates start at $155.