Your ultimate guide to Singapore
Discover the best Singapore events, things to do, restaurants, music, film, art, theatre, nightlife and more...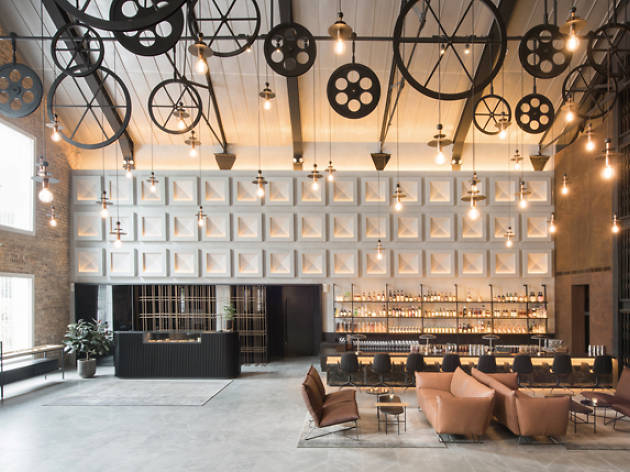 New hotel: The Warehouse Hotel
In an erstwhile warehouse that sits along the old Straits of Malacca trade route and former epicentre of Singapore's red-light district, the Warehouse Hotel whispers secrets of its illicit past: a spice trading hub at one point, an illegal distillery at another, even a reigning discotheque in the '80s. But now, Lo and Behold – the group behind the 37-room boutique space – has taken the building's 120-year history in its hands and spun it on the head. We take a peek inside. Poolside lounging The hotel's plush lounge faces the lobby bar, so if you'd rather relax away from the soft thumping beats and gentle chatter, the rooftop infinity pool – fitted with salmon pink tiles, no less – offers the reprieve you desire. Admire local artist Dawn Ang's site-specific installation fronting the pool, or kick back in one of the beanbags or deck beds while soaking in views of the Singapore River. Rooms with a view Mostly, anyway. Who needs windows when your 27-sq-m Warehouse Sanctuary (from $265) looks this good? Wooden panels, sleek beams, a custom pillow top king mattress with finishing touches by MatterPrints, and a cheeky, open concept standing shower make it seductively easy to linger in your room all day. For a loft-style upgrade, book out the River View Suite (from $495). As its name suggests, the room overlooks the Singapore River from the uppermost floor of the triple-peaked heritage hotel. Natural light is key in the roomy 57-sq-m space that's set with earthy tones, raise
Prep for Chinese New Year
What's on in Singapore this week
Metallica
The Grammy award-winning heavy metal rockers are set to return to our shores after their sell-out show in 2013. This time, they're storming the stage of Singapore Indoor Stadium to wreak havoc with their face-melting anthems, including classics like 'Enter Sandman' and 'Master of Puppets', alongside songs from their latest studio album Hardwired...To Self-Destruct. Having cemented their name in rock 'n' roll history, you can bet it's gonna be nothing less than an explosive show.
On Sharks and Humanity
This travelling art exhibition marks the launch of Parkview Museum, a new art space in Parkview Square. Highlighting environmental issues such as shark protection and ocean conservation, the exhibition also explores the links between sharks, humans and the environment. Expect over 30 artworks from contemporary artists all over the world, including Germany, Singapore and Hong Kong.
Intersection
A poem written on a ship and imprisoned in a bottle, laser-cut letters displayed in a cabinet of curiousities, and drawings hand-burnt with incense sticks: memories and drawings become one in a collaboration between poet Marc Nair and visual artist Nicola Anthony, whose works trace the architecture of memory through experimental forms.The exhibition will be open from Jan 11-Feb 11, and from Feb 21-Mar 5.
State of Motion 2017: Through Stranger Eyes
Singapore's far more than a shiny tourist destination, as the Asian Film Archive sets out to prove. This tour takes you across five locations around the city where films were shot – you'll also find at each stop an artwork that responds to both the film and the site. Also taking place are screenings, talks, workshops and exhibitions.
LOCK ROUTE: Public Art @ Gillman Barracks
Inspired by Gillman Barracks' address and the 24-km march route all army recruits have to go through, LOCK ROUTE features 16 installations, murals and sculptures. Artists featured include China's Chen Tianzhuo, Vietnam's Oanh Phi Phi, Cleon Peterson of America and Singapore's very own Gerald Leow, Sheryo+Yok, Acit Salbini and Stephanie Jane Burt.
A Seal of Unity: A Double Happiness
Belgian artist Phil Akashi's first solo exhibition features his latest trilogy Rings of Fire, which tackles the issue of marriage as an institution and a concept. Akashi experiments with a vast range of mediums to create his pieces, often dealing with contemporary topics through a mix of traditional art and modern techniques.
See more events in Singapore this week
101 things to do in Singapore