Adelaide's favourite local late-night takeaway snacks
Just because you're up in the small hours, doesn't mean your snack options should be restricted to the few usual suspects.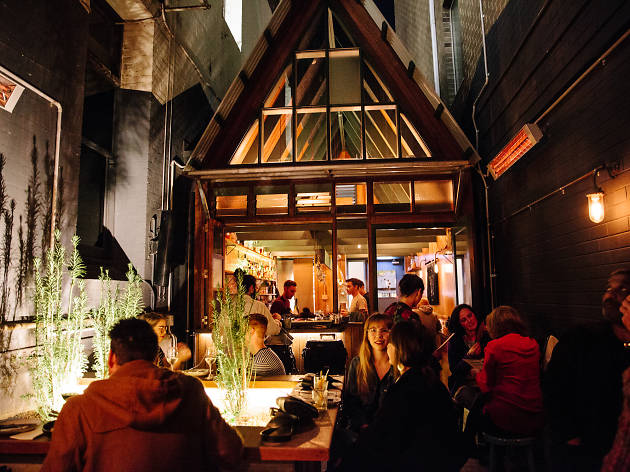 Just because you're up in the small hours, doesn't mean your snack options should be restricted to the few usual suspects. These nocturnal eateries are here for you when you need them most, and what's more, you can pay with card for the smallest of purchases.
1
If happy, numerous staff are an indication of a successful foodie business, then this late-opening Thai-Vietnamese joint on North Adelaide's main drag is a winner. The long, slender room is decked-out in packing-crate chic: blonde-wood partitions, industrial lighting, naïve 1950s pastels and fonts…it's Miami milkbar meets Saigon suitcase. Food is fast and fresh: netted spring rolls with carrot, vermicelli and rich chilli mayo; or a 'very exciting' Thai beef salad with gritty Thai eggplant, lemongrass and mint. These are substantial takeaway snacks, or you can sit down and make a meal of them.
Read more
2
How do you distil all of Asia into just one bar/restaurant? The reiteratively named Gondola Gondola gives it a good crack, with fab street-eats and drinks from sake to Sabeco Bia Saigon lager and King Car Taiwanese whiskey. The fact that Gondola Gondola is on Adelaide's boozy Peel Street is further enticement: book yourself in for a long night of bar-hopping, refuelling here every few hours with some takeaway chilli-jam chicken. Or grab a table inside: with a bit of luck the slow-cooked pork ribs with honey glaze and Korean sauce will be on the specials board.
Read more
3
An innovative, late-night squeeze-in, Pink Moon Saloon is a spin-off business from Clever Little Taylor, one of Adelaide's pioneering small bars. Pink Moon is small too – a micro cabin wedged into a 4m-wide alley off Leigh Street. The woody front room is where the booze happens, flowing into a cosy courtyard, with a late-night food shack out the back. Woodfired, slow-cooked meats are the specialty – the 20-hour smoked beef brisket with cauliflower mash and black garlic jam will annul your after-work beer buzz. By the time you read this, their new takeaway deli will be open two doors down
Read more
4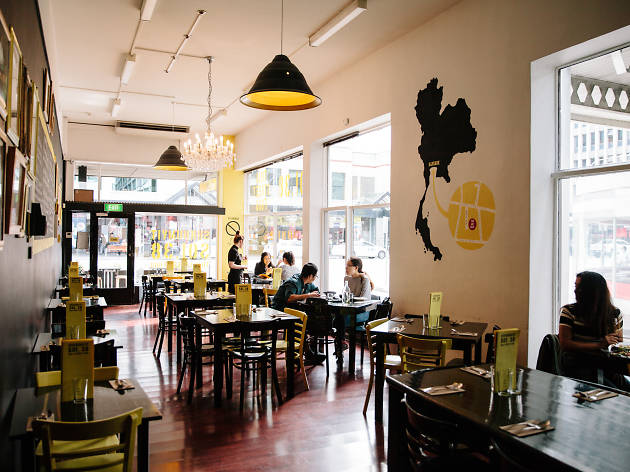 Sukhumvit Soi.38 Thai Street Food
This glowing yellow-and-black food box is anomalous in downtown Adelaide, lost in no-man's land between the nocturnal hubbub of Rundle and Hindley Streets. But shuffling between the two (follow the zombie-like crowds), there's nowhere better for an after-dark snack (try the gui chai tod– crispy chive cakes with dark soy). Takeaway office lunches are also a hit, or sit beneath the chandelier and gilt-framed paintings and slurp into a classic tom yumsoup or ahung lay moo curry (Barossa Valley pork with pineapple and ginger). 'Local, seasonal, sustainable' is the creed (we're not sure the Thai beer qualifies, but no one's complaining).