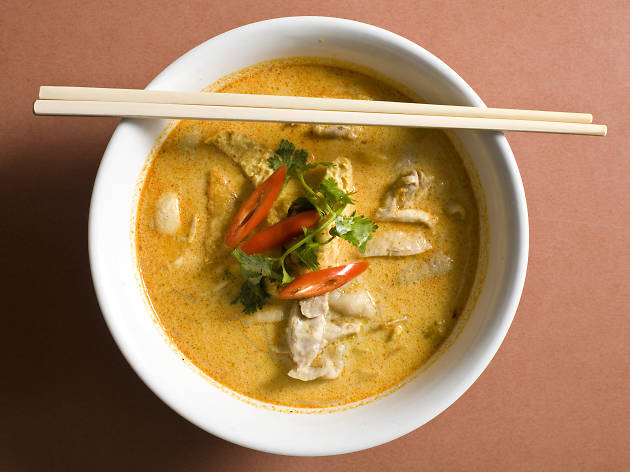 Time Out says
Friendly warning! We're working hard to be accurate. But these are unusual times, so please check that venues remain open.
It's a case of the sequel surpassing the original at this Malaysian soup house where the laksas are cheap and generously piled with seafood
The original Laksa House in the food court at Adelaide's Central Market is still there, busily serving up vats of coconutty broth. But last time we visited the service was deeply dismissive and the laksa sadly lacking in substance and venom: a limp approximation at best. That dark day prompted us to sail our soup-ship beyond the shores of our usual supplier, in search of a new source.
Suggestions from cityside friends came thick and fast (like laksa itself should), but we opted to try Laksa House 2 on Flinders Street. Perhaps our disappointment with the parent venue could be assuaged by a visit to the offspring.
There's not much to see here from the outside: a couple of tiled steps leading up into a shoebox nook at the base of a chunky 1930s downtown office building. Glossy, laminated pics of laksa bowls take up most of the window space. Inside it's similarly style-free: a tight layout of little square tables, luminous pink plastic milkshake cups crammed with chopsticks, packing crates stacked in a corner and a glowing drinks fridge. But we're not here for aesthetics: as long as the soup hits the mark, we'll be happy.
The staff behind the counter embrace our new relationship with familiar efficiency, but there's half a smile this time – still far from effusive, but as per aesthetics above, we're more concerned with what's in the bowl than what sort of day anyone is having.
We're directed to our table and barely have time to begin a conversation before our laksas arrive: steaming seafood varietals, laced with thick, battered wedges of scalefish, chunky prawns and generous quotas of calamari and sliced tofu. The red chilli surface sheen doesn't lie: the heat factor is right up there, beads of sweat emerging below our eyelids as we slurp into it. Magic!
The cook sticks his head out from behind a fly-screen door to check on proceedings: take-away customers duck in and out; excavator drivers arrive en masse from the roadworks outside; downtown suits seal the deal over hot bowls. Chatter consumes the room, the tacky in-house muzac relegated to the background.
Seafood is but one of nine (yes, nine) different laksas available here – a steamy suite that includes prawn, vegetable, vegetarian dumpling and mixed noodle versions. The tight menu also proffers Singapore noodles, Hai Nam chicken rice and sambal fried rice, with all dishes under $14. It's terrific value, and judging by the success of the laksa, terrific quality.
Details