Many of us took the opportunity of lockdowns to tackle the art of making café-quality coffee at home. Whether it be showing off your home barista skills, experimenting with alternative milks or attempting to create that café-worthy coffee at home, enjoying and savouring your homemade coffee can be the cornerstone of taking time out for self care. Put simply, it's a moment of mindfulness and appreciation for the smaller things in life.
But what if you prefer a non-dairy milk in your cappuccino? Happily, you don't have to sacrifice the quality of your coffee experience if you choose alternative milks such as oat milk, according to Craig Simon of Port Melbourne roasters Criteria Coffee.
"As alternative milks have become more and more popular, feedback from baristas has been addressed by brands who have worked to achieve the same qualities we're accustomed to with dairy milk," says Simon, a three-time Australian Barista Champion and coffee ambassador for De'Longhi coffee machines.
Getting the best out of oat milk does require a little bit of focus, and some practice. Here are Simon's top tips on how to get that perfect, at-home plant-based coffee.
Texture
"The main difference people notice at first with oat milk is the texture. Creating the texture of beautiful coffee milk is all about fat content and structure. That structure is achieved by capturing tiny air bubbles that you – the home barista – add as you heat the milk.
"The trick is finding just the right amount of air addition, so that your milk has enough texture and is not thin and watery – but without adding so much air that it becomes foamy."
Perfect textured oat milk should look like pouring cream when you swirl the jug after heating
Temperature
Some alternative milks are a bit more sensitive to temperature and how gently you add the air from the steamer, Simon says. "Too hot or cold and the texture isn't stable and can risk falling apart – dairy is a bit kinder when it comes to finding that perfect temperature. My best tip is to practice a bit with a great quality plant-based milk."
Australia's Own Barista Oat is new on the market but has quickly become one of the most popular brand of oat milk available at Coles. It's been specially developed for coffee made at home, so that it steams, froths and aerates to produce a luscious crema for your flat white.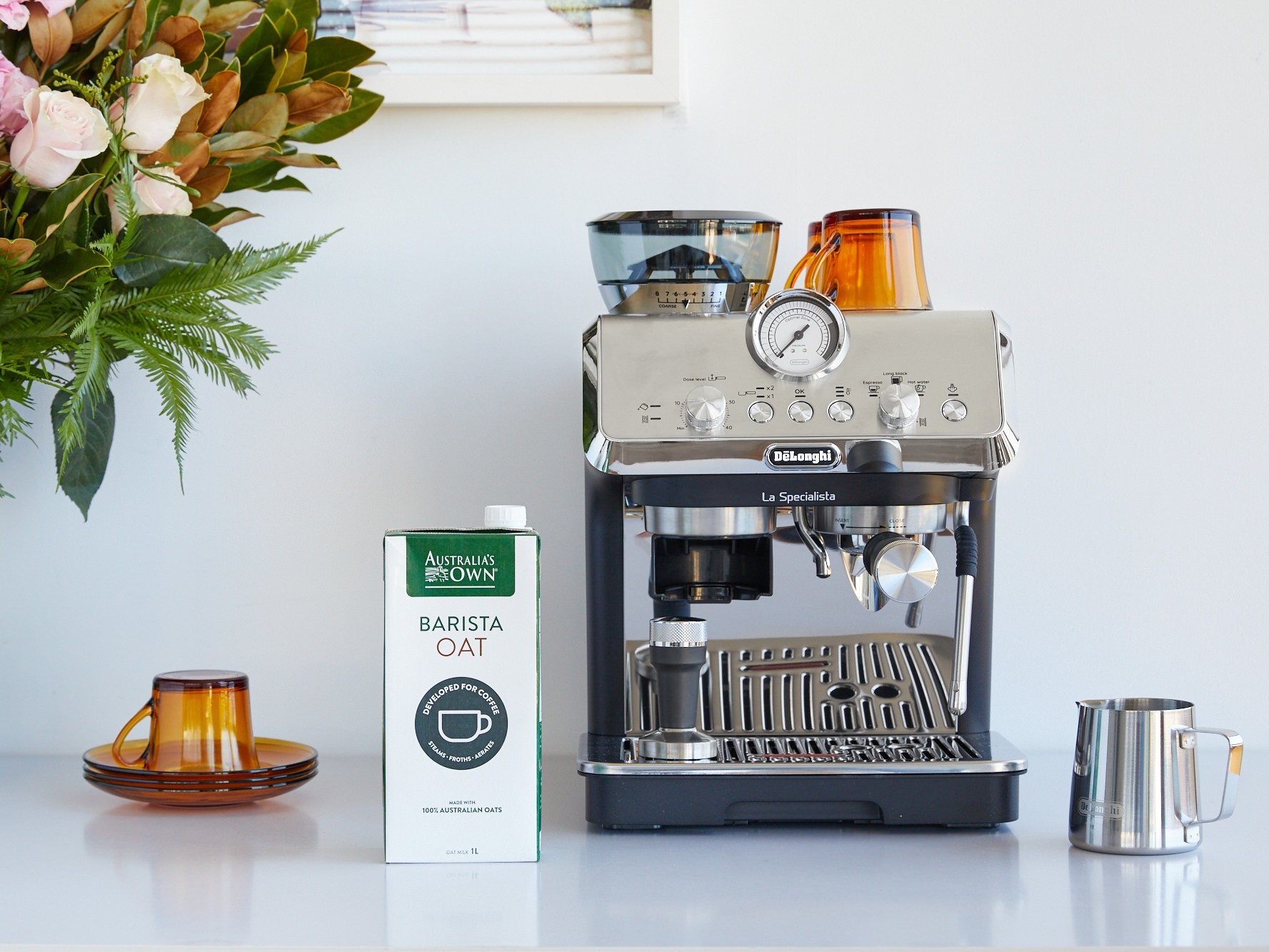 Photograph: Yasmin Mund
"Perfectly textured oat milk will have a smooth, creamy texture that has no open bubbles and will be glossy and integrated," says Simon. "It should look like pouring cream when you swirl the jug after heating. If it's too thin and watery you need to add more air. If it is separated and you have a foamy head on top of the milk (like the head on a beer), you need to add the air more gently and perhaps just a bit less.
Taste
"Lastly, as much as it's about the texture and technique of the milk, have a good think about the taste!
"That's what impressed me about Australia's Own Barista Oat. To me, the best oat milk combines harmoniously with your coffee and doesn't overpower its flavour."
So there you have it – perfectly frothed oat milk in your espresso is achievable, and will bring some of the flair of the café to those moments of time out (or time oat) at home.