The weather may have been muggy as hell on Friday, the first day of weekend one at ACL 2017, but a whole lot of sweat didn't slow down music fans from flocking to Zilker Park. To kick off the day, MISSIO delivered an energetic set to electronic fans, MUTEMATH rocked out on the Honda stage, and Valerie June (and her fabulous silver sequined pants) lit up the Tito's stage with her sweet twang. And that was all before 3pm. As the day went on, we saw the Lemon Twigs entertain with their signature high kicks, fueled up at ACL Eats with some seriously top-notch grub and took a breather in the new shaded area before gearing up for the night's headliners. Here are the best things we saw on Friday, from what-just-happened performances to stage lighting that made us feel like we were on Mars:
1. Crystal Castles and whatever they were wearing
As one festival goer said after their performance, "I didn't know whether to be scared or turned on." The electronic band from Canada was a weird, powerful, batshit crazy force at the Honda stage on Friday, especially with the enigmatic Edith Frances as lead singer (who somehow made applying lipstick seem both sexual and haunting). Even if you didn't quite know what to make of the heavy music, watching Frances writhe across the stage in a sheer blue nightgown and a stocking over her head before jumping down in front of the audience and slithering across the floor was enough to make you feel...something.
2. Mac and cheese balls at Peli Peli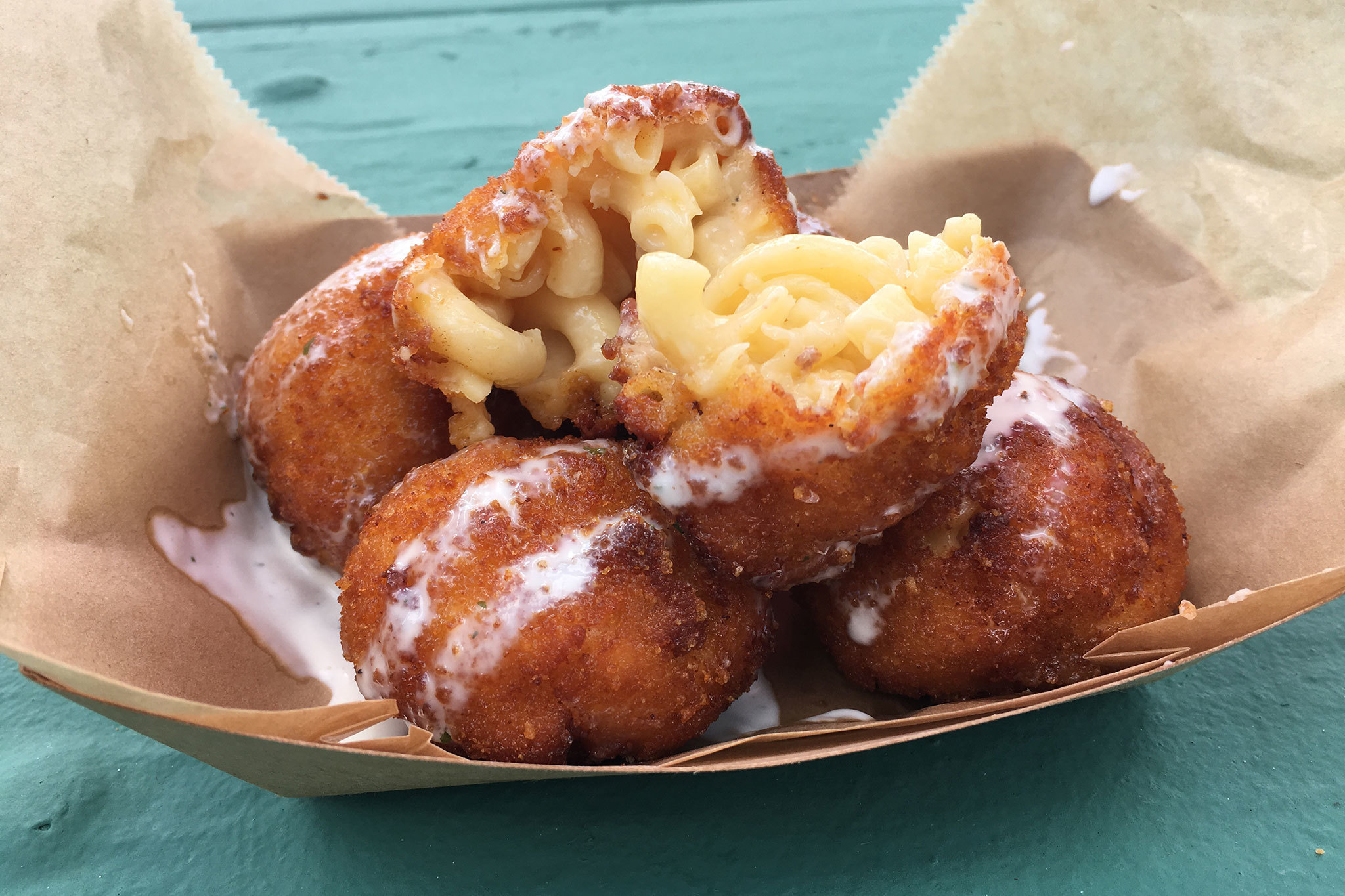 ACL Eats is offering some fantastic dining options this year; in particular, Peli Peli, a South African concept from Houston that is opening up a restaurant in Austin's Second Street District early next year. They're offering things like curry chicken skewers and fresh cucumber salad, but their mac and cheese base are out of this world. With five to an order, they're enough to keep you fueled through the next few sets—plus, they come topped with a truffle ranch sauce, so you get to feel all fancy even while covered in dust.
3. Bonobo goes live
Simon Green, aka Bonobo, is a British DJ who fans normally don't see backed by a live band. But here he was at the Tito's stage, accompanied by an ensemble that included, among others, a flutist and the wildly talented Szjerdene on vocals. It was a beautiful set that fluctuated between chill sound waves and bass-heavy, "don't-think-just-dance" tracks, with a crowd that appreciated both.
4. Solange's moody stage lighting
Solange's music isn't for everyone, and we have to admit that her performance on Friday didn't leave us with very many feels. But her stage? Whoa. Bathed in a deep red and sporting a glowing red orb that loomed over the audience, the atmosphere at the Barton Springs stage (which was part of ACL's much appreciated park expansion this year) felt very Blade Runner-esque. It seemed as if we were all on Mars during her set—and after a day running around in the sweltering sun, it certainly felt plausible.
5. The xx kinda beat out JAY-Z
JAY-Z and the xx had competing set times, but if we had to declare a winner for last night's headliners, the xx would take home the trophy. While JAY-Z's set was visually entertaining (hello, giant Jeff Koons Balloon Dog), it was also a little predictable (plus, Béyonce never showed—what gives?). The xx captivated the ACL crowd with their high energy, emotive song selections and some seriously hypnotizing stage lighting. Their second-to-last song garnered such a prolonged cheer from the audience that band members Jamie xx, Romy Madley Croft and Oliver Sim giggled on stage in "aw shucks" embarassment until moving on to a rousing finale.
Want to know what we thought of the rest of the fest? Stay tuned for more updates, and check out our complete ACL guide here.