As 24-year rock and roll veterans, Foo Fighters do most things pretty fucking well, consistently. Examples abounded during Wednesday night's performance at Austin360 Amphitheater: they
serviced their generation-spanning fans by playing a routine three-hour set featuring tracks from each of their nine albums, including deep cuts ("Breakout," "This is a Call"); hosted badass band intros with cover songs led by each member (Alice Cooper's "Under My Wheels" with lead guitarist Chris Shiflett; John Lennon's "Imagine" mashed up with the lyrics of Van Halen's "Jump" with keyboardist Rami Jaffee; and the Ramones' "Blitzkrieg Bop" with guitarist Pat Smear); and capped that latter medley with a choice cover of Queen and David Bowie's "Under Pressure" that saw frontman Dave Grohl revisit his roots smashing the skins while drummer Taylor Hawkins handled lead vocals alongside Luke Spiller, vocalist for glam-revivalist openers the Struts.

Another (more unfortunate) constant at their shows over the past few years: Grohl's voice isn't fully holding up, in that he can't quite extend his screams the way he used to (see: the slightly broken crescendos of "Walk" and "Best of You"). He sounded a little hoarse throughout the first few songs ("Run," "All My Life," "Learn to Fly") until he finally warmed up (he was in the pocket by fifth cut "The Sky is a Neighborhood," the strongest among the new bunch aside from "Dirty Water," which featured transcendent backup vocals from "Barbara, Sam and Laura").

That said, it was the group's first show after a six-week break, so the shaking-off rust was expected—and besides, they were gifted a new ace in their deck just for this gig: KISS Guy. No, he wasn't some crazed fan shelling out impromptu smooches. KISS Guy, a 5-foot-tall fella in the front row sporting spot-on Gene Simmons face makeup, was just a rando. That is, until Grohl noticed his sign asking if he could play '97 single "Monkey Wrench" and subsequently invited him onstage to do just that. Not only did he play it, he fucking shredded it to pieces using Grohl's signature gold Gibson while the Foos' frontman belted it out, actually chuckling and flubbing the words on the second verse because he was so taken aback by the kid's talent (watch fan-shot footage below).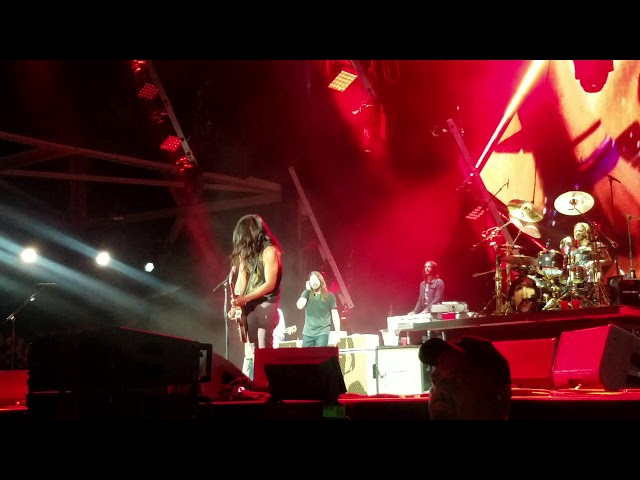 "Every time we invite someone up to jam, people say, "That was a setup,'" Grohl divulged at the song's end. "I swear, KISS Guy wasn't…and he was the fucking best one, man."

In that moment, a legend was born, and riding the high of KISS Guy's adrenaline-injecting cameo, Foo Fighters finished out another rock show for the ages.
All photos by David Brendan Hall