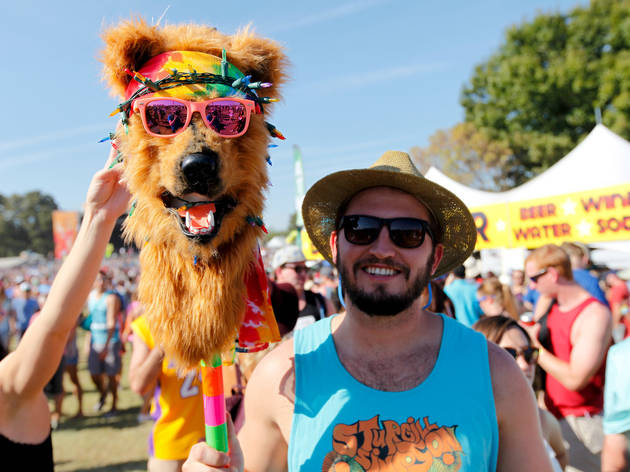 Speak like a local with our Austinese cheat sheet
Forget Texas Twang, Austinites have a language all their own. We've rounded up the lingo you need to learn before booking a trip to ATX.
Some say Austin's signature sound is live music drifting into the streets. We say listen closer and you'll hear a different kind of noise: the rich local lexicon. Born and bred in the heart of Texas, it extends far beyond "ACL," "free concert tickets" and "rodeo." Use our starter dictionary to hit all the right notes the next time you come to town.
The Austinese cheat sheet
noun - \ˈkēp\ \ˈȯs-tən\ \ˈwird\
A city slogan that captures the liberal spirit of the capitol of Texas. Originally coined to promote small, independent businesses, it has become the token statement used to celebrate (and defend) outliers, all things bizarre, and individuality.
noun - \ˈhu̇k\ \əm\
The rallying cry and hand sign of the University of Texas. First introduced in 1955 by head cheerleader Harley Clark, the signal and slogan is used generously by alumni, fans and athletes at sporting events, as a casual greeting, and as a good-natured taunt in the presence of rival Aggies and Sooners.
3. "Alright, alright, alright"
exclamation - \(ˌ)ȯl-ˈrīt\ \(ˌ)ȯl-ˈrīt \ \(ˌ)ȯl-ˈrīt)\
The quote that launched the career of Austinite and Oscar-winning actor Matthew McConaughey. Uttered during Richard Linklater's 1993 tour de force, Dazed and Confused, it is currently employed by McConaughey in myriad situations and in smaller doses by people agreeing to happy hour plans.
4. "Fun, Fun, Fun" or "FFF"
noun - \ˈfən\ \ˈfən\ \ˈfən\
A rapidly growing music fest featuring genre-specific stages, reunion performances, indie bands and comedians. The November event is a favorite among locals who prefer to avoid the madness of ACL and SXSW.
noun - \ˈbrek-fəst\
A euphemism for tacos eaten in the morning (and on weekend afternoons) by Austin citizens. Many varieties exist, but commonly contain a combination of scrambled eggs, cheese, beans, potatoes, bacon and chorizo sausage. Visitors can find a solid introduction to the meal at Tacodeli (Five area locations, we suggest (1500 Spyglass Dr, 512-732-0303) or Juan in a Million (2300 East Cesar Chavez St, 512-472-3872).
6. "Eeyore's Birthday Party"
noun - \ee-yȯr's\ \ˈbərth-ˌdā\ \ˈpär-tē\
Peak Austin weirdness. The daytime celebration honoring A.A. Milne's gloomy donkey was founded in the early '60s and is held on the last Saturday of April in Pease Park. Follow the sounds of drum circles to join the congregation of free spirits in elaborate costumes, hula hooping hippies and couples teaching tandem yoga poses. In a sentence: "I met a man who works as a professional fairy whisperer at Eeyore's Birthday Party."
noun - \ˈdər-tē\
An abbreviation of "Dirty Sixth," the shot bar-lined stretch of Sixth Street between IH-35 and Brazos Street that has a reputation for wall-to-wall crowds of college kids, dollar well drinks and surfaces covered in unidentifiable sticky substances. It is the only place one goes to party until it becomes the last place one would ever want to party. In a sentence: "Parker went to Dirty last weekend and was morally and physically hungover for days."
noun - \thē\ \ˈtrāl\
The ten-mile loop around Lady Bird Lake (née Town Lake) popular with runners, bikers and friends on walk and talk dates. Excellent for people and dog watching. In a sentence: "Let's walk the trail tomorrow, I need at least four miles to tell you the latest gossip."
noun - \thē\ \ˈbats\
A swarm of roughly 1.5 million Mexican free-tailed bats that roost under the Congress Avenue bridge. During warmer months, tourists line up at dusk to watch the constantly morphing cloud stream out and enjoy a reprise from mosquitos and other pesky bat food.
noun - \ˈmō-ˈpak\
The colloquial name for Texas State Highway Loop 1 comes from its parallel route with the Missouri Pacific Railroad. The traffic jam/road running north-south along the western edge of the city is not a smart place to be during rush hour. On the flip side, it can be used as an excuse for tardiness. In a sentence: "I'm sorry I'm an hour late, I shouldn't have taken MoPac."
noun - \ˈtē-ˈtō's\
Vodka distilled in Austin by the aptly named Tito Beveridge. Founded in 1997 and made from corn, the spirit has won many awards and is now famous well beyond the city limits. The only acceptable vodka to drink while in town.
noun - \ˈpich\ \ˈin\ \ˈpət\
Formally the Butler Park Pitch and Putt (201 Lee Barton Dr, 512-477-4430), the magical nine-hole Par 3 golf course tucked behind Lamar Boulevard and Riverside Drive is loved by two-time Master's champion and Austin son Ben Crenshaw, first time golfers, and everyone in between. All ages and varieties of beer are welcome at the park.