Lawrence Weiner: Escrit en el vent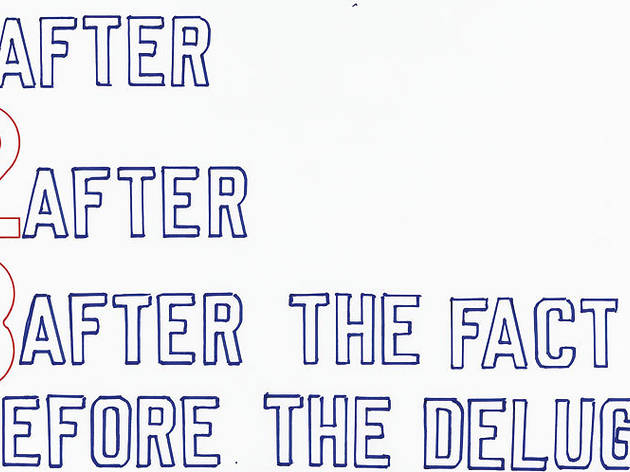 Here's an exhibition you won't need your English-Spanish-Catalan dictionary for. Lawrence Weiner (New York, 1942) is the writer of three axioms that changed the history of contemporary art: 'The artist may construct the piece. The piece may be fabricated. The piece need not be built.' According to Weiner, art doesn't need a physical foundation; it just needs to communicate the idea. Some local art lovers may tell you that Salvat-Papasseit said just that, or something like it, in 1921...but in Catalan.

Weiner looks like some kind of modern-day Diogenes. His air of dignity seems to come from his long beard, as white as the vestibule at the MACBA, where 'Some Objects of Desire' (2004), a key installation piece, has stood out for three years.

Though you won't need a translation app for 'Escrit en el vent' ('Written on the Wind'), you will want to have some kind of spiritual peace before approaching. The exhibition involves reading phrases typically constructed in capital letter, sans serif font – perhaps to eliminate distractions – thin lines and some collages. First, you need to understand the meaning of the phrases, and then tackle the graphic as a whole, keeping in mind that these are glimpses of thoughts that may or may not have been intended to end up in works. Viewers, however, are likely to end up fully engrossed.

What makes this an even more unusual exhibition is that this is the first time Weiner is showing his drawings, which also creates a delicious contradiction, because we're talking about an artist who isn't much for tangible things. This isn't a first though. At this very moment, we have, in front of the Mercat de Santa Caterina, a sculpted bench by Weiner, 'Forever & a Day', installed over the course of a year, thanks to the ArtAids Foundation. And on Avinguda de Mistra is a sculpture of the same name, commissioned and acquired for the city by Glòria Moure.

Weiner came up with the look of the exhibition, based on a thin, but harsh line, and on the positioning of the drawings in groups planned out in a constructivist style. They don't follow any order, chronological or otherwise. And the materials used, the foundations of the pieces, are not what one would expect: calligraphy paper, city plans, tobacco wrappers and sheets of newspaper, among other things.