The Beast and the Sovereign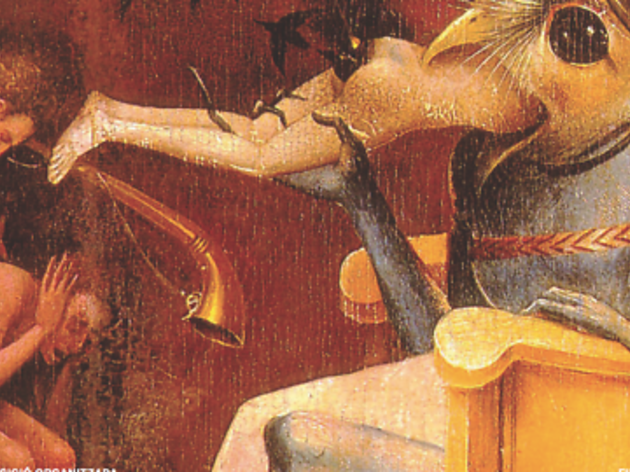 Arguably the best way of visiting this exhibition is entering, backwards, through the exit. And, if you can manage it, with your top on back-to-front and inside-out. It's all a question of getting into the spirit of a show that begins by being (apparently) closed, and only opens its doors to visitors after you've passed a sign that says 'being dismantled'. The philosophy is perhaps best summed up by the video Inversión by Cuban artist Glenda León, which appears in the exhibition: a razor scrapes across a hundred-dollar bill until it's left with no green ink. The resulting dust is vacuumed up by a rolled-up coca leaf... What an intelligent way (irony mode: ON) to make suggestions regarding connections between the liberal economy and the drugs business!

Of course, while there you mustn't forget to do a selfie – what we used to called a self- portrait – next to the sculpture 'Not dressed for conquering/Haute couture 04' by Ines Doujak. This work (shown above) features a German shepherd, a defender of women's and indigenous peoples – I'm not sure in which order of priority – and a man who, until he abdicated his throne last year, was used to starting his speeches with, 'it is for me a source of pride and satisfaction...' (ie, former Spanish king Juan Carlos I) – creating a trio of truisms. The show, inspired by one of the last public speeches of Jacques Derrida, talks about the limits of political sovereignty within the Western tradition. This theme has been one of this particular museum's specialities in recent years – criticism of the status quo, anti-capitalist revisionism, guilt for colonial aggression, various examples of post- situationism, etc. There are works that emanate poetic powers, such as the books with nailed-on figures of Edgar Endress, or the false naïve 'Sagrat Cor de Marica' by Ocaña. But there are also more tedious exhibits and general principles – such as anti-clericalism – dealt with using little imagination. But I'm not going to name names. In the end, this is a heterogeneous exhibition for a programme that is practically homogeneous.