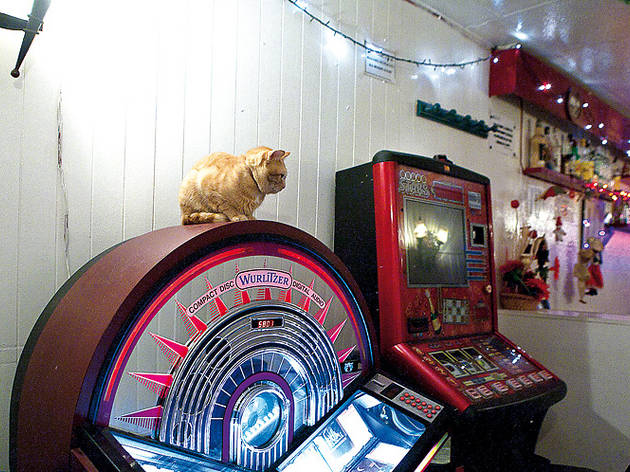 Carrer Robador is narrow, dark and full of life. Pedestrians from all around the globe roam this way and that, as they pass a nice Moroccan restaurant, a Pakistani-owned grocery, a hidden bike shop and heaps of bars. It's a street from another time, from when those working in the world's oldest profession could do as they pleased without being hassled. With the remodelling of La Rambla del Raval, as well as the Barceló Hotel being built smack on it and the Filmoteca relocating into the neighbourhood, that old network of bordellos and crazy brothels saw its end.

At C/ Robador 29, Bar Alegría is like a living photo from 25 or 30 years ago: a tiny locale where two colours dominate: red behind the bar and white on the curved walls that seem to camouflage you if you lean against them. When you walk in, look to the sofa on your left where the owner, Flora, tends to sit with her eye on the door – a habit left over from a barrio that ceased to exist three years ago.

Step up to the bar with the other thirsty patrons and order a small bottle of beer for €1.50 or a rum and coke for €5. Next to the long bar sits a jukebox with a sensational selection of rancheras, salsa, flamenco, reggaeton – all types of Spanish and Latin music.
Venue name:
Bar Alegria
Address:
Robadors, 29
Raval
Barcelona


Opening hours:
Daily from 8pm.
Transport:
Raval (M: L3)
Rating Breakdown
5 star:

3

4 star:

0

3 star:

0

2 star:

0

1 star:

0
About 10 years ago, this bar was principally a brothel, and a very good one at that. Prices represented amazing value. Full and oral, whether provided by ana or Sylvie were always a superb sensual experience. I loved the way Sylvie dressed. For a lady of a certain age she had fabulous legs, which looked super in black tights, mini skirt and heels. She had a great rack too. French kissing with her was a little limited, but if you bought her a drink at the bar, you could gently run your hand up her little mini skirt. I would have married Sylvie.
the most tragic thing about the history of this wonderous watering hole was the closure of the back bed room. twas in this room that i enjoyed an hour in the company of the beautiful, bestocking black floosy from brazil, ana. she drained me physically and emotionally, twice. a further 3 visits allowed me the company of the leggy argentinian madurita, sylvie. dressed as only mutton wanting to be lamb could, she caused instant interest and arousal. once again in the back room, whilst she rubbed my face with her sheer black pantyhose, she pleasured me, as she said "al completo". the bar allegria, in it's hey day, was indeedy the best bar in the whole world.
i spent many a merry time enjoying the companionship of sylive, the beautiful miniskirted argentinian madurita, and ana the gorgeous black braziliana.