Heads up! We're working hard to be accurate – but these are unusual times, so please always check before heading out.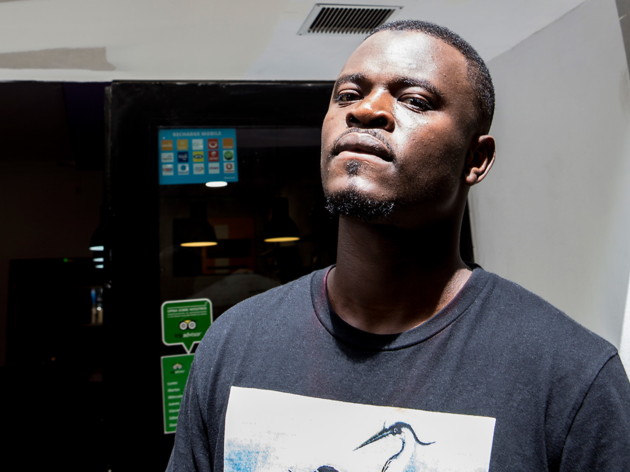 Flavour without prejudice in Black-owned Barcelona restaurants
We take a look at how one African restaurant in Barcelona sets an example for integration throughout the city and beyond
Johann Wald was born in Spain with a Dutch nationality, as the son of a Surinamese father and an Indian-born English mother. He produces and hosts shows on Radio Primavera Sound, has a show on Canal Cocina called 'Muy Johann', and writes about food and travel for Condé Nast Traveler.
In the wake of the murder of George Floyd by Minneapolis police officers, the #blacklivesmatter movement travelled beyond US borders, and many Black-owned businesses have seen a show of support, mainly virtually for now, as the planet continues to deal with the effects of Covid-19.
The restaurant Le Saraba – a meeting point for the young African community in Barcelona – has recently reopened its doors to find, like so many other businesses, an economic future overshadowed by uncertainty. We spoke with Senegalese owner Mossa Día to see if the shifting awareness and feeling of solidarity towards Black people is affecting the day-to-day of the restaurant's operation, and what, if anything, has changed for him.
'In order to support businesses owned by Africans or Afro-descendants, the Black community must first be supported,' Día says. 'Much of what we talk about is coming together, united, but we aren't taking all the steps to make that happen. Today we are talking about "the new normal", a new world order, and I wonder what our place is in this new order? Do we have to continue suffering, running and chasing something that does not belong to us?'
Around the world, many cultures have managed to establish their communities and find local support through restaurants where they offer new and exotic flavours in their dishes. However, in this country, African communities still have a ways to go to position themselves as others have done.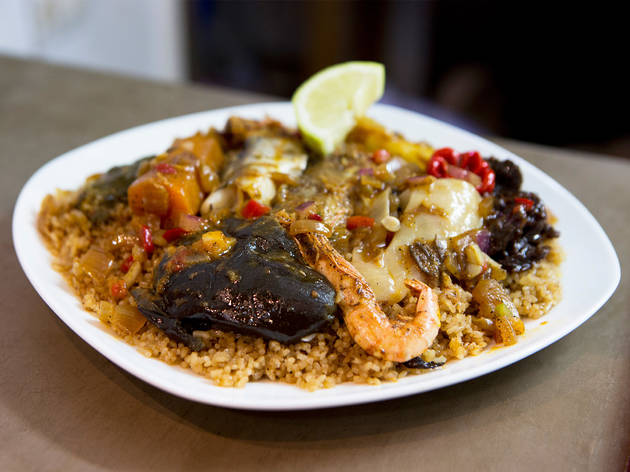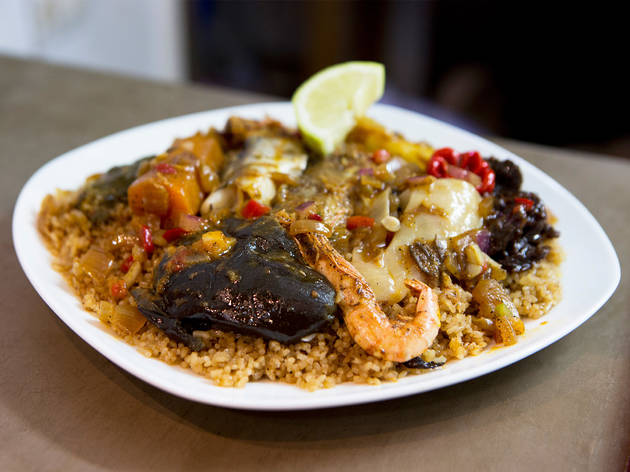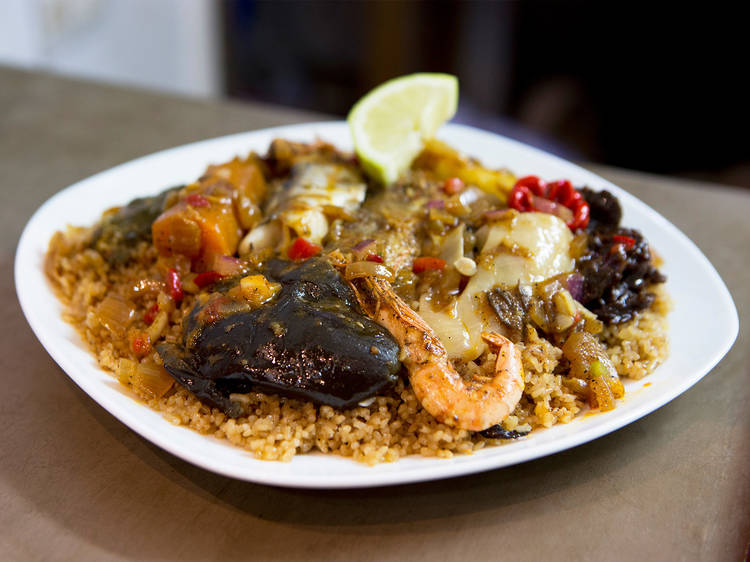 Foto: Maria Dias
'Young Black people are the future,' says Día. 'Our parents opened the door for us when they came here, but they were so busy trying to earn money and send enough back to Africa. They couldn't worry about how to integrate themselves into the local culture and move forward. If you compare African migration to that of the Pakistanis, Japanese or Chinese here, it's very different, because they came to integrate themselves, to bring something with them, and in the end they earned a certain respect for it. If you don't have anything, you're nobody, and if you're nobody, you're not respected.
'If you pay attention you'll see that the Chinese people here eat and shop in Chinese restaurants and stores, Pakistani people go to Pakistani-owned businesses... It's a good thing, what they do, and we should follow their example. If there's a brother putting on a party, well, I'm going to a Black party. Why am I going to spend €10 to get into a party where I'm not even going to feel good?'
In recent weeks, there have been more reports than usual in the local news about cases of Black people being treated badly by security staff at cultural or entertainment venues, or by police officers. Though these are to much less alarming degrees than what we're seeing on the other side of the Atlantic, that does not make them any less tolerable. A great thing in Barcelona is there are African parties that go over big with modern youth, such as Voodoo Club, organised by young Nigerian designer and musician Wekaforé Jibril, who took me to Le Saraba for the first time. Día says it's up to us to support initiatives like Jibril's.
'If you see Black people designing and selling clothes or whatever, buy something. You don't always have to shop there, but just do something to show your support, and make that person feel that their effort is worth it and that they're doing something good. As for businesses, they've got to invest or do something for the community.'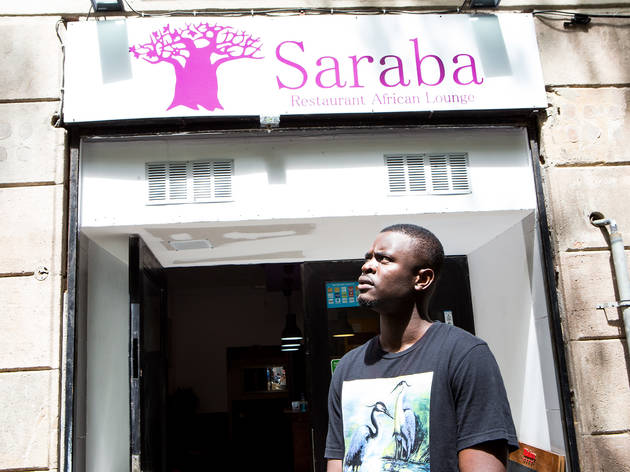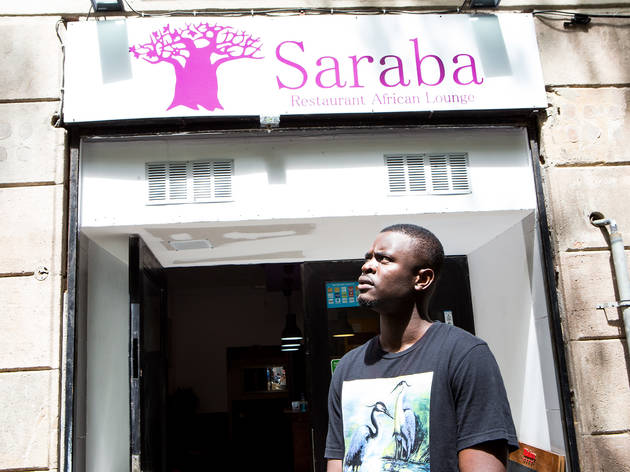 Photograph: Maria Dias
At the restaurant they've already planned to start giving out food for free once a day to disadvantaged people in the community. While the #blacklivesmatter movement was born as a response to the abuse of police power, in the case of Le Saraba, there's a very different and hopeful story when it comes to the police that shows the power of an honest and tasty cuisine like Día's mother cooks every day in C/Villaroel.
'When the police see a lot of Black people together in one place, as happens here, they think something's going on. We had undercover cops who came here a lot in street clothes, and sat around in the restaurant all day just to observe. In the end, we treated them so well that they became like part of the family and put us in the magazine for the national police to recommend the restaurant as a great place to eat. That shows that we're doing things right, and that we're not doing anything illegal. Now they're friends of ours and they call once in a while to see how we're doing. They're happy because African food is something that surprises. We have the best flavours in the world.'
They say the quickest way to someone's heart is through their stomach. Do yourself and your heart a favour when you're choosing where to dine out or shop – your choice could be a more effective way to show support and resistance than using a hashtag.