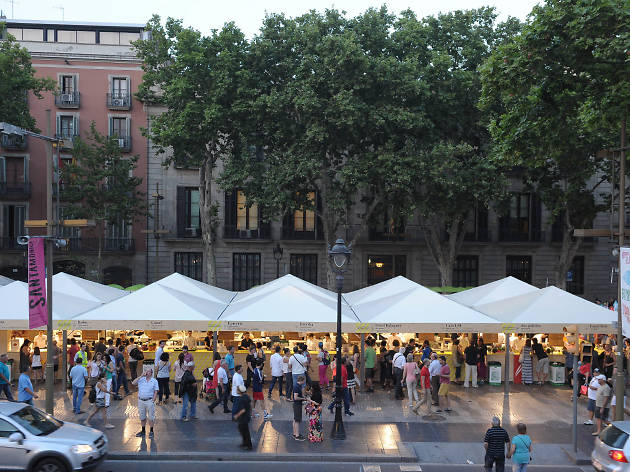 1/4
Tast a la Rambla
2/4
Arrós amb pop
3/4
Ostra amb ponzu
4/4
Arròs melós de llàgrima ibèrica amb tirabecs
It's already time for the second edition of Tast a La Rambla, the culinary festival that takes place along the bottom part of La Rambla, this time from Thursday, June 11 to Sunday, June 14. Last year around a half million visitors passed through, and this year the organisers say it will be even bigger, with 50 establishments participating, spread out over five zones: signature cuisine, traditional cuisine, tapas and small dishes, desserts and sweets, and international cuisine. The event is a one-of-a-kind opportunity to try haute cuisine dishes from many Michelin-starred chefs – for just €4.50 per dish, or you can taste four for €16.

In fact, this long weekend celebrating gastronomy has become a catwalk of who's who in Barcelona cuisine, where you can fill your boots in small doses from menu items created in some of the city's great restaurants. For example, some of the Michelin-starred restaurants include these offerings: squid ink croquettes (Bistreau), smoked sardines with chopped chard and pork scratchings (Manairó), a small serving of juicy and tender beef from Girona (Via Veneto), creamy rice (Paco Pérez), Cantonese-style Iberian pork buns (Dos Palillos). You'll also find haute cuisine versions of traditional Catalan cooking, such as free-range chicken canelón with a cream made of Reig eggs (Fonda Espanya); contemporary tapas, such as a Catalan hot dog (Bar Bas); and dessert trollies making their way round with specialities from master bakers in the city such as Escribà, Ochiai and Canal.

Last year's success has helped to make improvements to the infrastructure of the event as well: the pastry and beverage zone is bigger, there will be live music performances, and it's easier to buy tickets – you'll find three ticket sales points along the area of La Rambla where the festival is held, and the bars where you buy drinks will also sell tickets.