Barcelona shops: Books in English
Visit these shops where you can find books in English to read while you're in Barcelona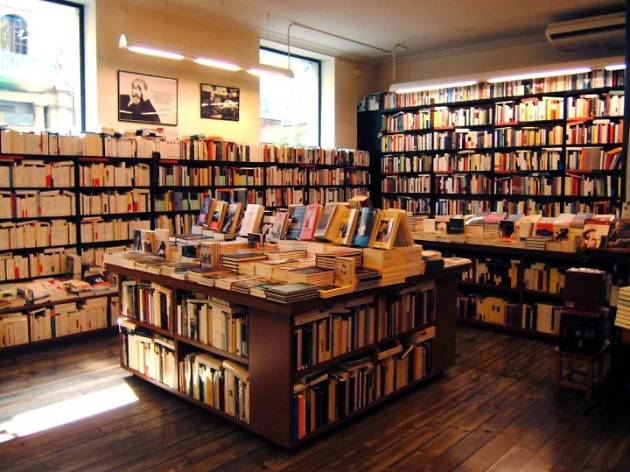 Whether you're calling Barcelona home for now or you're on holiday, it's always great to take some time out with a good book. Maybe you prefer reading in your native English, or you're improving your English skills. Either way, in these Barcelona bookshops that have sections of books in English or are completely dedicated to serving the English-reading community in town, you can pick up a classic or a bestseller, a brand-new or second-hand novel, guidebook or non-fiction, reading material for kids and more.
Based in a former chapel in the Raval, this bookshop began by specialising in the Humanities. However, today La Central has become one of Barcelona's benchmark spaces for readers, authors and publishers. You'll find titles on anthropology, architecture and design, art and film, and photography, but also collections of poetry and artworks, among others. La Central has a notable selection of foreign-language novels in Barcelona, with a great variety of books in English, and not just bestsellers or classics. (They have a sister shop in the Eixample as well.)
Read more
Originally opened as a second-hand bookshop in English in 2004 (the owners shipped over some 30,000 books from Dublin), they soon moved to bigger premises and started selling a small selection of new books alongside their main stock.
Read more
Laie is one of the top bookshops in town among the literati and those looking for the latest in literary publications from Catalonia, Spain and abroad. They have an immense collection of fiction (including local and foreign literary magazines), works on philosophy, history and social sciences, art and architecture. Cinephiles and music aficionados can also satisfy their cravings.
Read more
Louise and Berta (Irish and Catalan, respectively) are the women behind this combo café/second-hand bookshop has fiction and non-fiction in a range of languages, although the majority are in English. Browse the shelves while enjoying coffee or tea and a slice of one of their delicious cakes.
Read more
This branch in Rambla de Catalunya (there's another at Passeig de Gràcia, 62) is one of the largest bookshops in the city, with an open, airy ambience and spaces for presentations and activities. It boasts a good English-language section, focusing mostly on bestsellers. You'll also find guidebooks in English, as well as books to study languages and language dictionaries.
Read more
Here you'll find a range of books from fiction to cookery manuals and graphic novels, as well as a lot of language-learning tomes and a well-stocked corner dedicated to books and games for kids.
Read more
This low-cost bookshop is a must-visit for bargain-hunters. That's because at Re-Read, the more books you buy, the cheaper they get – one book is €3, two for €5 or five books for just €10. Whatever you're looking for, you'll find books of all genres, modern and classic, although the majority of the tomes date from the '90s on. And if you're in the market for getting rid of those novels, textbooks and self-help tomes you know you're never going to read again, they'll buy them from you. They have another four branches around Barcelona, as well as various in Catalonia and further afield in Spain.
Read more
If you're planning a trip, this has to be your first stop – it's the largest travel bookshop in Europe. You can pick up guides to eating free in different cities, academic tomes on geolinguistics, and handbooks on successful outdoor sex. All the less arcane publications are also here: maps for hikers, travel guidebooks, multilingual dictionaries, travel diaries and equipment such as mosquito nets. What's more, there's a café where you can peruse your purchases.
Read more
The most centrally located temple of cultural consumption in the city, with books (there's quite a good selection in English), CDs, movies, cameras, computers and other electronics, it's also a main location for ticket sales.
Read more
Just for kids
Besides books in Spanish and Catalan, you'll find a wide selection of books in English, French, German, Italian, Dutch and Portuguese. They've also got educational toys and unique objects for kids, and the shop boasts an independent space intended for children's workshops, storytelling and exhibitions as well. It's a place that acquires good books made with detail and love.
Read more
Here's a place made for kids and teens that's still fun for adults, where you can spend hours discovering the marvels between the covers of a book. There's a hardcover section, one for those that haven't yet learned to read, another full of well-loved stories, right next to a small selection for adults – with only titles that the owner likes – and a section for fiction, music, theatre, poetry and art, sitting opposite the educational books, games, and books about books. But the apple of Casa Anita's eye is hidden in a bunch of wine boxes – the picture books, with fiction separated from non-fiction. Self-edited books, origami and puppets have also found a place here.
Read more