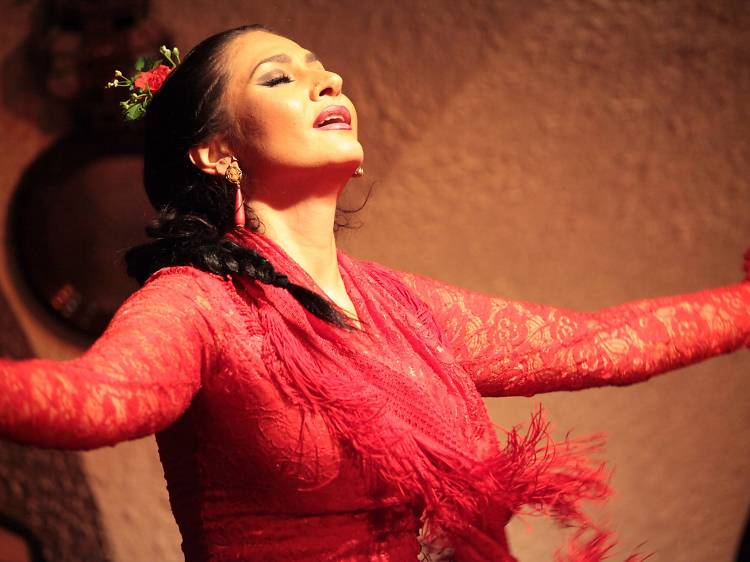 1.

…Barcelona is the cradle and meeting point of great artists
When the married couple formed by the guitarist Luis Adame and flamenco dancer Irene Alba transformed an old dance hall in La Rambla into what would become the temple of Barcelona flamenco, tourism had not yet taken possession of either La Rambla or the rest of the city. The Tablao Flamenco Cordobés paved the way offering locals shows of great artistic quality and it soon established itself as a place of reference for professionals and all lovers of the art of flamenco. Since then, and run by the same family, it maintains it roots and continues championing the art and, above all, quality. They have widened the intimate circle around their tablao and forged an extended flamenco family, from here and the whole world, making this venue their emblematic meeting point in the city.
Figures of the stature of Camarón de la Isla, Manuela Carrasco, Farruco, Chocolate, La Tati, Manolete, Farruquito and Miguel Poveda have performed on its stage. Although Carmen Amaya never performed at the Tablao Flamenco Cordobés, today her grandniece Karime Amaya does, heir to her wild form of dancing. Born in Mexico City, where her family had settled and where her grandmother opened the flamenco school where she trained, she has become one of the main international figures and, since she came to Barcelona, in around 2010, she has made this stage her home.