Heads up! We're working hard to be accurate – but these are unusual times, so please always check before heading out.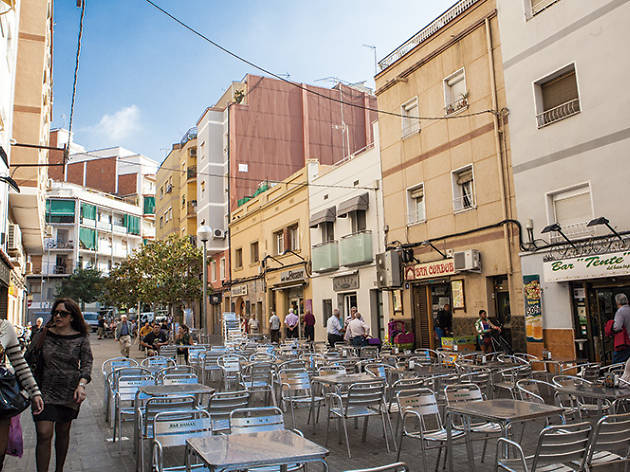 The best of L'Hospitalet
Get to know Barcelona's neighbour, L'Hospitalet, and all the art and culture it has to offer
It's Catalonia's second-largest city, stretching south of Barcelona towards the airport, but most visitors will pass through without even registering the name. L'Hospitalet was little more than a village until the 19th century, when waves of industrialisation transformed it, culminating in the post-war boom of the 1960s that saw vast tracts of high-rise housing flung up to accommodate workers from the rest of Spain. City planning lagged behind the population explosion, and residents had to fight for such basic amenities as health centres and schools. Since the 1990s, large-scale infrastructure projects have turned a suburban hinterland into a city in its own right, with a personality in constant evolution emerging from immigrant communities from all over world. As young artists are attracted by cheap, post-industrial property, some have called it Barcelona's Brooklyn – a place with an energy and life many Barcelona residents would envy, if only they knew what they were missing.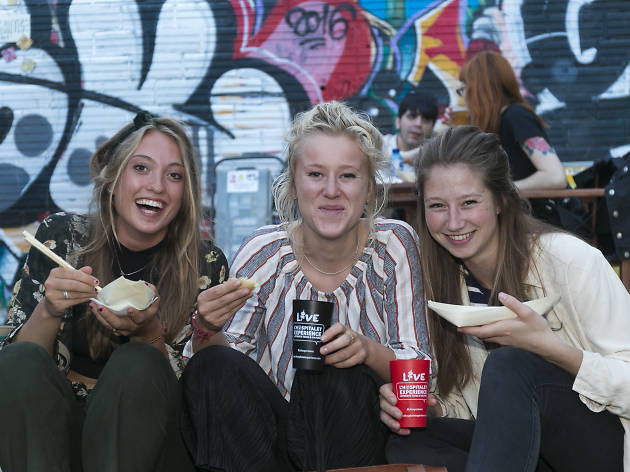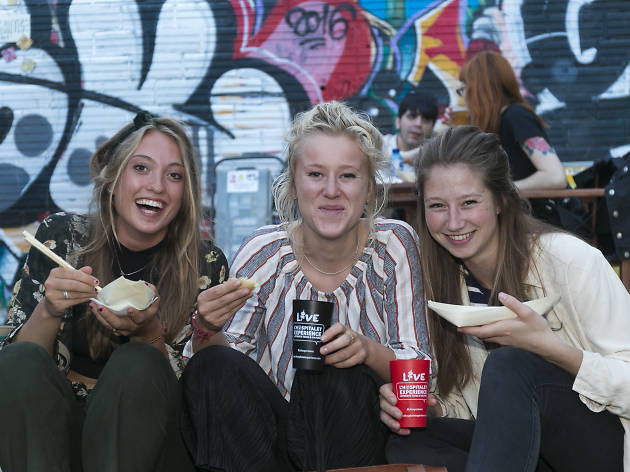 © Cristina Diestro
The oldest building in L'Hospitalet is Santa Eulàlia de Provençana, a Romanesque chapel which was consecrated in 1101. It's also the source of the city's name, which refers to the pilgrim's hostel, or 'hospital' that once stood next to the chapel (the town was originally known as Provençana). During the Civil War, the chapel hosted meetings of the communist youth party. Ancient history meets 21st-century street art in the 1950s church next door, which features a giant commission inspired by the Romanesque style, painted in aerosols by graffiti artists House and Rudi.
As the main road on the way south out of Barcelona and that crosses L'Hospitalet, Gran Via used to be a wasteland of junkyards and high walls, behind which you could pick out the ramshackle huts of scrap merchants, abandoned factories and isolated blocks of Gran Via Sur. Residents there once had to campaign for a health clinic, but since 2002, a new city has begun to emerge here, with Toyo Ito's swirling skyscraper, a kind of red-hued tornado, as its icon, surrounded by towering hotels, big box retail outlets and new businesses.
No Catalan town would be complete without its own 'rambla', and L'Hospitalet is no exception. Strolling down its 'rambles' of Just Oliveras and La Marina, you'll see the housing blocks of the Bellvitge neighbourhood, built 50 years ago, as was the SEAT factory, where many residents worked. You'll pass the warehouses of the Carretera del Mig, where the Latin American community dances at l'Agapito, and the Av. del Carrilet, where local musos go to gigs at Salamandra. As you reach the city centre, you're greeted by Arranz-Bravo's statue of 'L'Acollidora' ('The Welcoming One'), with her ponytail-trumpet headpiece, symbolising the open-hearted spirit of L'Hospitalet.
Modernisme for the people
L'Hospitalet's architectural heritage is split between neoclassicism and Catalan modernism (exceptions include the History Museum on C/Xipreret, located in a 16th-century Gothic building). Under the first heading there's the City Hall, the country house at Can Buxeres (now the centrepiece of a municipal park), and mansions in the neighbourhoods of Pubilla Cases and Can Rigalt. The second was the style of choice for middle-class dwellings along C/Major and Rambla de Just Oliveras, employing cheaper materials and less-imposing dimensions or simply using isolated elements of Catalan Art Nouveau. Botiga Nova, Estanc de Cal Testos and Cases Barates are prime examples.
Post-industrial landscapes
Until 1982 La Farga was a gigantic iron foundry. However, in that year it was converted into one of the city's first conference centres. Other post-industrial transformations include La Bòbila cultural centre in the neighbourhood of Pubilla Cases, once a brick factory; Tecla Sala, close to the metro station of La Torrassa, which used to be a textile mill and is now home to a library and fine-art school (see below, text and pictured); the Freixas building in Santa Eulàlia, which swapped Phillips TVs for young artists; and the nearby Vanguard building, which exchanged looms for the 25TV station.
How do you bring together a population of 250,000? This is the task of L'Hospitalet's Federation of Neighbourhood Associations, led by the tireless Manuel Piñar, who runs food banks and helps families facing eviction. Among the other members of the association are the Centre d'Estudis de L'Hospitalet, an archive of the city's history; the Akwaba Foundation, fighting for a fairer, more participative society; and the 15+1 association that brings together Andalusian organisations.
Los Pajaritos with no birds
L'Hospitalet's alternative to Barcelona's Sant Antoni market has always been Los Pajaritos ('the little birds'), a weekly Sunday flea market that takes place outside the municipal market in Torrent Gornal. People once came to buy, sell and swap all kinds of things – including budgerigars and caged songbirds. In recent years, after protests from animal campaigners, the council has prohibited unlicensed bird sellers. But the market is as busy as ever.
In recent times, L'Hospitalet's gastronomic profile has increased dramatically. Not only is it the birthplace of superstar chefs such as Ferran and Albert Adrià, it's rapidly becoming a worthwhile destination for dining out, whether you want tapas, traditional fare or avant-garde dishes. Take L'Hospitalet Experience (pictured above), an initiative that stages regular events combining culture and cuisine, such as Eat Street, which mixes international cuisine with live music. The food served, usually innovative tapas, often features ingredients sourced from local farms and producers (lhospitaletexperience.com). If you want to try one of the city's more historical eateries, make sure you book a table at Cal Siscu (Martí Julià, 82), which may not be the cheapest option but is consistently good. Or discover some of the more-than-decent places that have opened in town, like Spanish-Italian restaurant Mug (Roselles, 14), This & That Co. (Amadeu Torner, 41), which does a gourmet set lunch menu for around €13, and Debut (Lleida, 32), which promises 'cooking with emotion' and has menus that change weekly.