Eating Minnesota
Fresh-brewed sake and fancy food trucks help give the Twin Cities culinary clout.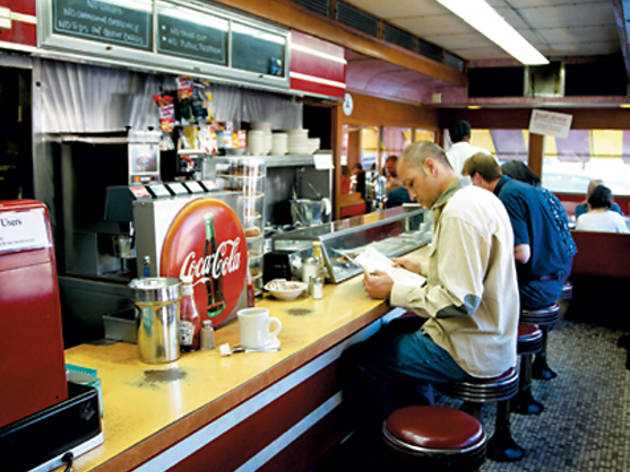 1/6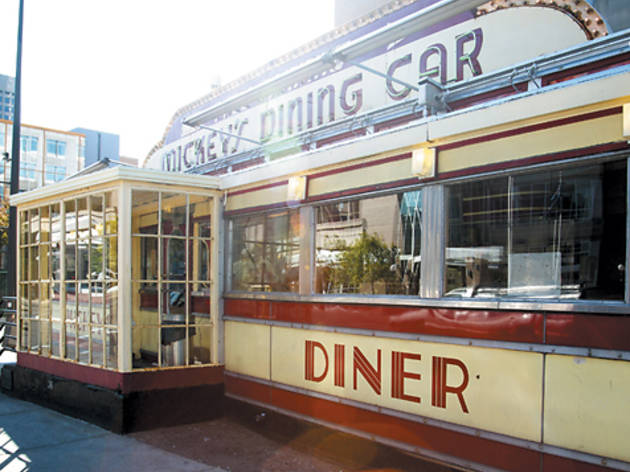 2/6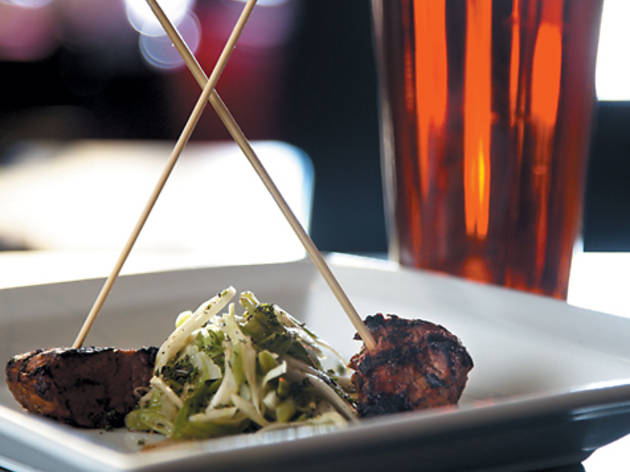 3/6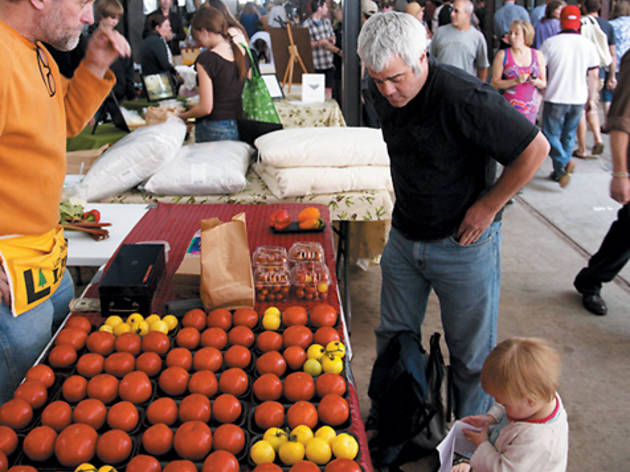 4/6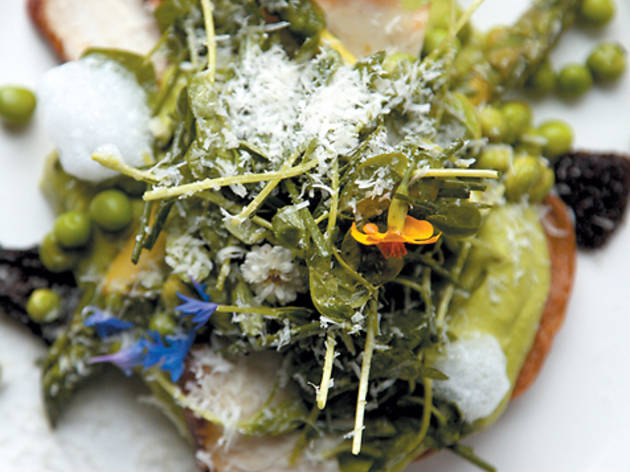 5/6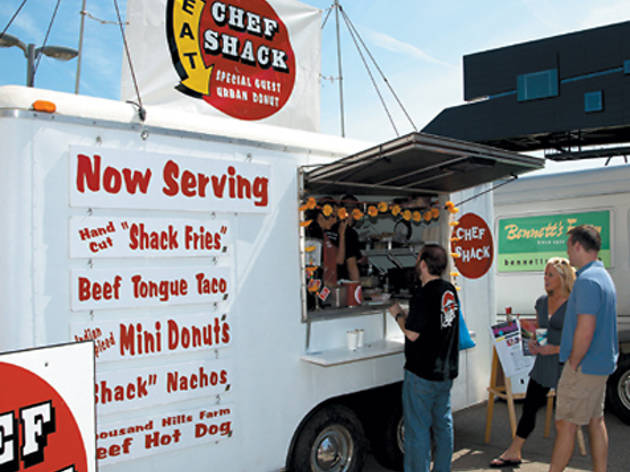 6/6
GETTING THERE By car 400 miles Time 7.5 hours Price $96 in gas round-trip [2010]
Ah, the joys of road-tripping from Chicago to Minneapolis: gas less than three bucks [2010], Culver's ButterBurgers as far as the eye can see and Wisconsin troopers at every freeway median pass-through. Although it's best to start on a Thursday and enjoy two full days in the Twin Cities, I leave on a Friday afternoon. Luckily, I make good enough time to ensure two hours of drinking at Bradstreet Craftshouse, the Graves 601 Hotel bar with a drink list curated by the Violet Hour's Toby Maloney.
Not that you'd drive 400 miles for craft cocktails akin to those served behind Damen Avenue's most famous hidden door, but the Craftshouse is a great place to get fortified for the weekend with concoctions such as the Goya's Coup de Gras, a tequila tipple that starts with a rinse of a pleasant Lunazul Blanco. The drinks, made with care by Bob, who reminds me of a friendlier Dwight from The Office, cost just $12 (the bar employs value-priced spirits to good effect). They wash down delicious spicy duck wings grilled jerk-style ($8) while the mellow staff defuses the occasional uncouth patron, such as the fool who cracks two fresh eggs on the bar shortly after his friend tastes a Whiskey Smash and declares, "That's a fuckin' mojito!" This is a hotel bar, after all, even if it does boast an array of fine meats and cheeses.
Yes, add charcuterie to the list of familiar food trends you'll encounter in Minneapolis, along with gourmet comfort grub, pork galore and James Beard award–winning chefs (La Belle Vie's Tim McKee). But the Cities are ahead of our game in a couple of areas. For one thing, Minneapolis boasts a vibrant downtown bar and club scene (St. Paul's sedate, though). For another, food trucks legally roam both cities. Which is why I hustle over to Mill City Farmers Market Saturday morning to sample the delights of Chef Shack's mobile kitchen.
Notable local chefs Lisa Carlson and Carrie Summer got the Shack rolling in 2007 and, judging by the 15 customers in front of the trailer's window when I arrive, their savory (hot dogs of grass-fed beef topped with bison chili) and sweet (hot-from-the-fryer mini doughnuts drenched in cinnamon and sugar) offerings boast a deservedly loyal following. I add a hot chai to my dog-and-dough combo ($15 total) and munch away as the klezmerific Brass Messengers play under the wry gaze of Anton Chekhov, whose portrait dominates a wall of the adjacent Guthrie Theater.
With more noshing to pack in, I can't explore the cool Mill City Museum on the other side of the market, but I sneak into its movie theater to catch "Minneapolis in 19 Minutes Flat," humorist Kevin Kling's fun history of the city. Brain buzzing with Minneapolis facts, I immediately head east to St. Paul.
There, I make a pilgrimage to 599 Summit Avenue, the stone townhouse F. Scott Fitzgerald once called home, and then meander down a mansion row to the state capitol, passing the 1891 James J. Hill house, once the biggest and most expensive in the state. It's nice to see that a literary lion could live in the same 'hood as a rail baron. In front of the statehouse, itself an architectural specimen worth exploring, I wander into a tea-party jamboree complete with rabble-rousing speech by Minnesota's mini Palin, U.S. Rep. Michele Bachmann, and a sign depicting President Obama as a chimp. Whatever happened to Minnesota Nice?
I reconnect with that famously cheery attitude over chili and a fried-egg sandwich at Mickey's Dining Car, shipped from New Jersey to the corner of St. Paul's 7th and St. Peter Streets in 1937, where it's served up cheap, hearty diner grub around the clock ever since. The family-run spot boasts locally roasted coffee and eggs from nearby farms, but the server admits the apple pie comes from Sysco. "It's the only thing we don't make here," she says. So skip dessert and give the impatient customer behind you your counter stool.
After checking out funky Western Sculpture Park near the capitol, I stop into the Strip Club, a neighborhood steak-and-fish haunt the alt weekly City Pages recently named St. Paul's best restaurant. The daily "meat on a stick" special runs $6.50. Today, it's tender grilled New York strip with tangy red-chile citrus coulis. It pairs nicely with a Redheaded Stepson ($8.50), which blends bourbon with Benedictine, kirsch and cherry-vanilla bitters.
Back in Minneapolis, I make one pit stop outside the central city. I hit South Lyndale Avenue, epicenter of the Wicker Park–like Lyn-Lake district on the edge of hipster haven Uptown. Just north of the intersection on Lyndale lies another spot with bragging rights over Chicago: moto-i, which claims to be the only sake brewpub outside Japan. I opt for the sake flight ($12) with three pre-selected two-ounce pours, and take in a hilarious Japanese soap opera while munching on greasy-good Thai beef jerky ($4).
Semistuffed, I head downtown for fancy comfort food at the new HauteDish. The signature Tater Tot HauteDish ($21) delivers fork-tender spare ribs and creamy potato logs. With 31 bourbons along the gorgeous wood back bar, the place is a Baskin-Robbins for whiskey fans, too.
But I have one more bar to hit tonight: Prohibition, the fancy cocktail lounge on the 27th floor of landmark Foshay Tower, home to a W Hotel. The lobby club is jammed with an age-diverse crowd. Up top, though, the drinks prove overpriced, and the speakers blare '70s cheese rock.
Unwilling to end my Minneapolis adventure on a sour note, I stumble over to the Skyway Lounge, a nearby topless club ($3 cover, one-drink minimum). It's not landmarked like F. Scott's place, but a friendly stripper confirms that Oscar-winning screenwriter Diablo Cody used to drop her drawers here. Juno MacGuff could sum up the seedy scene with a precocious pop-culture riff, but she's off somewhere with Paulie Bleeker. Me? After I find out how much lap dances cost ($25, but don't you dare stiff her on the tip), I'm one and done with this Miller High Life.
After all, I've got a long drive ahead of me tomorrow.
WHERE TO FIND IT
Bradstreet Craftshouse 601 1st Ave North (612-312-1821, bradstreetcrafthouse.com)
Chef Shack Various locations (507-358-4220, chefshack.org)
F. Scott Fitzgerald house 599 Summit Ave, St. Paul
HauteDish 119 Washington Ave North (612-338-8484, haute-dish.com)
Mickey's Dining Car 36 W 7th St, St. Paul (651-698-0259, mickeysdiningcar.com)
Mill City Farmers Market 704 2nd St South (612-341-7580, millcityfarmersmarket.org)
Minnesota State Capitol 75 Rev. Dr. Martin Luther King Jr. Blvd, St. Paul (651-296-2881)
moto-i 2940 Lyndale Ave South (612-821-6262, moto-i.com)
Prohibition 821 Marquette Ave (612-215-3700)
Skyway Lounge 725 Hennepin Ave (612-333-2323)
The Strip Club 378 Maria Ave, St. Paul (651-793-6247, domeats.com)
Western Sculpture Park Marion Avenue between Interstate 94 and University Ave, St. Paul
Eating & Drinking
|
Sports
|
Music
|
Arts & Culture
State Fair Eats
|
Hotels