Heads up! We're working hard to be accurate – but these are unusual times, so please always check before heading out.
The 10 best things to do in Cozumel
Looking for things to do in Cozumel? Journey to the past while dining on excellent seafood – Cozumel has it all.
Lying just off the coast of the Yucatán Peninsula, surrounded by the Caribbean sea, the tiny island of Cozumel has long been famous for its world-class diving and glorious sandy beaches. But while marine activities remain the biggest draw for tourists, there is plenty more to see, experience and discover – including Mayan ruins, raucous fiestas, hundreds of species of birds and traditional sweat lodges. And although cruise ships dock regularly near the only town, San Miguel, it is easy to escape the crowds.
Done something on this list and loved it? Share it with the hashtag #TimeOutDoList and tag @TimeOutEverywhere.
Find out more about how Time Out selects the very best things to do all over the world.
Things to Do in Cozumel
1. The Mesoamerican Barrier Reef
What is it? Cozumel is surrounded by a section of the second biggest barrier reef on earth.
Why go? The island's southern reefs are protected by the Arrecifes de Cozumel National Park and have sites suitable for divers (and snorkelers) of all abilities. Highlights include the Punta Sur reef, which features a stunning coral formation known as 'The Cathedral', and the Columbia reef, where you can spot turtles swimming amid a sweep of towering coral pinnacles, caves and tunnels.
What is it? San Gervasio is the most significant excavated Mayan site on the island.
Why go? Dating back to around 1,000AD, San Gervasio was a major pilgrimage destination for Mayan women because of its association with Ix Chel, the goddess of medicine, fertility and childbirth. Although not as dramatic as mainland counterparts like Chichén Itzá, it features some interesting ruins, notably a small stepped pyramid. The site is also a good place to spot birds and butterflies.
3. Museo de la Isla de Cozumel
What is it? In downtown San Miguel, the Cozumel Island Museum has an interesting mix of exhibits. Head here at the start of your trip to get an overview of Cozumel's history, geology, flora and fauna.
Why go? There are well-preserved Mayan sculptures and pottery, steampunk-style vintage diving suits, and impressive displays on the island's reef system, as well as an excellent rooftop restaurant.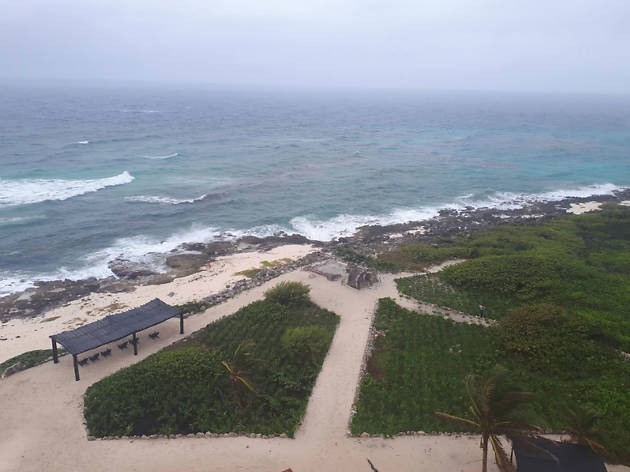 Photograph: Carina A
4. Faro Celerain Eco Park
What is it? Also known as Punta Sur Eco Beach Park, this nature reserve covers the southernmost tip of Cozumel – and it's great for birdwatching.
Why go? Hawksbill turtles, crocodiles, iguanas, and more than 200 species of endemic and migratory birds can be spotted at this park, which features mangroves, lagoons, sand dunes, and several attractive beaches. There's also a tiny Mayan ruin, the El Caracol temple, and a whitewashed lighthouse that you can climb for panoramic views.
5. Temazcal Cozumel Mayan Steam Lodge
What is it? A temazcal is a sweat lodge ceremony. A tradition dating back to the ancient Mayans, it aims to cleanse, purify and relax you.
Why go? You may find Cozumel quite hot enough as it is, but if not, this is a memorable experience. You sweat it out inside a domed structure as a shaman chants, wafts over herbal scents, and conducts various rituals. Afterwards, you can cool off in a nearby cenote, a limestone sinkhole filled with fresh water. Several travel agencies offer temazcal experiences, including Temazcal Cozumel Mayan Steam Lodge, which is based in a tranquil jungle reserve south-east of San Miguel. Staff are friendly and speak good English.
6. Alberto's Restaurant, Beach Bar & Grill
What is it? One of the best of Cozumel's many beach bars, Alberto's is situated on the south-west coast.
Why go? Quieter than some of its competitors, Alberto's is a relaxing place to hang out, particularly in the late afternoon. Grab a table on the sand, order one of the well-mixed cocktails, choose something from the seafood-focused menu and wait for the sunset. During the day, fishing, snorkeling and parasailing tours are all on offer.
What is it? The less developed east coast is home to a string of gorgeous, little-visited beaches, notably Playa Bonita.
Why go? The Mayans believed that remote Playa Bonita represented the easternmost point of their civilization. Today, this sparkling stretch of golden sand is ideal for swimming, kayaking and sunbathing away from the crowds of tourists who throng the better-known beaches on the west coast. If you're up for an early start, head down here for a stunning sunrise.
What is it? Cozumel's carnival takes place in February or early March.
Why go? The liveliest time to visit the island is during this raucous celebration, which dates back almost 150 years. It features colorful parades, extravagantly costumed dancers, live music, copious eating, drinking, and general revelry. Most of the action takes place in and around San Miguel's main square. On the final night an effigy of mythical character 'Juan Carnaval' is burned on a huge bonfire.
What is it? A 5km drive north of San Miguel, Buccanos is one of the top seafood restaurants on the island.
Why go? Set on a privately owned beach, this restaurant is a great spot for a romantic dinner. Dishes include scrambled eggs with shrimps and cilantro pesto, tempura lobster tacos, and octopus with grilled pineapple and a lemon soy dressing. If you want to build up an appetite, arrive early for a swim or a snorkel.
10. Cha'an Ka'an Planetarium
What is it? A modern planetarium that takes its name from the Mayan phrase for 'observe the sky'.
Why go? As well as offering visitors the opportunity to stargaze through powerful telescopes, Cha'an Ka'an holds regular film screenings, and has exhibitions on subjects such as Cozumel's biodiversity and the Mayan view of the cosmos.