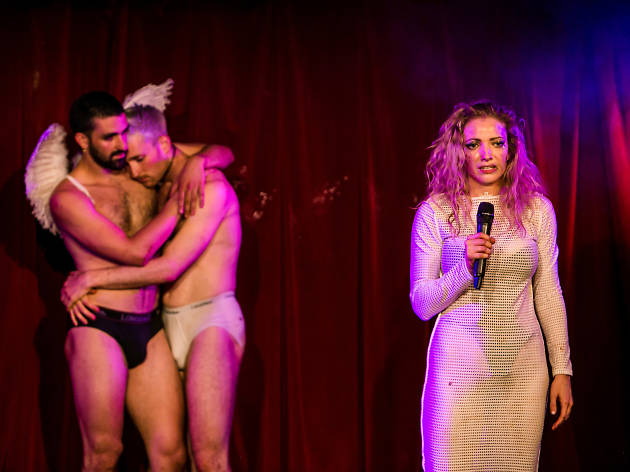 Lucy McCormick's monstrously inappropriate take on the New Testament is not for the faint of heart
Sometime member of live art provocateurs GETINTHEBACKOFTHEVAN, Lucy McCormick makes her solo debut with what is either the best or the worst show at the 2016 Edinburgh Fringe – or probably more accurately, both at the same time.
'Triple Threat' feels like the logical end game of the relentless dumbing down and sexing up of British popular culture, insofar as it would appear to be the most vulgar concept for a show McCormick could possibly think of. In it she plays a character called 'Lucy McCormick', a monstrous narcissist and relentless exhibitionist who has decided to make a self-aggrandising, sexually inappropriate stage adaptation of the New Testament in which she takes on every major role, backed by a couple of cowed, buff male dancers who she witheringly puts down every time they threaten to stray into the limelight.
The joy and the horror of 'Triple Threat' is that McCormick leaps over lines of good taste that even contemporary reality TV would baulk at. To cut to the chase, the show's most mind-boggling scene is a recreation of the story of Doubting Thomas, which for difficult reasons to explain culminates in one of McCormick's dancers furiously fingering her up the actual jacksie. But the show never pauses to milk the audience's inevitable discomfort: it ploughs on in a joyously depraved explosion of obnoxiously loud pop songs, precision-tooled dance routines, and lots and lots of nudity. The impressive piece of doublethink at the heart of the show is that clearly on some level McCormick is immensely fond of the trash culture she is deliberately pushing beyond the bounds of acceptable taste – she clearly gives a shit about what she is doing, and is a good dancer and singer, and the show is actually remarkably slick.
If 'Triple Threat' came on TV unironically, I'd probably despairingly conclude that the end was nigh. Presented as a transgressive, mischievous piece of theatre it feels strangely joyous.