Abigoliah Schamaun: Post-Coital Confessions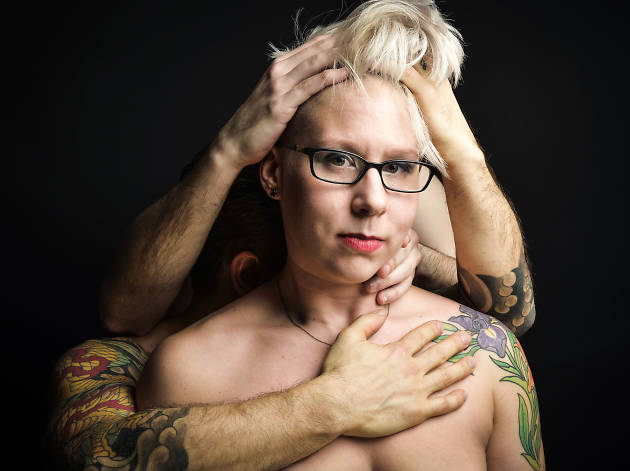 'Sex is a horror story,' says Abigoliah Schamaun. We've been tricked by Hollywood's depiction of beautiful, romantic, non-awkward lovemaking. But, in reality, it's clumsy, vulgar and just plain messy.
Not that it puts Schamaun (or anyone else) off banging, of course. The US-born comic talks openly about her sex life, and what strangers have told her of theirs, in 'Post-Coital Confessions': a show that's both honest about sex, and about the honesty that comes (no pun intended) after intercourse.
Schamaun is fascinated with the words spoken following the act: the truthful, often weird remarks that are only made in those post-climax moments. She's collected a bunch of examples, both firsthand and through Facebook, which she plays through the speakers as if confession booth admissions.
After a meandering intro about her experiences in Britain (we'd rather wear an extra jumper than put the heating on, in case you didn't know), Schamaun gets to her theme. She scatters the soundbite confessions throughout a story of moving from New York to London for a boy (with a cracking bod, she often reminds us) and a bet the pair of them made: that she couldn't give up booze while training for the Brighton marathon. And what was the wager? 'Sex things.'
It's a well-structured tale, with enough honesty and emotion to keep us engaged. Schamaun's unashamedly candid about her far-from-vanilla sex life, but juxtaposes this by exposing her vulnerability as she reveals her insecurities about love.
It's the punchlines that could do with some work. Schamaun's jokes are too often basic and predictable, or just lacking oomph. The confessions aren't as revealing or funny as she hopes, either. They're interesting enough, but rarely provoke a I-can't-believe-someone-actually-said-that reaction.
'Post-Coital Confessions' isn't as passionate or perfect as movie sex, nor is it as messy and fumbled as real life relations. It's a pleasurable ride, but a slight anti-climax.