Joseph Morpurgo: Soothing Sounds for Baby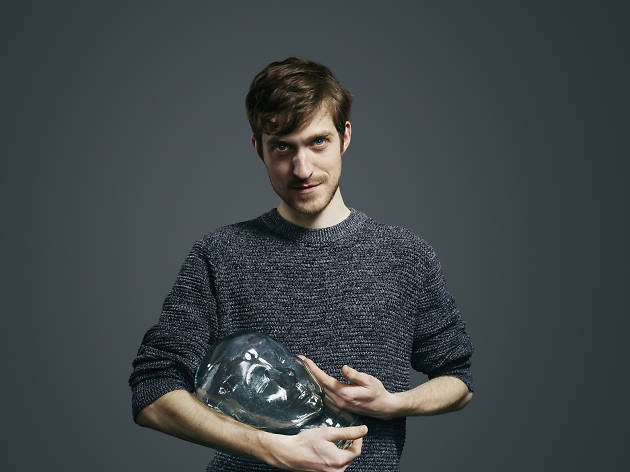 Time Out says
In these times of Netflix streams and Vine loops Joseph Morpurgo still knows the value of analogue. After last year's VHS-themed triumph 'Odessa', the pioneering character comic turns to vinyl in his latest effort, showing off his extensive collection. But while most record obsessives are seeking out rare gems or expensive collector's items, Morpurgo's been rummaging through the bargain bins to find the most obscure discs he can get his hands on.
'Soothing Sounds for Baby' is set up as an episode of 'Desert Island Discs'. Morpurgo is the castaway being grilled by an irate (and increasingly sozzled) Kirsty Young, whose dialogue has been painstakingly cut together from actual episodes. The character comic then brings to life the subjects of his chosen records, but in Morpurgo's mind they become warped caricatures based on little more than their sleeve artwork.
We meet 'Face the Music' host Joseph Cooper, who gives a music lesson on how to sing the country's deficit. Stubborn girlband Y2N-VEE make an appearance and insist on having an unpronounceable name. And AA Milne turns up to read us a Pooh bear bedtime story, but it takes a sinister turn.
Morpurgo constantly surprises with his innovation and commitment. Hours have been spent curating, writing and editing together his one-man skits, and each comes with an onslaught of unexpected jokes, word mangles and pop culture jabs. Add to that a running narrative that gently hooks together the stream of distorted creations, and the end result is mightily impressive.
'Soothing Sounds for Baby' is more playful than Morpurgo's previous efforts, and it's funnier for it. There are moments of menace and trickery, but there's a silliness running through the sketches, like a grime MC who rhymes about golf or the Dazz Band hosting an impossible trivia quiz.
It's a rich, multilayered comedy experience, that's both retro and cutting edge, and keeps whirling away in your mind long after it's finished. Who knew Kirsty Young could be so funny?
Details