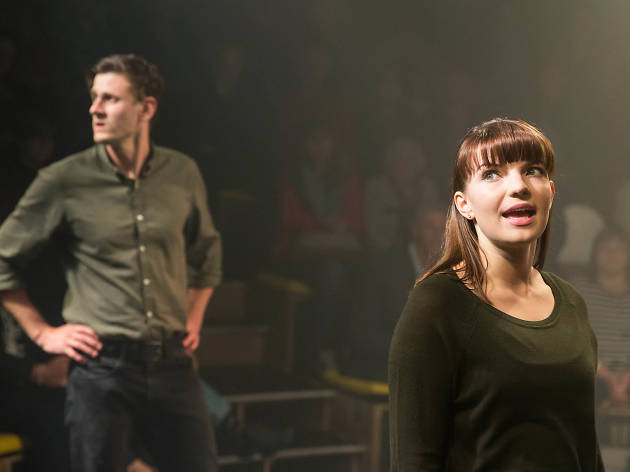 Stylish but shallow thriller about a couple's holiday gone awry
This superficially compelling drama from Brad Birch is atmospheric stuff, swirling with nods to horror films and heavy with Pinteresque menace. James Grieve's production makes full, impressive use of the Paines Plough Roundabout's sophisticated lighting rig to conjure a world in which every shadow feels like it may have something to hide. But shine a light into its darkened corners and there's not as much there as you hope.
Rebecca (Katie Elin-Salt) and Paul (Hasan Dixon) have gone away on holiday together to an isolated rural cottage, for reasons that are never convincingly explained. There is a great deal of tension between them: he is tentative and nervy, eager to be accommodating but a bit irritating in his obvious ill-ease; she is irritable and quick to lash out at him. They are sleeping in different rooms.
They seem like exes, but it transpires that they're in fact attempting to salvage their relationship after a betrayal by him. Why they're doing this is questionable: they are both still young, there's no mention of kids, and there seems to be little affection between them. Little progress made throughout the play, beyond a slightly chilling declaration on her part that she could perhaps forgive him if he'd suffered like she'd suffered.
Hints of everything from 'The Shining' to 'Fatal Attraction' are tossed in, and Grieve and creative team conjure a twisted, nocturnal labyrinth of a world in which reality blurs and we question much of what we're seeing – especially the presence of a third character, played by Sally Messham. But the psychology of it all feels increasingly overwrought, and while I think that's intentional – the end of a relationship performed as a horror story – Birch ultimately falls back on unpalatable old bunny boiler cliches to find an exit point for his thriller.