'How Not To Drown' review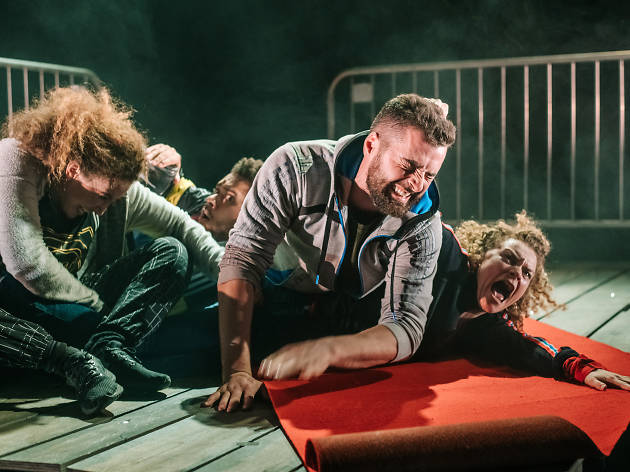 Time Out says
A middling story of an illegal journey across Europe before a gripping account of the English foster care system
A true life story about a people trafficked refugee that is written and performed by said refugee, Dritan Kastrati's 'How Not To Drown' ticks quite a few boxes in Traverse Theatre bingo.

Sure, Kastrati has a fascinating story to tell, that's worth listening to. But his uniqueness isn't always well-served by a play – co-written with Nicola McCartney – and production – directed by Neil Bettles – that feels so familiar, teetering on the efficiently generic as the real Kastrati and four other cast members take us briskly through his childhood in Kosovo and a hazardous (but ultimately fairly smooth) illegal journey across Europe.

The first half is all Quite Interesting, but although Kastrati has clearly experienced a life unimaginable to most of us, as a play 'How Not To Drown' struggles to really distinguish itself until he finishes his journey and enters the English care system. At this point it suddenly becomes unexpectedly poignant and illuminating: the story of a young boy who can't speak the language, trapped in a system that's relatively well-intentioned but soul-crushingly bureaucratic. He is passed between foster carers, none of whom abuse him or mistreat him, but almost none of whom offer him actual affection: a grey, unsympathetic network of 'professional' carers that grind down his spirit and rob him of his childhood.

This is fascinating and sad and would have made a play it its own right; as it is, it feels unbalanced by being grafted on to the straightforward thrillerish first half, and also leaves a lot of questions about his later life that are frustratingly never answered. (It's particulalry unclear to me how he really feels about the fact his parents sending him away; there's something a bit bathetic about the fact he just hops on a plane to see them after five years living in the UK).

I suppose one way of looking at 'How Not To Drown' it is that Kastrati has literally had too interesting a life to really make sense as a single short piece of drama. It's never boring, but it leaves it frustratingly late to kick into gear.
Details
Best selling Time Out Offers