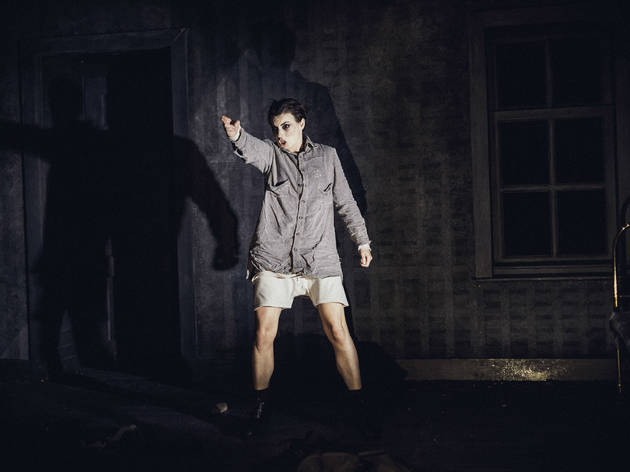 An excellent production of Manfred Karge's murky play with a gender swapping protagonist.
German playwright Manfred Karge's 'Man to Man' is the tale of one life caught between genders. Set in twentieth century Germany between the wars, the protagonist Max Gericke is hiding his true identity for the sake of work, and as a result becomes a lonely, shadowy figure living at the edges of society.
When Ella Gericke's husband dies of cancer she decides not to let his job as a crane driver go to waste and takes on his identity. It's all to survive – there are few jobs left and her fear of what might happen to her life without work pushes her to take the risk. From then on she is Max, trying to keep up with the lads in the boozer, living a life alone, secretly pining for a baby and trying her hardest to stay away from the front line when war looms.
This is a murky, dream-like and fractured monologue. You're in the mind of Gericke, as she remembers her past and confronts her present. Margaret Ann Bain performs Gericke brilliantly, slipping into a hefty Scottish accent as Max and a gentle English for Ella. Scott Graham – the artistic director of physical theatre company Frantic Assembly – co-directs with Bruce Guthrie and you can see Graham's influence. The movement is subtle but darkly atmospheric and Bain transforms Gericke's dingy bedroom into a myriad of places from her life. She hangs spider-like from the corners of the room and climbs and clambers on its walls. There are shadowy video projections that interact with her and add to the doom-laden atmosphere.
Alexandra Wood's translation is very good, although it zooms through Ella's early life and the desperation – the need for work – that pushes her to abandon her life as a woman is never as forcefully felt as it should be. Nevertheless the script shines in the hands of Bain. She is a constantly shifting Max Gericke, an unhappy creature – bitter and twisted, a person whose humanity has been scratched away by war, poverty and hunger.