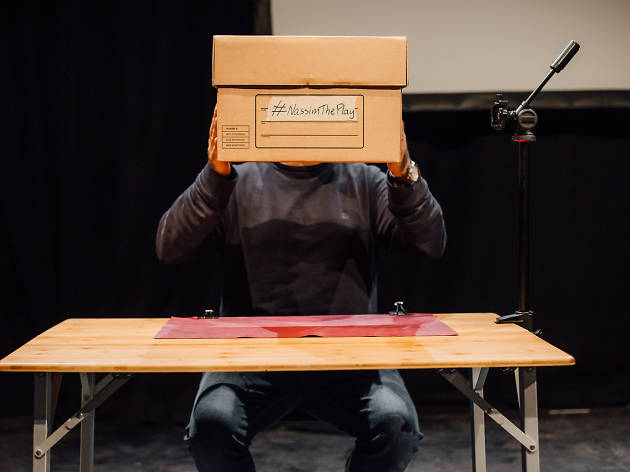 Time Out says
A touching new show about language and distance from 'White Rabbit Red Rabbit' man Nassim Soleimanpour
Nassim Soleimanpour's 2011 hit 'White Rabbit Red Rabbit' was one of those rare plays to become a genuinely global phenomenon, beloved at fringe festivals the world over. It had an engaging, accessible format: it was read by a fresh performer each night, who had never seen the script. It was a powerful story in and of itself: a whimsical but bleak allegory for its author's's inability to leave his native Iran because he wasn't allowed a passport. And the format lent itself to the celebrity guest cameo (it's for a good cause and not a major time commitment).
And of course, far from a gimmick, the format was deeply political, giving a voice to a man who was not able to travel to perform himself – he didn't saw a performance himself until 2013.
All his subsequent work to be translated into English has played with the same idea of making unprepared strangers perform the show, though 2014's party game-like 'Blind Hamlet' was a muddle.
'Nassim' reverts to the single-new-performer-per-night format, but comes with an added twist that definitely takes some of the sting out of it: Soleimanpour now has a passport, and indeed lives in Berlin. The publicity materials seem a little coy about his physical involvement with this new show, but let's just say he does physically appear, and there's no brutal sting in the tale.
At first, there's the feeling that he's has exhausted his bag of tricks. Once again, the performer – on press day Chris Thorpe – either reads out the text or follows written instructions that they're seeing for the first time. There is a lot cutesy joshing about the performer's predicted inability to distinguish between the lines his is supposed to say and the actions he's supposed to perform. A big screen is deployed so that we can all see the words, and for a while that seems to be the only innovation.
But gradually, as it wears on, it cuts out the meandering and morphs into a Farsi to English language lesson that serves as a reflection on the strangeness of Soleimanpour's situation – performed and published in a language he himself doesn't speak – but also an insight into how easy it can be to surmount those barriers. It is also, touchingly, a lot to do with missing your mum.
At some point Soleimanpour might want to consider a deviation from his performed-by-strangers schtick. But 'Nassim' ultimately reveals itself – and, indeed, himself – to be rather beautiful.
Details
Users say