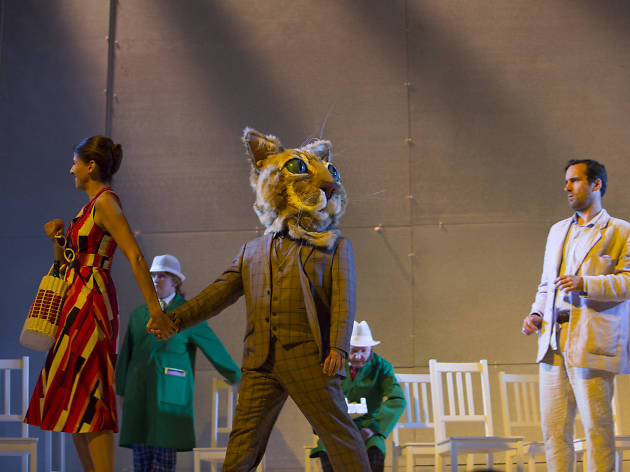 Lumbering adaptation of the Ionesco classic from Zinnie Harris
Writer Zinnie Harris is the main event at this year's Edinburgh International Festival, penning a trio of new shows to run over the course of August.
This is a pretty underwhelming start, though, a wishy-washy adaptation of Ionesco's absurdist classic 'Rhinoceros' that feels rambling and indistinct. If it's defined by anything it's the dated surrealist humour, with Harris's most memorable innovation some groan-inducingly knowing gags about protagonist Berenger visiting the EIF.
It's a shame because Ionesco's play should have real heft in 2017. It concerns a small town whose inhabitants are slowly turning into rhinos, to the mounting horror of its shambolic hero Berenger. Written in 1959, it served as a satire on social conformism and the rise of totalitarianism. Communist Romania was the original inspiration, but it could work as a metaphor for everything from Brexit to Trump to the general current global rise in totalitarianism – not least in Turkey, where co-producers DOT Theatre hail.
Clearly director Murat Daltaban has the right to approach the production any way he wants, but his production and Harris's text plays up the of-its-time comedy and minimises the politics in what seems like a wasted opportunity. Essentially that leaves you with two solid, interval-free hours of Robert Jack's Berenger getting into scrapes, in a performance that that gets markedly more irritating the more sorry for himself Berenger feels.
You might reasonably argue that 'Rhinoceros' doesn't need to be spelled out – you're hardly going to miss the modern parallels, and clearly Ionesco didn't intend it to be too on-the-nose. But that was then; this is now, and Harris's 'Rhinoceros' feels de-horned, mooching when it should stampede.
Rating Breakdown
5 star:

3

4 star:

0

3 star:

0

2 star:

0

1 star:

0
I saw this on the opening evening where it received a standing ovation. The performance and adaptation were both brilliant, reducing the original, which is way over two hours, to a manageable and enjoyable 100 mins.
Far from relating to Trump, the most powerful comparison is the one with Turkey where populism has seen the rise of an oppressive regime. How this reviewer failed to miss this obvious parallel is quite astounding. Hint: The director and production team are from ... Turkey.
I know this play well having worked on the Barbican performance in 2012. Had the reviewer seen or read the original they would know that the 'groan-inducingly' knowing gags are also in the original referring to Ionesco's own work and are, in the original, intended to be 'groan-inducing'. This is absurdist theatre, not Pinter :)
A sloppy review of an excellent adaptation.
I saw this fabulous production on 7 April 2018 - it was fresh and relevant to today - well done Zinnie Harris and the Lyceum! Unmissable.
Brilliant, far tighter than the original and a running time of just over 90 mins this evening (5th April 2018). I enjoyed it very much, the best thing at the Lyceum this year. No idea how the reviewer managed to record this as two hours, although possible it's been cut since the festival production???.
Tom Piper's set design is very clever with a nod to that other Ionesco classic - The Chairs.
Very, very good I'm giving it 5* as did The Scotsman, Timeout, etc.