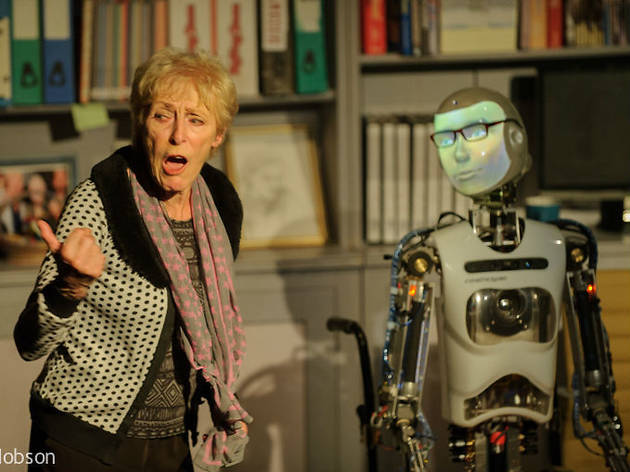 Great robot action in this tender love story.
There's an actual, proper, human-sized robot in Cornish theatre company Pipeline's fringe show. Though its face is freakily realistic – it's a projection onto the bot's white plastic bonce – the robot hasn't got the same sinister air of those unsettlingly humanoid robots in the recent Channel Four series 'Humans'. The robot in 'Spillikin' is controlled from the back of the stage and you can see its wires, metal hinges and lights flashing. Which is, actually, rather more thrilling than if it looked just like you or me – this robot is real and it's working.
'Spillikin' is a simple story of one quirky couple's love over the ages, with the added bonus of this all-moving, all-talking, all-singing creature of artificial intelligence. Helen Ryan plays Sally, a woman suffering from dementia in the later stages of her life who has been given a robot to keep her company. As the play flashes forward and backward – with the young Sally and her brainiac robotics geek beau Ray filling in the backstory – we discover that the robot has been crammed with up to the minute software and given all of Ray's memories. Ray knew that his rare genetic disease would mean he'd die early (Spillikin is the affectionate nonsense name for the fact that his disease makes him spill everything) and leave Sally on her own. His life's work – this droid – is a way of keeping her company and helping with her quickening descent into Alzheimer's.
The robot is impressive. It has spindly hands that are genuinely expressive, while its looks range from serene to inordinately happy, to really quite worried. You begin to feel for this robot, much like the elder Sally who begins to dress it up like her dead husband and asks to kiss it and hold its hand. The show as a whole is sweet, a little cramped in the tiny Jack Dome, and a little underdeveloped. There's not many questions asked about the ethics of robots: is having this helper right? It is helpful, even? The main story arc is about the fact that this man loved his wife so much that he decided to try to help her by creating a robot. It's not really about the robot itself. At times, the robot even feels incidental.
But there are lovely performances from an increasingly distressed Ryan, and her younger counterpart Anna Munden. Munden and Michael Tonkin-Jones as young Raymond have a believable, fresh chemistry. It's a show with great heart and, though this bot is no Terminator, there's still some genuinely thrilling robot action.
Rating Breakdown
5 star:

1

4 star:

0

3 star:

0

2 star:

0

1 star:

0
I thought the show was beautifully narrated and much more significant than many of the plays I've seen in London this year.
The Time Out reviewer complains about the show not having a clear stance on the matter of robotics care and ethics but I think that is the whole point of the show: to let us imagine and question a future where the complexity of artificial intelligence and robotics allows us to expand our abilities and at the same ponder about the nature of humanity.