19 best things to do in Florence
From the Duomo to two floors of foodie heaven at the Mercato Centrale, here are the best things to do in Florence
Ready to tackle the best things to do in Florence? A bit of a history lessons before that: a recent study by Italian economists revealed that the richest families in Florence today are the same as they were in 1427. That's just one of the ways that this incredible city hasn't changed in hundreds of years: the skyline is still dominated by the gobsmacking fifteenth-century dome of Santa Maria del Fiore, the best hotels are former villas, the museums are packed with world-famous Renaissance art produced virtually around the corner, and the tourists who've been flocking here since the eighteenth century outnumber Florentines every summer—though, these days, they tend to be more 'Coach Trip' than Grand Tour. But Florence isn't a Renaissance theme park: it's a living city, with plenty to seduce you even if you think of Michelangelo primarily as a Ninja Turtle. Here are all the ways to revel in one of the world's most beautiful cities.
Done something on this list and loved it? Share it with the hashtag #TimeOutDoList and tag @TimeOutEverywhere.
Find out more about how Time Out selects the very best things to do all over the world.
Best things to do in Florence
1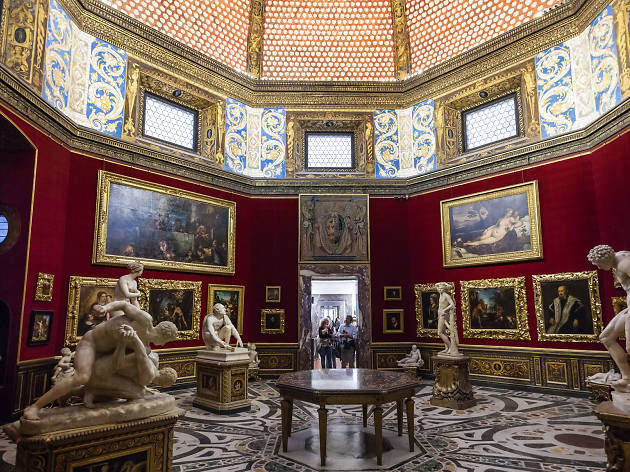 What is it? An absolute treasure trove of Renaissance art.
Why go? Ultimately to gaze upon one of Botticelli's finest pieces: 'Birth of Venus'. If you get in early, you may just get the fifteenth-century painting to yourself, but don't spend too long at Venus's feet because there are hundreds more iconic works to see. We'd recommend setting aside at least three hours to navigate the horseshoe-shaped gallery and glimpse all the unmissables. Plus, the venue itself is architecturally fascinating; built in the 16th century and designed by Italian painter Giorgio Vasari, the extending collonades, linear columns and traditional pediments all contribute to the classical design - a perfect pairing for the astonishing artwork housed within its walls.
2
What is it? One of a few places where you can soak up the whole stunning sweep of Florence in one go.
Why go? Across the river in the Oltrarno district is Piazzale Michelangelo, which throngs with sightseers, tat stalls and buskers, but offers the most spectacular view. See from the old city wall in the west to the Duomo, the Arnolfo Tower of the Palazzo Vecchio and the Uffizi across the river. It's an unforgettable panorama. Get your cameras ready people - take pictures and lots of 'em.
3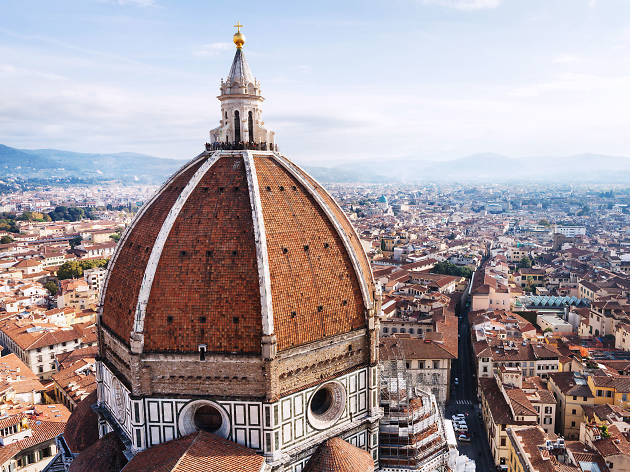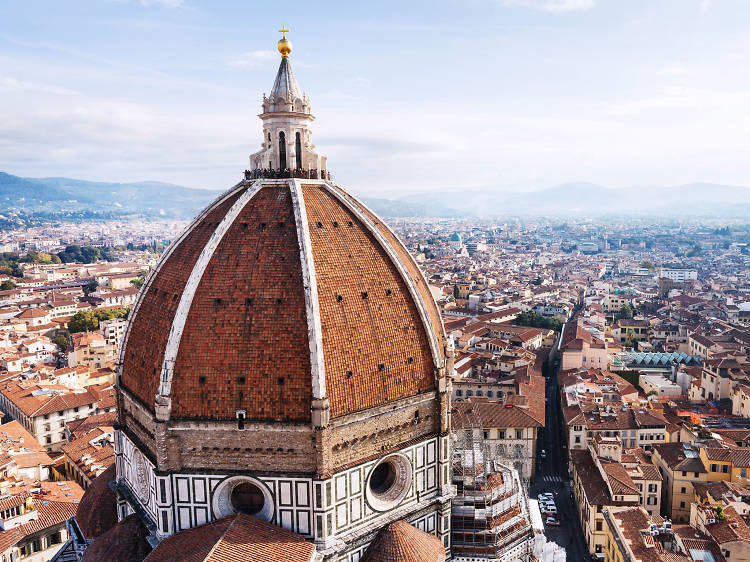 What is it? The Cathedral of Saint Mary of the Flower, better known as Il Duomo di Firenze.
Why go? You'll likely already know this famous dome. It was the largest in the world until 1881 and if you don't mind 463 steps plus some tight spaces, clamber up inside for a great view of the city from the lantern at the very top: the highest point in central Florence. If you're not yet out of puff, then the adjacent Giotto's Campanile (bell tower) offers another spectacular view and a great perspective on the Duomo itself. And for culture vultures - the Opera Duomo Museum lays just next door, where you'll discover classical artwork in a beautifully constructed space. Expect to find incredible masterpieces from the likes of Donatello, Verrocchio, Michelangelo and more.
4
What is it? Two floors of foodie heaven.
Why go? Dodge the trashy stalls of the San Lorenzo market and instead duck inside the nineteenth-century Mercato Centrale. Here you'll find two floors with conventional vendors selling wine, fruit, meat, fish, cheese, oil and spices at ground level, and a food court upstairs that makes for a handy stop-off for breakfast and coffee or snacks and an aperitivo at – shock, horror – decent prices.
5
What is it? Only Michelangelo's infamous marble adonis.
Why go? Though there are more historic works of art in the Galleria dell'Accademia than you'll find in most entire cities, the queue that forms outside every day speaks volumes. Every visitor is there for David, who stands 17 feet tall, and has been endlessly replicated and parodied since the 26-year-old Michelangelo carved him out of a single hefty block of marble 500 years ago. Wait in line and check out his famous curves in person. He's worth it.
6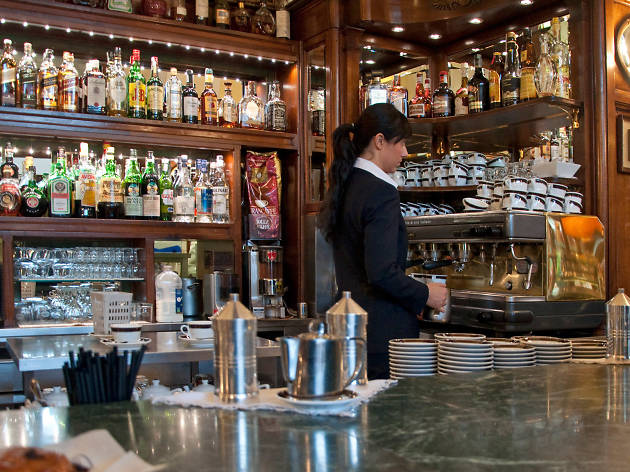 Eric Parker/flickr
What is it? Coffee and pastries in a swanky, classic setting.
Why go? In this city where some things never change, there are plenty of businesses still doing things the old way. A great way to experience this is with a stop-off at Caffé Gilli, which has been in business since 1733, so they must be doing something right. Alternatively, visit Da Nerbone (established in 1872) for an affordable and authentic Tuscan lunch of tripe rolls in the Mercato Centrale.
7
© Borgo San Jacopo
What is it? A Michelin-starred eatery on the banks of the Arno river.
Why go? No trip to Italy would be complete without eating outdoors and Borgo San Jacopo offers some of the finest views to pair with your meal. Situated beside the Arno, you can see the medieval stone Ponte Vecchio ('old bridge') from the restaurant's terraces. Naturally you'll need to book ahead to bagsy one of these spots, but there are a lots of other terraces to choose from. Enoteca Pitti Gola e Cantina provides a view of Pitti Palace from the piazza and 4 Leoni has a quintessential trattoria terrace in Oltrarno.
8
What is it? A veritable complex of pools with something for everyone.
Why go? If tourists and the summer heat are getting to you, head to one of the city's most impressive outdoor pools. Piscina Comunale Costoli is 50 metres long with separate pools for kids and diving, plus the admission fee is reduced if you arrive after 3pm. For a picturesque urban beach vibe with DJs and yoga, visit Spiaggia Sull'Arno on the river.
9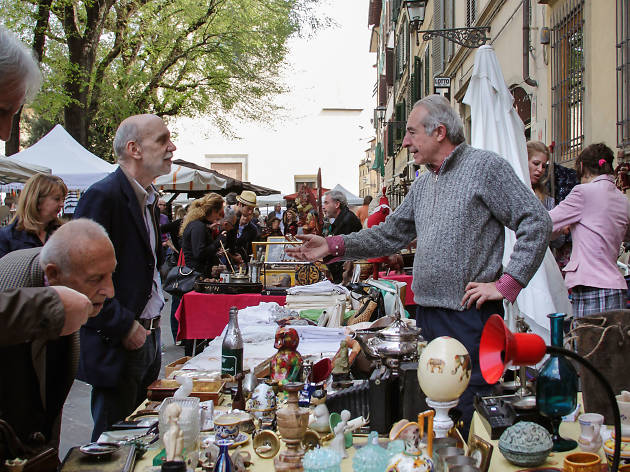 Kotomi/flickr
What is it? A characterful and authentic district of Oltrarno.
Why go? Florence is full of stunning public squares, but what with all the sightseers, not many will give you a proper taste of the city's real cosmopolitan life. For that, cross the river to the bohemian Piazza Santo Spirito: home to a proper street market and bars and restaurants full of locals. Pop into the church for some peace and quiet, or sit on the steps and people-watch.
10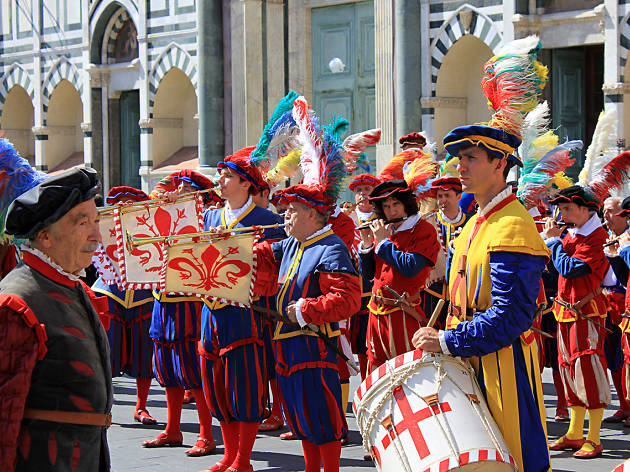 Jon Gonzalo Torróntegui/flickr
The St John the Baptist celebrations
What is it? Festivities in honour of Florence's patron saint.
Why go? If you're visiting on June 24, be prepared for anything from parades in historic dress to medieval football matches, boat races, bonfires and a night marathon, and of course a fireworks display over the river – all in the name of San Giovanni. That's the kind of religion we can get along with.
11
What is it? The terraced Boboli Gardens that slope down behind Pitti Palace.
Why go? There are wow-inducing Tuscan panoramas everywhere you look. Once a lavish back garden for the Medicis, over the centuries it's evolved into a public park full of Renaissance and classical sculptures, including the excellently named 'Boboli Obelisk' from Egypt. If you're after peace and quiet, seek out one of the park's hidden grottos, including the fairy tale-esque Grotta di Buontalenti.
12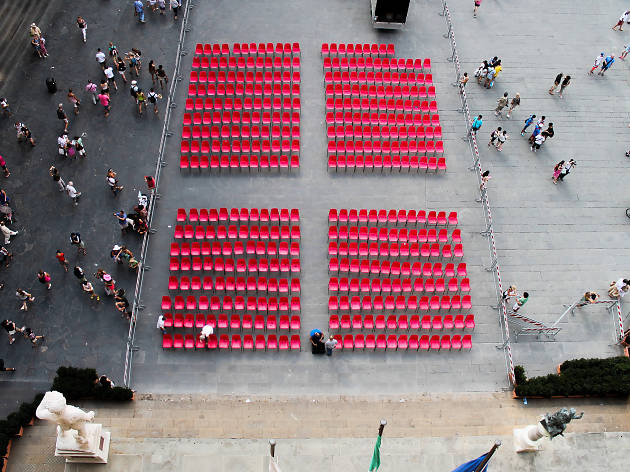 Antonella Profeta/flickr
What is it? One of the finest places to listen to choral music.
Why go? The choir of St Mark's English Church, located in part of an old Medici palace, sings an Anglican Mass every Sunday and the church also hosts concerts and opera. Even grander are the Chiesa di Orsanmichele and the twelfth-century Chiesa di Santo Stefano al Ponte Vecchio, both of which host orchestral concerts on a regular basis.
13
What is it? The working-class neighbourhood a short hop west from Florence's historic centre.
Why go? Centred on the church where Michelangelo, Galileo and Machiavelli are all buried, its quiet streets are full of good local restaurants, little shops and lots of nightlife. If you're not sure where to start, try the antiquarian stalls and food market in the Piazza Ghiberti.
14
Emiko Davies
The Chianti Classico subregion
What is it? The producer of some of Italy's best red wines.
Why go? Stretching between Florence and Sienna, the Chianti Classico subregion serves up some very fine wine. Get stuck into a few of them at Le Volpi e l'Uva, a wine bar near the Ponte Vecchio that's been tapping up small Italian producers since 1992, and also has a limited (but delicious) snack selection for stomach-lining. And not too far away is Vivanda, which opened in 2010: the city's first enoteca devoted to organic wines.
15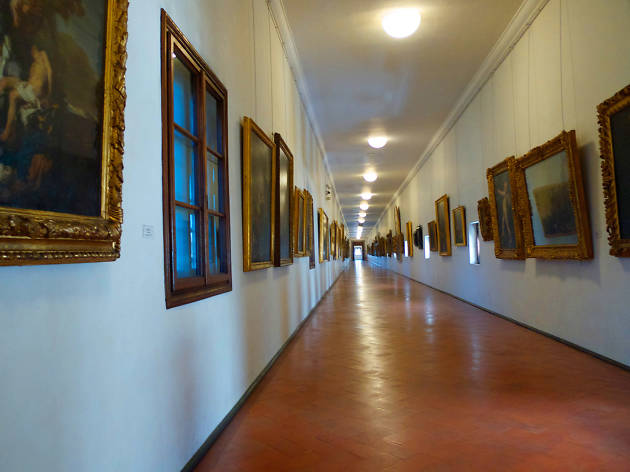 Darren & Brad/flickr
What is it? A duke's private passage.
Why go? This kilometre-long passageway was built by Duke Cosimo I de Medici in the sixteenth century, so as to avoid walking through the streets. Nowadays it houses a unique collection of artists' self-portraits spanning several centuries, and offers unparalleled views of the Arno river as the tunnel crosses above the jewellery shops of Ponte Vecchio.
16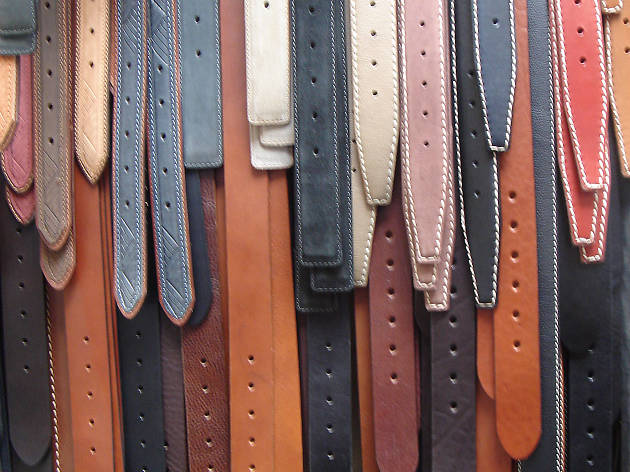 Ryan Dickey/flickr
What is it? The original leatherware shop founded by Egidio Pratesi in 1948.
Why go? As well as art, banking and political intrigue, Renaissance Florence was famous for its leatherwork. That tradition survives today everywhere from dodgy street stalls to high-end shops. If you're set on picking up a new belt or a pair of gloves, head to the established Pratesi or even the leather school behind Santa Croce church, but whatever you do steer clear of the San Lorenzo market.
17
Officina Profumo-Farmaceutica di Santa Maria Novella
What is it? A sixteenth-century perfumery founded by Dominican friars.
Why go? Not content with being a European capital for art, architecture, political theory and craftsmanship, Renaissance Florence was also known across the continent for its herbalists. Many older Florentines still prefer the erboristeria to the chemist for treating minor ailments, and the more traditional establishments are wonderful to visit even if there's nothing the matter. The most famous is the Officina Profumo-Farmaceutica di Santa Maria Novella, which looks as good as it smells.
18
What is it? Locally-sourced organic ice cream that changes throughout the year.
Why go? Did we mention that Florence might have invented gelato in the sixteenth century? Whether the stories are true or not, the city's leading gelaterie are still competing for your pleasure today. Vivoli, Vestri, Carabé, Gelateria die Neri… everyone's got a favourite. But the bar has been seriously raised at Grom, with its seasonal flavours and all-year-round special Crema di Grom (pastry cream scattered with corn biscuits and chocolate chips). It's also worth sampling some of Grom's other infamous flavours, including Nocciola (hazelnut) and Menta E Cioccolato (smooth milk cream with mint and rich Ecuadorian chocolate chips). It's a good thing there are so many leather shops about, because you might need a new belt after this.
19
What is it? A stunning slice of Tuscan country life on which to indulge.
Why go? There's no denying the beauty of Florence, but if you're looking to explore further afield, head out to the Fiesole hills. A short journey north of the city will lead you to Villa il Palmerino. This historic property is home to a regular programme of lectures and concerts, as well as some breathtaking English gardens, which are open to tours. Stay for dinner at the restaurant to taste produce grown on the estate.
Looking for a place to stay in Florence?
We roamed the streets on both sides of the river to bring you some of the finest hotels in the city.