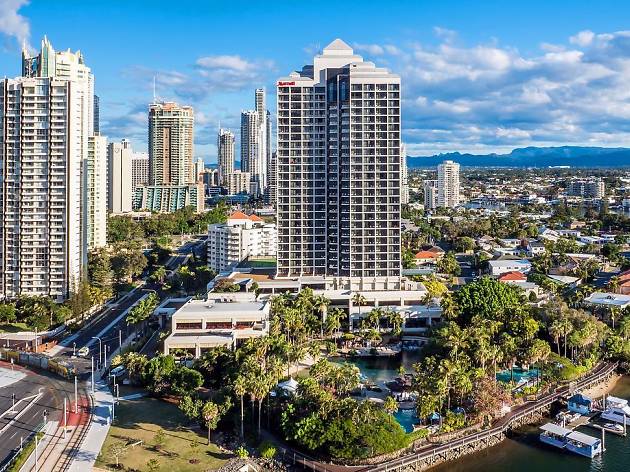 The 11 best hotels on the Gold Coast
For five-star comfort, miraculous ocean views and more bang for your buck, check out these top Gold Coast hotels
With its gleaming beachside skyscrapers, its entertainment strip and casinos, and plenty of exciting things to do, the Gold Coast—or 'Goldie' as it's affectionately known—has a reputation for being Australia's Las Vegas. But that's changing. The 2018 Commonwealth Games saw over a billion dollars worth of investment here, including an extension to the tram system, which now connects the city with trains to Brisbane. There are new markets, restaurants and bars too, and hotels featuring everything from private marinas and casinos to retro bikes, glowworm displays and even the odd jungle celebrity are clearly aimed at everyone from glitzy Sydneysiders and visiting dignitaries to backpacking 19-year-olds. Price points too ensure there really is something for everyone.
Best hotels in the Gold Coast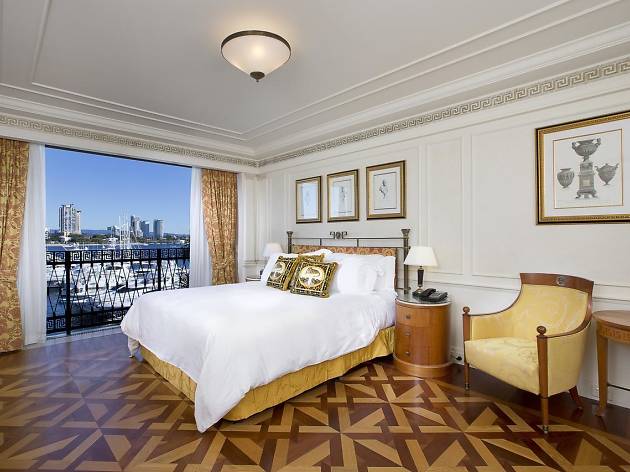 Photograph: Courtesy Booking.com
While not exactly subtle (the decor is a heady mix of marble, gold and chandeliers – but with that name, what did you expect?), the Palazzo is huge, and, crucially, lots of fun. Centred around a large pool, it has a well-equipped gym and spa, and rooms that are big and suitably luxuriant (massive mirrors galore, whirlpool baths). There's also a private marina and a restaurant that has one of the area's best buffet dinners. Fans of I'm A Celebrity, Get Me Out of Here take note: this is where ejected stars spend their first nights out of the jungle.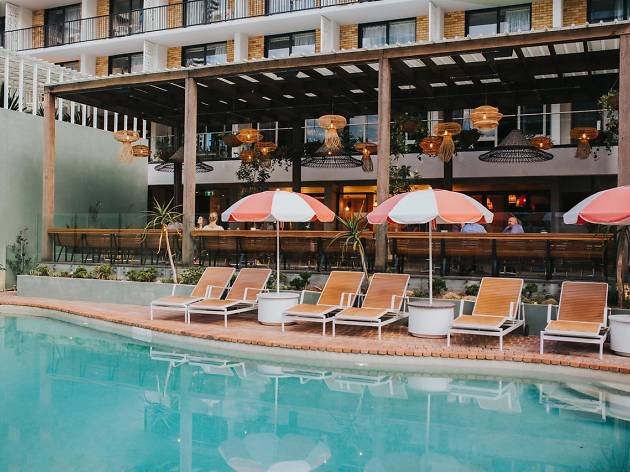 Photograph: Courtesy Booking.com
What used to be The Islander, a 1980s two-star hotel in Surfers Paradise popular with partying school leavers, or 'schoolies', has recently been remodelled as The Island, a boutique hotel aimed at a more sophisticated guest. With light wood panelling and black metal beds and wardrobes, a cocktail bar on the roof and a big, breezy restaurant downstairs, it's now one of Surfers Paradise's best budget hotels – albeit one that has thankfully retained a touch of its '80s cool. It's a block from the beach, too, though if you don't fancy braving the waves, there's a small pool.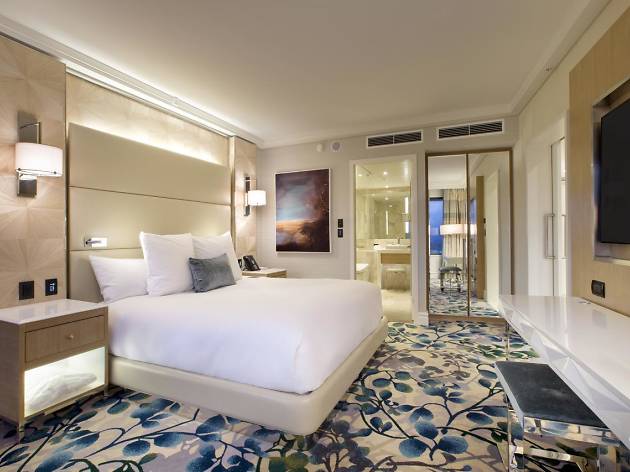 Photograph: Courtesy Booking.com
If you're here for a bit of a flutter, this Vegas-style Casino hotel – Queensland's oldest, in fact – combines eating and sleeping with the possibility of winning some dough. Housed on its own island in Broadbeach, The Star has a theatre, a spa, a large pool area with cabanas, and – the main attraction – a large, all-bells-and-whistles casino packed with clinking slot machines and elegant blackjack tables. It's opulent, yes, but with a sense of humour (NB the vending machines selling mini bottles of Möet). Respite from the kerching-ing throngs can be found in the serene Garden restaurant.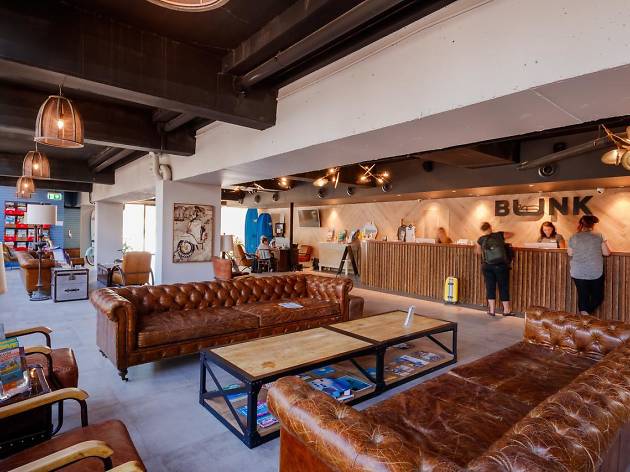 Photograph: Courtesy Booking.com
The newest addition to the Gold Coast's backpacker accommodation scene is this converted hotel, which, together with The Island next door, used to be The Islander hotel. It now offers top-of-the-range traveller digs: think dorms and private rooms with balconies overlooking a pool, sundeck and hot tub. Bunk Surfers Paradise also has a cafe and self-catering kitchen and a TV room, too – and if you need to get outside and away from all the socialising the beach is just a block away.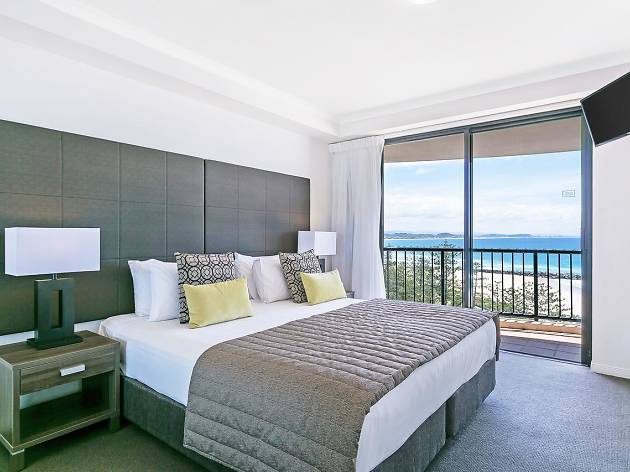 Photograph: Courtesy Booking.com
On the Southern tip of The Gold Coast, Coolangatta is a surf town with a laidback, slightly '70s vibe on the border with New South Wales. Mantra, on its main beach, is great if you're looking for a budget-friendly apartment hotel a short drive to the casinos, shops and malls in Surfers Paradise and the unmissable Currumbin Wildlife park. On site you'll find tennis court, a gym, a small sauna, and a pool, and you're walking distance to one of the region's best surf breaks too. Added bonus for Aussie film fans? Much of the 1994 classic Muriel's Wedding was shot here.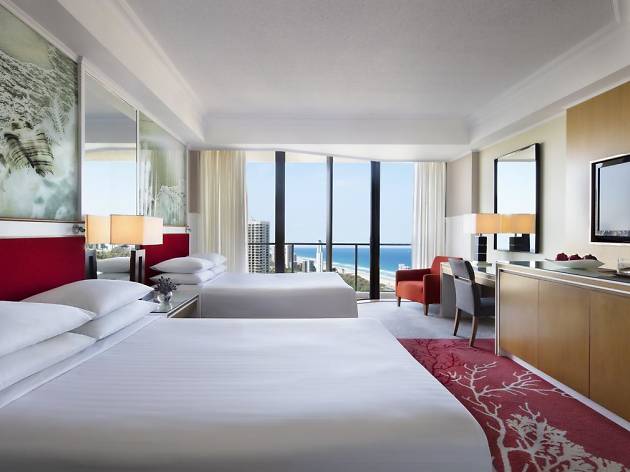 Photograph: Courtesy Booking.com
6. Surfers Paradise Marriott Resort & Spa
This Marriott at the northern end of Surfers Paradise is a great option for kids as it's just a few minutes drive from SeaWorld and a short stroll from the beach. There's a children's pool and waterslide, as well as multipurpose court for tennis, football and volleyball, and for grown-ups, an extensive spa, a couple of hot tubs, and a 24-hour gym. As far as the 226 rooms go, ask for one at the top of the 28-storey building and you'll have views over the beach or out towards the hinterland mountains.
Photograph: Courtesy Booking.com
7. O'Reilly's Rainforest Retreat
If you're looking to escape the sun, sea and crowds on the beach, head into the hinterland to Lamington National Park where you'll find one of Australia's ecotourism pioneers. The antithesis of Goldie's glitz and glamour, O'Reilly's is a collection of peaceful cabins dotted among the lush Queensland rainforest with a host of activities offered, from guided rainforest walks and Segway safaris to glowworm displays. There's a spa and an impressive, hearty restaurant. Pack your poncho – when it rains, perhaps unsurprisingly, it really rains.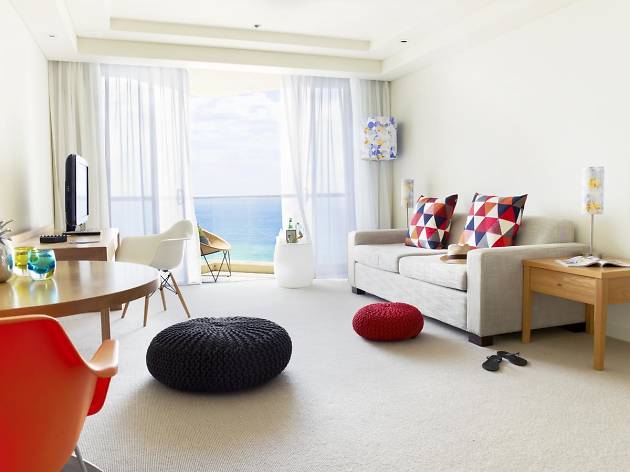 Photograph: Courtesy Booking.com
True to its name, QT serves up a kitsch slice of Queensland cool, with a Kombi van at the front door, retro bikes for guests to use and bright, jolly decor throughout. But despite that and its location a block from the sand, inside it's buzzy and even slightly sophisticated, with beachwear frowned upon and a clutch of semi-formal eateries, including the 'marketplace-style' buffet restaurant, Bazaar. The pool with a swim-up bar is more laidback, as is its cocktail lounge, Stingray, which features weekend DJs – check in advance if there's a dress code.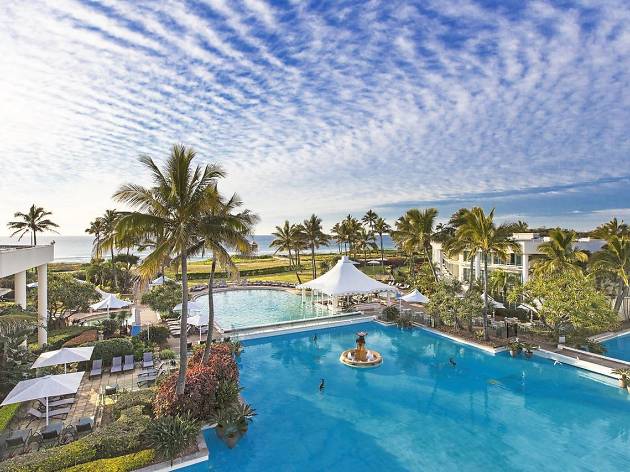 Photograph: Courtesy Booking.com
This huge hotel is within walking distance of Seaworld and boasts a sky bridge that connects it to the shopping centre on the other side of the road. It's also one of the only big hotels with direct access to the beach, though the waves up here can be rough, which is possibly why the pool area is one of the biggest on the Gold Coast, with a kids pool, a lap pool and a heated, colossal lagoon-like main offering. There's a gym and a spa, and Terraces restaurant gives the Palazzo Versace across the road a run for its money when it comes to its seafood buffet.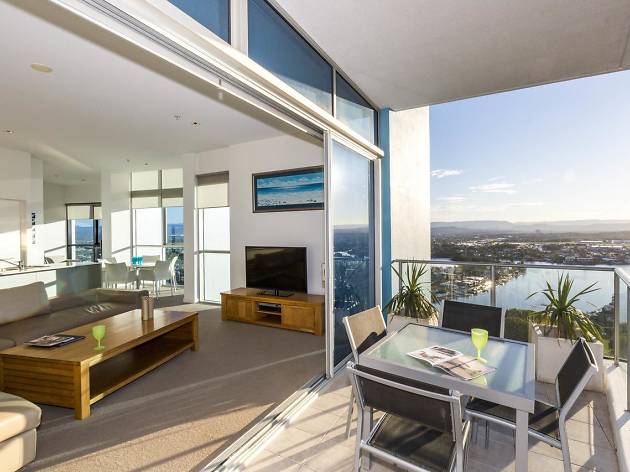 Photograph: Courtesy Booking.com
Artique is one of the most popular of the many apartment hotels in Surfers Paradise, with over 170 one- and two-bedroom self-catering flats spread over 30 floors. Views from the balconies are impressive and you're walking distance to the beach, and a short cab hop to the colossal Pacific Fair shopping centre if you fancy a spot of retail therapy – or you're looking to get out the sun. If not, there's a pool on site as well as a sauna and steam room.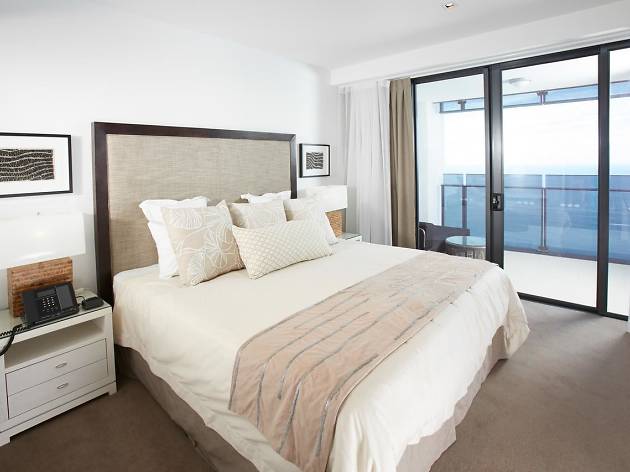 Photograph: Courtesy Booking.com
11. Peppers Soul Surfers Paradise
You can't miss Peppers, the gigantic skyscraper in the middle of Surfers Paradise. Rooms here could easily be noisy were it not for the fact that with 77 floors, you can easily rise above the bustle of restaurants and shops down below on Cavill Avenue. And if it's views you're after, you've come to the right place: bag the right room and the ocean and the beach stretch out in both directions (the rooftop pool has one of the most spectacular vistas in town). Apartments are modern, stylish and have floor to ceiling windows, meaning you really feel like you're in the clouds.