Ten favourite works by LS Lowry
Claire Stewart, curator of the LS Lowry collection at The Lowry, picks ten works best reflecting the artist's range.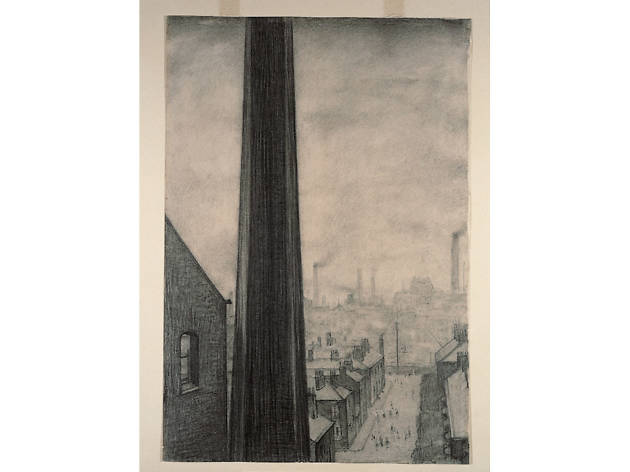 LS Lowry
A View from the Window of the Royal Technical College, Salford 1924.
When I started work at The Lowry several years ago I was really struck by this drawing. It's such a bold composition with the chimney right in the foreground and running from top to bottom of the paper. Essentially it's one of Lowry's classic terraced streets, but a really dramatic version. I love the feeling it gives of swooping down from that chimney, along the street and into the smoke-filled city beyond. He's completely cheated with the space to give that effect but everything about the drawing is so confident it makes me smile at his success in carrying it off.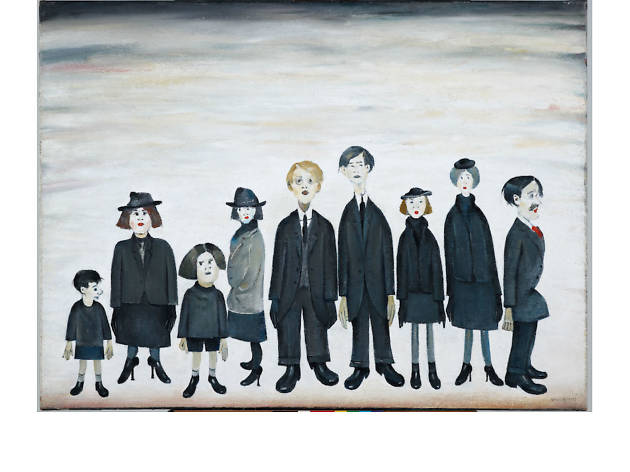 LS Lowry
This is one of Lowry's best known works but if you stop and look at it properly you wonder what on earth is going on in the picture. The figures seem caught in a strange, unreal space where the sky merges into the ground. None of them acknowledge each other (except the two children). Are they related or complete strangers? Lowry joked that they were all snubbing the man on the right who has turned up to a funeral wearing an unsuitable red scarf. The Funeral Party is really striking in its use of black, white and grey but when you see it up close there are lovely streaks of pink and ochre in the sky - it's beautifully painted.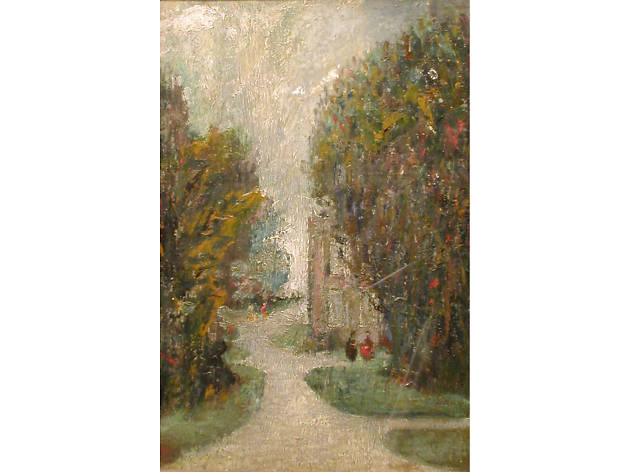 LS Lowry
I like this picture, not because it's necessarily one of Lowry's best paintings, but because it gives a sense of Lowry, as a younger man, experimenting with different styles of painting and finding his way. His teacher at Manchester School of Art, Adolphe Valette, had come from France with huge knowledge of and enthusiasm for the Impressionists, such as Renoir and Monet, and he passed this on to his students. I've always liked the idea of Lowry and his fellow students heading off to be Impressionists in places like Heaton Park and Boggart Hole Clough instead of Paris and Giverny.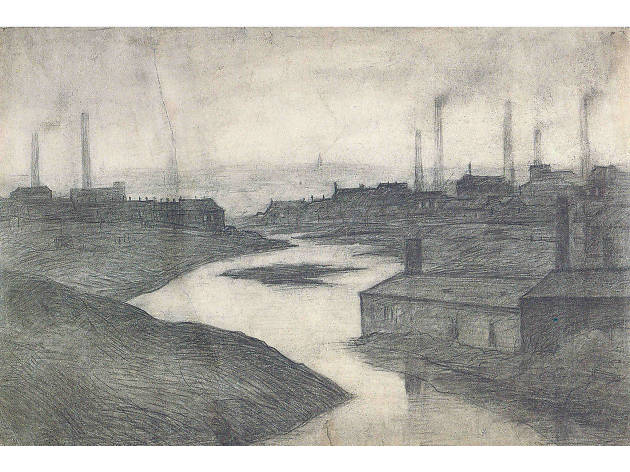 LS Lowry
The River Irwell at the Adelphi 1924
This is a pretty bleak view of Salford and the Irwell at a distinctive bend in the river's path. Frequently flooded in winter and heavily polluted, the Irwell marked the boundary between Manchester and Salford. The river, surrounded by industrial buildings pouring out smoke into the atmosphere, became the inspiration for many of the stagnant pools of water which feature in Lowry's industrial scenes. It's a key drawing for him in that respect and wonderfully dank and dismal. Anyone who thinks Lowry painted sentimental nostalgic pictures should definitely look at this work and The Lake!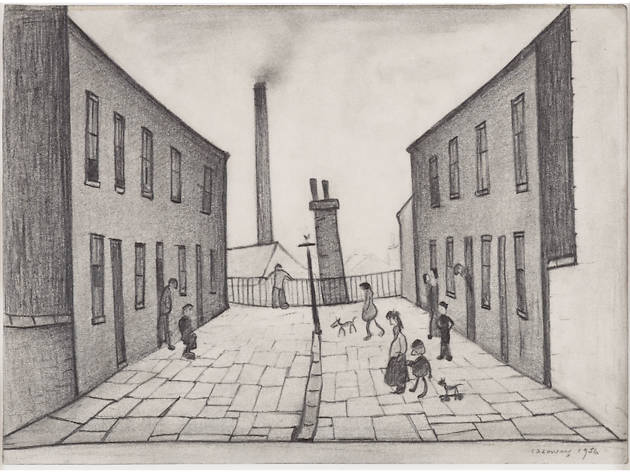 LS Lowry
Francis Terrace, Salford 1956
Many of Lowry's scenes are imagined, even if their initial inspiration comes from an actual place, but some of his drawings of Salford are more topographical. In the 1950s he was asked by Salford Museum and Art Gallery to draw some of the local areas which were due for redevelopment. You get the sense that Lowry liked the simple shapes and lines of Francis Terrace and he emphasises these in the drawing, using a very soft, dark pencil which gives a lovely rich, velvety tone. There aren't many people here but he seems to have depicted them with affection and the little group of the boy with his mother (or maybe it's his sister) holding on to his toy dog on wheels is lovely.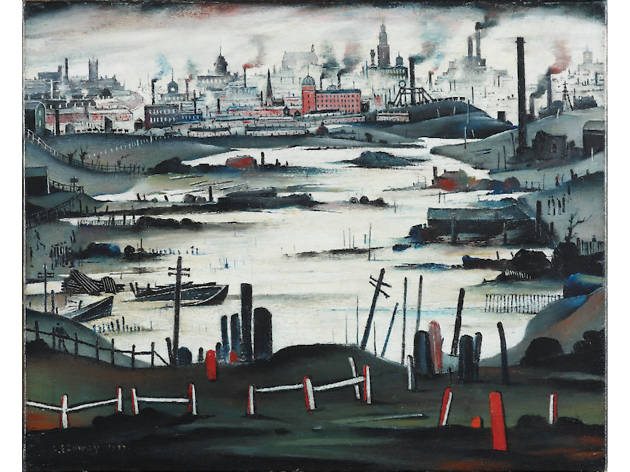 LS Lowry
People often think of Lowry's work as presenting a rather sentimental, cosy view of life in the north of England. They also tend to think of his industrial scenes as always being full of figures but in many, like this one, the figures are tiny and anonymous, overshadowed by their flooded, polluted surroundings. This is one of Lowry's bleakest views of life and it's often when Lowry is at his best - showing the darker side of life and human nature. He said himself, 'The thing about painting is that there should be no sentiment.'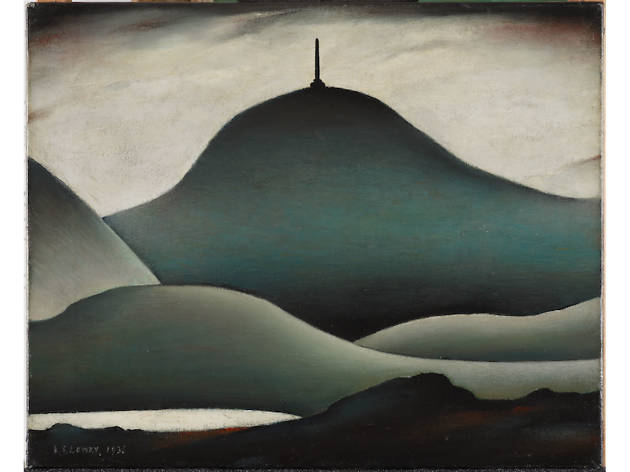 LS Lowry
Lowry's landscapes are often stylised, simplified scenes. They seem so still and airless it makes them far more mysterious than if they were exact representations of areas in Cumbria, which may be the initial inspiration for some of them. Those smoothly painted green hills have a slightly surreal quality and for all that the scene apparently depicts open spaces miles away from civilisation it still feels like a claustrophobic landscape.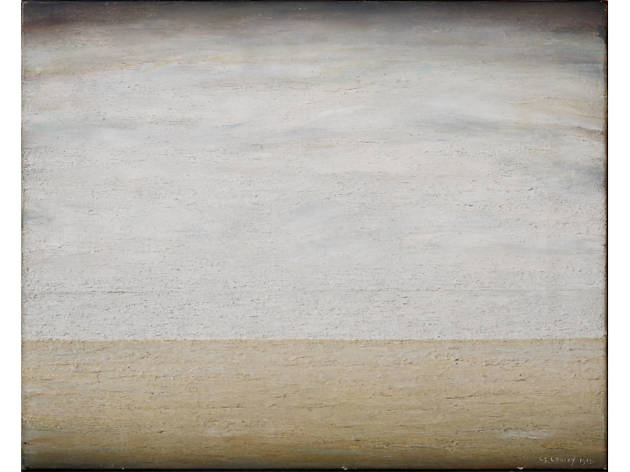 LS Lowry
Visitors to The Lowry, who feel they know LS Lowry's work well, are still surprised to see his seascapes, even though the sea (and water generally, whether as lakes or canals) is a long-running theme in his work. Sometimes Lowry described these pictures as an antidote to his other subjects and people often find them quite calming. Alternatively, others find them slightly sinister - a vast open expanse of water, disquieting in its emptiness. This seascape is simply three stripes - land, sea and sky - and unlike his landscapes I think his sea views do give a sense of space and air and the smell of salt water.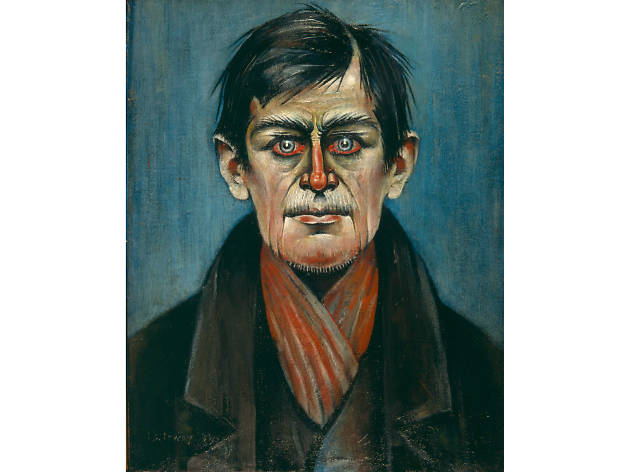 LS Lowry
Lowry's portraits can be among his most powerful and unsettling paintings. They depict men more often than women and are usually imagined characters but this picture began as a self-portrait before Lowry turned it into a 'grotesque head'. He described the process of painting it as 'letting off steam' and in the end it became a portrait of his state of mind at the time, rather than how he looked. For all that they are imagined, Lowry's people are strong, charismatic and complex characters, though not necessarily people you would want to meet. Sometimes it can be hard to look them in the eye and meet the challenge of their steady, searching gaze.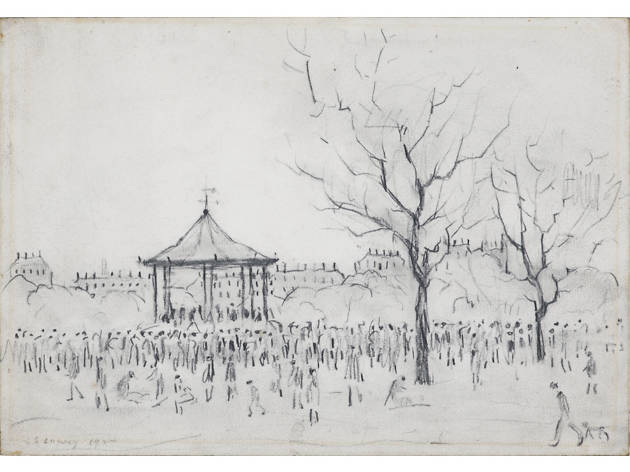 LS Lowry
Bandstand, Peel Park, Salford 1924
Here Lowry is back on home territory in a place that he drew and painted again and again - Peel Park in Salford. He often focused on the bandstand and the crowds which gathered around it. Like his view from the window of the Royal Technical College, and of Francis Terrace, it is drawn in Lowry's preferred soft, rich pencil. Having said that, there's more blank paper than pencil in this drawing - everything is reduced to essentials, including the marvellous spiky, leafless branches on the trees. This is Peel Park in the winter, cold and bare but still with a crowd gathered for the free entertainment at the end of a long working week.
Visit The Lowry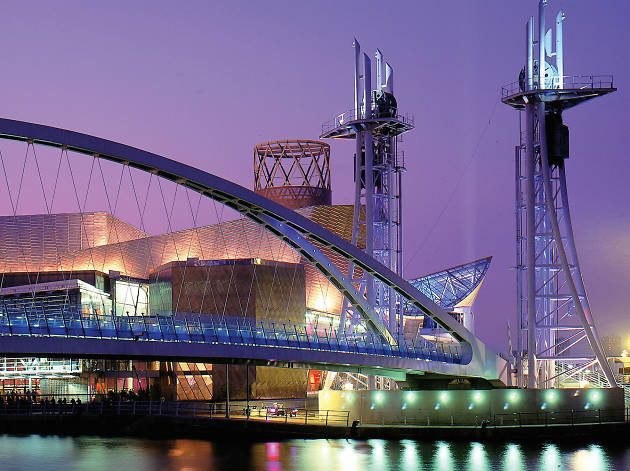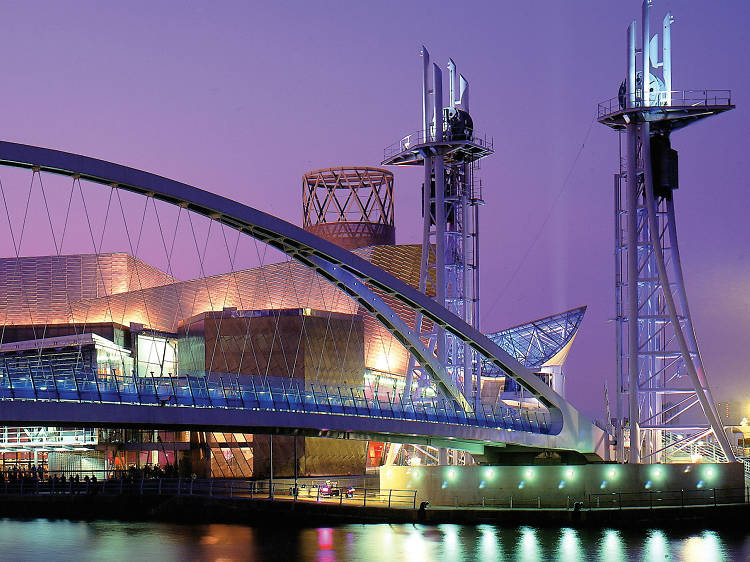 Home to the largest collection of Lowry's work anywhere, plus fantastic theatre spaces and a wonderful restaurant