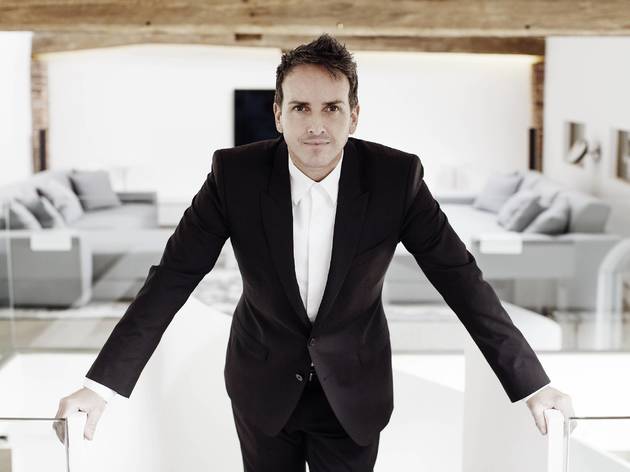 Behind the scenes at Parklife
We talk to festival co-founder Sacha Lord-Marchionne about seven years of Parklife
Parklife celebrates its seventh year in 2016, having grown from a one-day student focused event for 20,000 people back in 2010 into the two-day, 75,000 capacity monster at Heaton Park that it is today.
This success is no fluke, though. Parklife has blossomed thanks not just to the party-ready people of Manchester, but also to the collective of experienced and passionate promoters that work all year to make the festival one of the UK's best.
Among the team is Sacha Lord-Marchionne, one of the brains behind Warehouse Project, who started putting on parties back in 1994 at The Hacienda and remains committed to making the people of Manchester dance to this day.
We caught up with Sacha to find out more about the festival and the team behind it...
Who's behind Parklife?
Myself and Sam Kandal, who is in charge of bookings, started Warehouse Project back in 2006 and Parklife has grown from that. Now, we have three offices and in excess of twenty-five permanent staff in various departments… We used to run Warehouse and Parklife, now they are monsters and they run us!
Where did the idea/inspiration to start the festival come from?
When we started, Parklife was very much student based. The original location, Platt Field, was slap bang in the middle of Manchester's student hub, so that was our target market.
We saw something that was happening in the same park as an end-of-year student event. It was music based, but no real headliners and limited organisation. We saw there was a market there for a post-exam festival with big artists headlining. Luckily, it worked.
There are a LOT of festivals these days – why should people come to Parklife?
To begin with, we never thought we would have this big festival. I think the move to Heaton Park was a definite milestone, that was when we could say that Parklife was no longer simply for students. Heaton Park has seen shows from The Stone Roses, Oasis and even the Pope - 250,000 people came for that, he's a good headliner!
That move is when the festival changed. Now we're firmly in that top 10 festivals in the country, people know that we stand for a good time and a great line-up!
Which act will you definitely not be missing perform this year?
I'm really excited to see The Chemical Brothers. They came to university here, so Manchester is a special place for them - and they are a very special booking for us. We used their latest single 'Go' in our launch video, and for good reason. They bring energy to their live shows, so they're an obvious choice for our headliner.
What's been the best moment so far at Parklife for you?
First of all, we never planned for failure. If we set out to do something, it has to work and we throw everything at it. But, the idea of Parklife evolved over time, so we never really planned for this success either! When we started the Warehouse Project in 2006 and announced we would be holding 24 differen 3,000-capacity events over the period of three months, everyone thought we were off our rockers.
Then, a couple of years ago, there was a moment just before Snoop Dogg went on at Parklife. Me and Sam were both stood backstage and I asked him how he felt about it now, knowing what we had done. We realised we had really built something. After that, you find you can't just sit and watch Coronation Street because it's persistently there – in the nicest way!
What one bit of advice would you give attendees to get the most out of the weekend?
The site is at capacity but we're developing it creatively in all sorts of ways. As guests arrive this year, they'll see the first bespoke structures we've had made; we're focusing on that experience. The creative aspects are something to really look forward to, they will reshape the whole experience. So, I'd just say get involved and explore!
And finally, what would be the dream Parklife booking?
We had Grace Jones play at Parklife Festival in 2015. She's a real hero of mine, so it was a bit of a dream come true to have her in Manchester!

For ticket info, please check out the official Parklife site.

Read our Parklife guide
Find out everything you need to know about this year's festival.