Five 'guilty pleasures' to embrace in Manchester
Don't feel guilty for indulging in these five silly but fun activities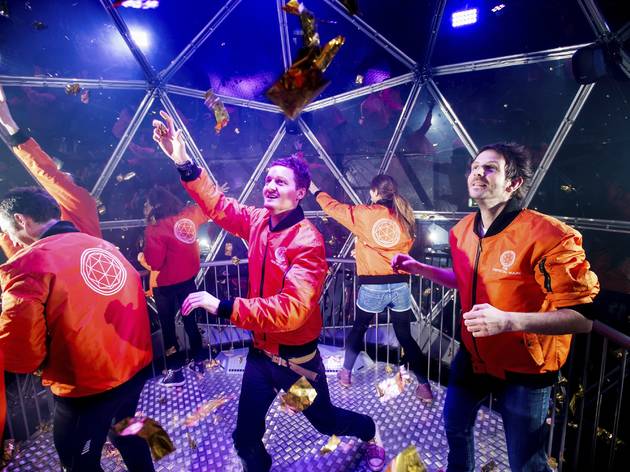 More pleasure, less guilt – that's our philosophy. As well as these pleasure-bringing things to do around Manchester, we've delved into the naff-er side of Northern life. There's no reason why having a dance to some golden oldies or a quick game of flightless Quidditch should cause you to feel any guilt if you've had a lovely time doing it. So forget the cool factor, ditch the guilt and choose these five pleasures around Manchester.
Embrace the '90s with an N64 sesh
Gaming might all be virtual reality and mind-reading these days, but hark back to the good old days of the N64 and teenage nights spent mashing the keypad to get Link to Hyrule or Mario to the right castle to rescue Princess Peach. You'll find vintage consoles in the Jules Vernes-themed Hold Fast Bar in the Northern Quarter. There's no pleasure quite like deploying a red shell at a crucial moment and reigning as supreme Mario Kart champion – winner stays on!
Get poppin'
Manchester's nightlife is second to none and you'll find an abundance of pop nights to sate your appetite for cheese. The Deaf Institute is the hipsters' choice, and features nights that will spice up your life, like Saved by the '90s (July 6), where fancy dress (or, as some of us still living in the past know it, dress) is heavily encouraged. There's also the aptly named POP which takes place on the last Saturday of every month – and has a very fun-sounding Pride special scheduled for August 29.
Get your Potter on with a game of Quidditch
Despite the rather obvious disadvantage of not being able to fly, Harry Potter fans regularly don their capes and release the snitch for a game of Quidditch. The muggles among us have devised a way to play the legendary sport without the aid of magic, so you'll try to score points by getting the quaffles through hoops, avoid bludgers and end the game by catching the snitch – running around a field pretending to ride a broomstick sounds silly as anything, but just let go of your inhibitions and get those endorphins flowing.
Don't get locked in at the 'Crystal Maze' live experience
Another legendary game from your childhood has made its IRL debut – imagine the pleasure of clutching a crystal in your hand, having successfully wound your brain around the various puzzles – or the sheer joy of shouting 'LEFT A BIT! RIGHT A BIT!' as your teammates do the same. And don't worry: satin bomber jackets are provided. Book tickets here.
Have a rock 'n' roll dinner at Hard Rock Cafe
Themed restaurants are always a little bit cringe and none more so than the faded glory of the Hard Rock Cafe – but it's still a thrill to tuck into a burger under the watchful eye of Liam Gallagher's 1955 Gibson J-45 acoustic and one of David Bowie's setlists. Get yourself a keyring or a pencil in the gift shop to remember what is no doubt set to be the culinary experience of your life.