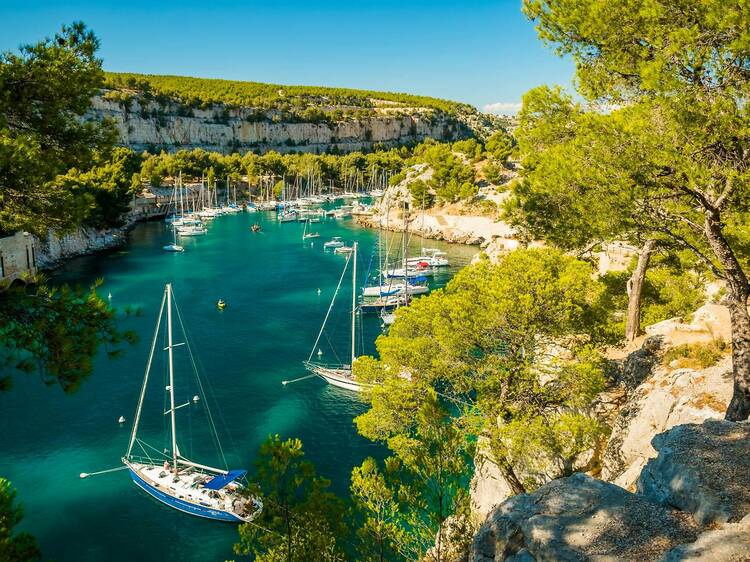 Photograph: Shutterstock
Boat tours of the Calanques
A boat ride in the Calanques National Park, to take in the breathtaking beauty of its limestone fjords and turquoise waters, is an essential Marseille experience.
The giant 150-to-250-person Compagnies Maritimes boats offer two different itineraries, with the longer Intégrale route taking in the gorgeous Cassis coves. If you're looking to take a dip along the way, be sure to book the Baignade route. Prices start at €38 (£34, $40).
Prefer to spend more time snorkelling, swimming, and sunning? You'll love Bleu Evasion's calanques tours, with morning, afternoon, and evening outings that are ideal for group boat trips. Choose from an 8-to-12 person motorboat or a 24-person catamaran, with prices starting at €89 (£79, $95). The company runs boats from both Marseilles and Cassis.
Want a private bateau? Click n' Boat, the Airbnb of boats, rents vessels for every budget from several Marseille ports. The closest ones to the Calanques are Pointe-Rouge or Les Goudes. Be sure your skipper has a green pass to access the park: a new system to protect the Parc National's fragile ecosystem.
And if you're looking to combine sailing with eating (who wouldn't?), check out the Levantin catamarans for a calanques or Côte Bleue brunch and a sunset dinner to Château d'If, with prices starting at €59 (£52, $63).