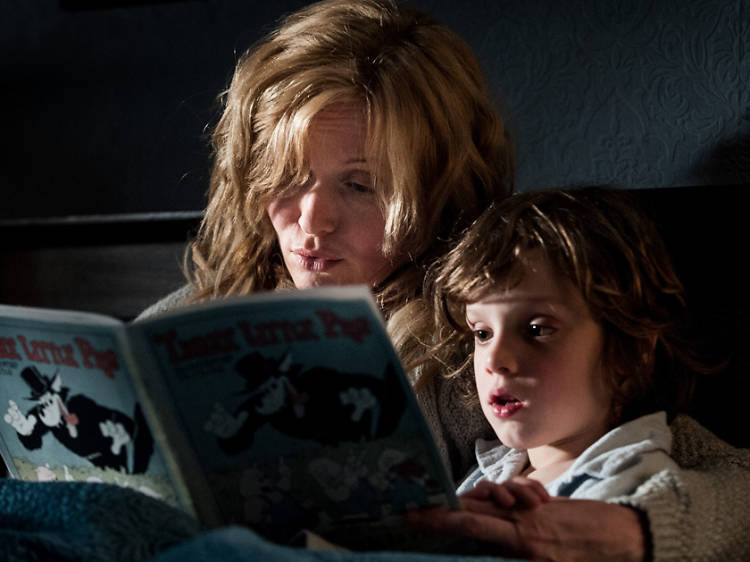 Photo: Courtesy of IFC Films
Who brings a children's book called Mister Babadook, rife with illustrations of toothy terrors peering around bedroom doors, into their home? The answer to that is left deliciously vague in this slow-building, expertly unsettling horror film, but it's probably safe to assume that it wasn't the broken family at the heart of the story. Amelia (Essie Davis), a tired-looking caregiver working in a nursing home, grapples with single motherhood in the wake of a catastrophic car accident that killed her husband while he was driving her to the maternity ward. Samuel (Noah Wiseman), the surviving child, now six, is stuck in his shrill phase, has a hyperactive imagination and is obsessed with building weapons.
These are precisely the wrong people to be reading dark bedtime stories, yet mysteriously, there's the book on the shelf. And there goes your peaceful night's sleep. Maybe the better question is: Who thinks up a film like The Babadook? Actress-turned-debuting-feature-director Jennifer Kent has the narrative chutzpah to show her entire hand in the pop-up story and then make us squirm as foretold events come true. Even more impressively, Kent doesn't shy away from Amelia's off-putting mental state, an internal battle between parental love and palpable resentment (young Sam will always be a reminder of her marital loss).