Spring Breakers: movie review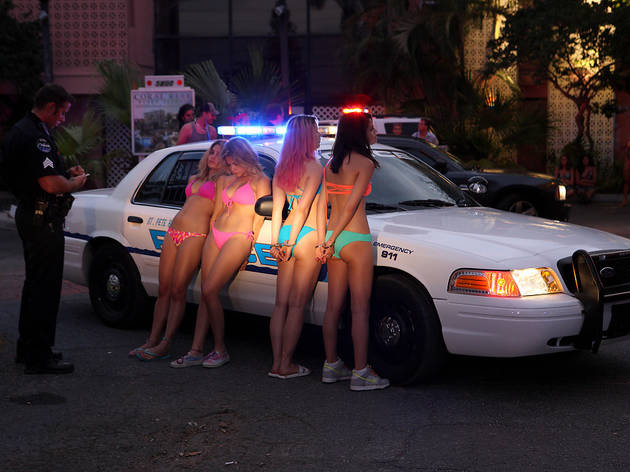 Time Out says
The moment is ripe with low-hanging fruit: Sofia Coppola readies her criminal escapade The Bling Ring, about vapid Hollywood thievery; David Mamet is set to spring the tabloidy Phil Spector on HBO; and even Paul Schrader and Bret Easton Ellis have found a theatrical taker for their LiLo-sploitation drama, The Canyons. If you favor your sleaze with a fillip of arty self-awareness, these might be the best of times.
Never one to be outdone in such things, Harmony Korine hoists his bong and beer funnel high in Spring Breakers, a full-bodied (and bare-bodied) paean to lurid debauchery. The former enfant terrible, still most famous for scripting Kids (1995) at age 18 and moving on to Gummo (1997), says he never went south to experience a spring break personally. The good news is he's made up for it in spectacular fashion: Right from the start, we're immersed in slo-mo beach jiggle and the pounding squelch-dance of Skrillex (the soundtrack, also by frequent Soderbergh collaborator Cliff Martinez, creates a humidity of its own). So fully does Spring Breakers mount an atmosphere of swirling arms, blithe female availability and lubricated torsos, you can almost smell the sex stink.
All of this should equal a gold mine for a certain kind of audience, but Korine—like his onetime mentor, Larry Clark—has a brass-ring–grabbing instinct that pushes his salaciousness into capital letters. He's going for a tongue-in-cheek Statement About Our Lost Youth and the pretension is so obvious, you want to hug him for it. First, we're in a near-parody of a mediocre college, where Candy (Vanessa Hudgens), Brit (Ashley Benson), Cotty (Rachel Korine, the director's game wife) and goody-two-shoes Faith (Selena Gomez, never required to shed her squareness) take to their dorm hallways in flouncing displays of bare-legged gymnastics. Korine lays the bored young women out on a disgusting bathroom floor, counting their cash and dreaming of escape. The more lawless of the quartet get high and rob a chicken shack (Korine, ever the professor, emphasizes the line, "Act like you're in a video game or something").
Already swollen with girl-on-girl flirtation, criminal fantasy and naive dreaminess, the movie explodes into Tampa Bay–set skankitude, where our leads are never out of bikinis, even when flung in jail for trashing a hotel room. They're bailed out by Alien (James Franco, more alive than ever in the film's only actual performance), a cornrowed, heavily armed wanksta rapper who nakedly desires them for his posse.
It all plays out in a final flourish of DayGlo Scarface wish fulfillment, and you can't really believe what you're watching. Alien—and Korine—tell us it's the American dream come true, and even if you resist going there with them, the have-your-cake-and-fling-it-too stupidity is breathtaking. It takes some kind of cracked artistry to put coeds in hot-pink ski masks and have them twirl around to a Britney Spears ballad toting machine guns. Spring Breakers is either an inspired satire of the youth movie or the most irresponsible comedy mainstream Hollywood will never make. The bros in your crowd will call it rad—and radical it is.
Follow Joshua Rothkopf on Twitter: @joshrothkopf
Details
Release details
Cast and crew
Director:
Harmony Korine
Cast:
James Franco
Selena Gomez
Ashley Benson
Vanessa Hudgens
Rachel Korine

Users say