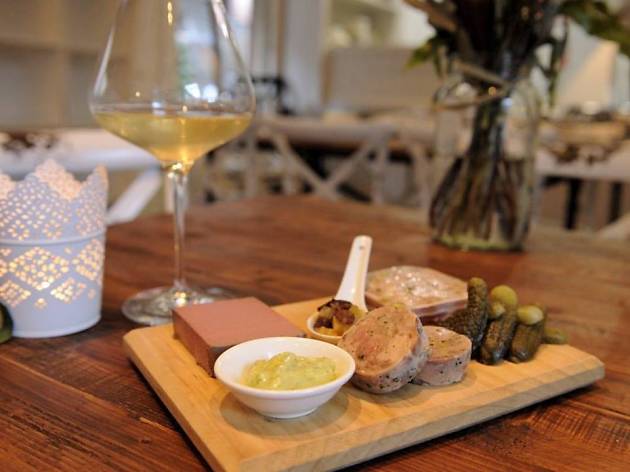 Mount Hawthorn's sommelier-driven small bar is nailing the big stuff – service, substance and a shrewdly curated wine selection
Gone are the days when you could open a small bar in Perth and people would flock because it was part of the boom. A point of maturity has been reached, where small bar owners have to be savvy across the board: wine, beer, décor, food – and that often forgotten ingredient, service. Half measures won't cut it.
Enter Budburst, the first venture by sommelier Rachael Niall, in what was previously Iain Lawless's Wee Bar. An experienced sommelier working in Perth, Sydney and London, Niall has obviously attained more than just a good palate. From the drinks repertoire, to the small plates, to a team that know the business, Budburst is on the money.
The wine list is a smart curation of taste, not a tick in the box of a wholesaler's order book; an introduction or a reacquaintance with everything from Austrian pinot gris to the best of Australian natural wines, to something closer to home from the West. It's certainly not a list girt by parochialism. Select from about 20 different wines by the glass, or if you're going by the bottle, you've got around 60 of them to consider.
Cuisine is loosely based on European, with Gwenael Lesle (ex-Bouchon Bistro in Wembley) heading up the kitchen. Delightful house-made charcuterie involves duck terrines, chicken liver parfait and freshly baked brioche, while the Croque Monsieur makes for a perfect savoury hit in between rounds. Larger plates are available too – the dining room at the back is the best place to get into the more refined menu.
You could easily characterise Budburst as a neighbourhood bar - and a very good one at that - but it goes beyond its destination. Seek it out.
---
Venue name:
Budburst Small Bar
Contact:
Address:
406 Oxford St
Mount Hawthorn
6016

Opening hours:
Tue-Sat 4pm-midnight; Sun 4-10pm
Rating Breakdown
5 star:

0

4 star:

0

3 star:

0

2 star:

0

1 star:

1
I was absolutely disgusted by the treatment I received at Budburst tonight. My partner and I walked into a wedding function here by mistake and went to the bar to order a drink before going to dinner. The black haired female bartender (which I later found out was the OWNER, Rachael Niall !!) asked if we were part of the wedding party, we said no. Instead of saying politely that it was a private function and that we couldn't drink there tonight, she just gestured rudely to the bride over in the corner, to which I had to blatantly ask her what she was going on about.
Once we realized it was a private function I then turned to my partner and said we should go. The nasty woman must have misheard what I had said, as she asked me something along the lines of "what did you say?" and as we were walking out I clearly heard her tell us to "f*** off".
That's right, we - as customers - were told by the OWNER to "f*** off" because she thought we had said something rude, which we certainly did not. Even if we had said something untoward, there is no excuse for receiving such behavior and language from someone in a professional customer service role.
Now my partner and I are (were) loyal customers of Budburst, coming here 2 -3 times per month. No more. We would expect this type of disappointing behavior from a 18 year old casual, not the owner with 17 years in the industry. Disgusting