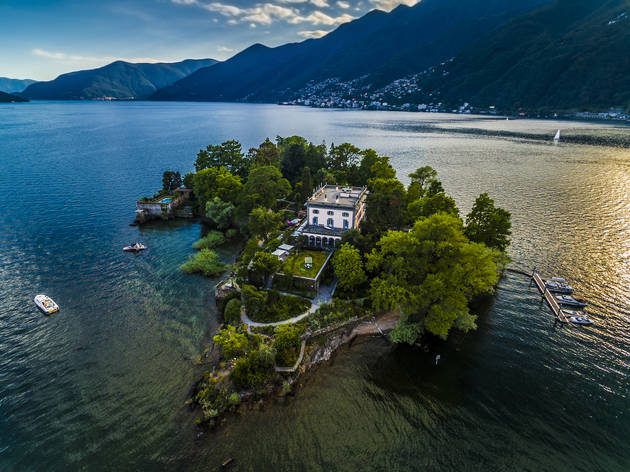 Switzerland's secret island life: 11 Swiss islands to visit and fall in love with
Are you dreaming of white sandy beaches and turquoise-blue waters shimmering in the sun? Then get yourself off to these 11 hand-picked Swiss islands.
As everyone's minds slowly turn towards a post-lockdown life, we've been thinking about places we can't wait to visit. After a big spell of isolation, most people are itching for a holiday in somewhere that's not their own home or nearest supermarket. For obvious reasons, going abroad in the near future may not be possible or just not particularly appealing for some, but fear not: you can still soak up some exotic vibes and feel like you're a million miles away from home, all without ever hopping on a plane.
Not everyone knows that Switzerland is actually blessed with some incredible islands scattered around the country. From a tropical retreat to lakeside spots made for lazing to wild wetlands islands to history-filled hideaways, there's a Swiss island that everyone will love.
Below are 11 beautiful examples of Swiss island life – originally published on myswitzerland.com – which make perfect holidays destinations, either by themselves or as part of a larger Swiss staycation trip. See you there!
11 Swiss islands we've been dreaming of
The climate on Lago Maggiore, which is uniquely mild for Switzerland, allows subtropical plants to flourish under the open sky on the larger island, Isola Grande. Around 1,700 species of plant can be found in the botanical gardens of the Canton of Ticino.
Arrival: There are various ferry connections from Locarno, Ascona and Brissago.
Ship ahoy to the green oasis! Schwanau Island is in Lake Lauerz, nestled between the two peaks of the Mythen and the Rigi. The island is home to the ruins of a castle, the Chapel of St. John and the quaint Insel-Restaurant Schwanau, which serves light, creative regional dishes.

Arrival: A ferry brings visitors to the island in five minutes. Free boat trips to and from the island are provided at midday and in the evenings.
"Of all the places where I have stayed, none has left me as truly happy as St.Peter's Island in the middle of Lake Biel", wrote the well-known writer and philosopher Jean-Jacques Rousseau shortly before his death. The idyllic island is still a haven for all those seeking inner strength and tranquility today. Those who want to enjoy more time on the island can spend the night in style in the historical Klosterhotel.

Arrival: St. Peter's Island is a traffic-free peninsula in Lake Biel, which can be reached on foot via the romantic Heidenweg path from Erlach or alternatively by boat or water taxi.
Swimming, sunbathing or just lazing around: there's a good reason why the name of this island translates as "the lake of midday peace". Lake Cauma is in the heart of Flimserwald Forest and wows people with its strikingly turquoise-blue and refreshingly cool water.

Arrival: The small island can be reached by pedalo, boat or by swimming.
The Rhône stretches out for 7km through the Pfyn-Finges Nature Park with its islands, wetlands and scrub landscape. The natural landscape is a paradise for rare species. Bathing in the waters is therefore not allowed. If you want to cool down, the best way to do this is to take a refreshing drip in the Rhône.

Arrival: On foot from Susten or Sierre on marked pathways to Pfyn-Ffinges Forest and the islands.
The three Lorelei Bathing Islands are the youngest islands in Switzerland and serve to renature the Reuss River Delta. They were created using stone from the Gotthard Base Tunnel and have been a popular place to sunbathe and while away the hours since 2005. The neighbouring islands are home to rare animal and plant species.

Arrival: It's a 25-minute walk from Flüelen railway station to the islands. Take the Tell Bus from Lucerne to the Flüelen-Eggberge cable railway stop and walk the rest of the way. You can reach the Reuss Delta by car via Seedorf or Flüelen.
On Ogoz Island in Lake Gruyère stand some castle ruins with two mighty towers and a chapel – the remains of a small town dating back to the 13th century that disappeared into the water in 1947 when the River Saane was dammed. Today, the island is a popular place for events and weddings.

Arrival: Ogoz Island can be reached by boat, or sometimes can even be reached on foot in spring when water levels are low.
Small Schnittlauchinsel (Chive Island) is the only island in Lake Walen and the only island in the canton of St.Gallen. There is a green postbox on the island containing a message in a bottle. When the water level is high, Schnittlauchinsel is flooded and only the trees appear above the water – a great sight.

Arrival: The island can be reached by boat, or strong swimmers can swim out to it. It's prohibited to set foot on the island, however, since it is a protected habitat for the flora and fauna that reside in its waters and wetlands – although admiring it from a distance is fine!
Ufenau Island in Lake Zurich is the biggest natural island in Switzerland that is not connected to the mainland. What makes it so special is that every spring and autumn about 30 cows, which are brought to the island by boat, graze between religious buildings dating back to the 12th century and the island's restaurant. A unique tradition!

Arrival: The Lake Zurich Navigation Company runs boat services to Ufenau several times a day. You can also reach Ufenau via taxi boat from Pfäffikon SZ. More info: Bathing is not allowed on Ufenau, because the island is a protected zone for plants and animals. It is, however, permitted on neighbouring Lützelau Island. Transfer by taxi boat possible.
Île de la Harpe was created in Lake Geneva in 1838 in honour of Frédéric César de la Harpe and features a 13-metre high obelisk erected as a monument to him. It lies 80 metres from the shore of the town of Rolle and is a popular bathing spot in summer.

Arrival: The town of Rolle is best reached by boat, or a strong swimmer can swim out to it.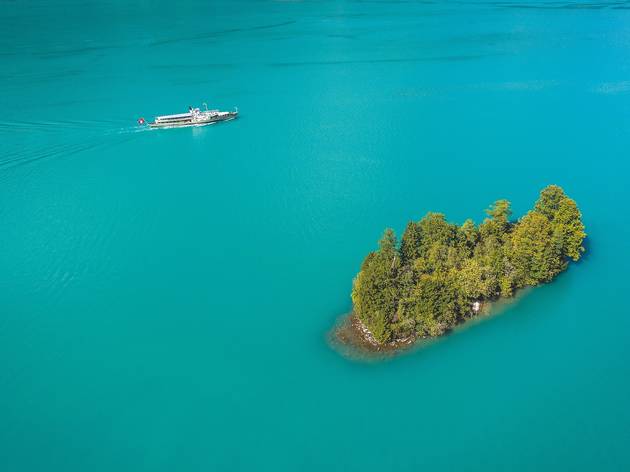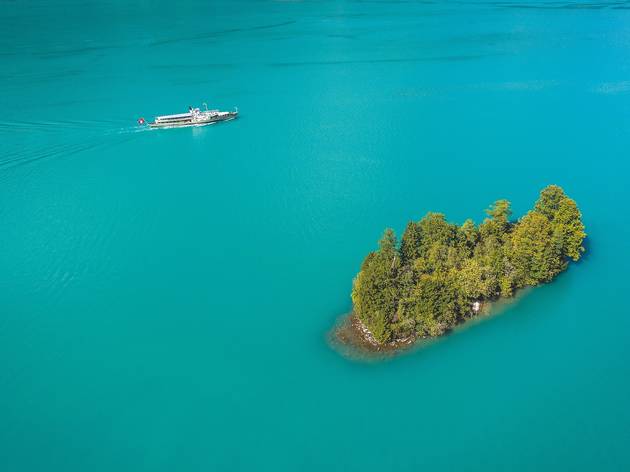 Martin Maegli
11. Schnäggeninseli, Bern
Schnäggeninseli (Snail Island) is located in turquoise-green Lake Brienz close to Iseltwald, and can be rented out for private occasions. How the island got its name is still unknown. It is claimed that its small size or snail-farming allegedly carried out by monks could be the reason behind it.

Arrival: The island can be reached by boat.