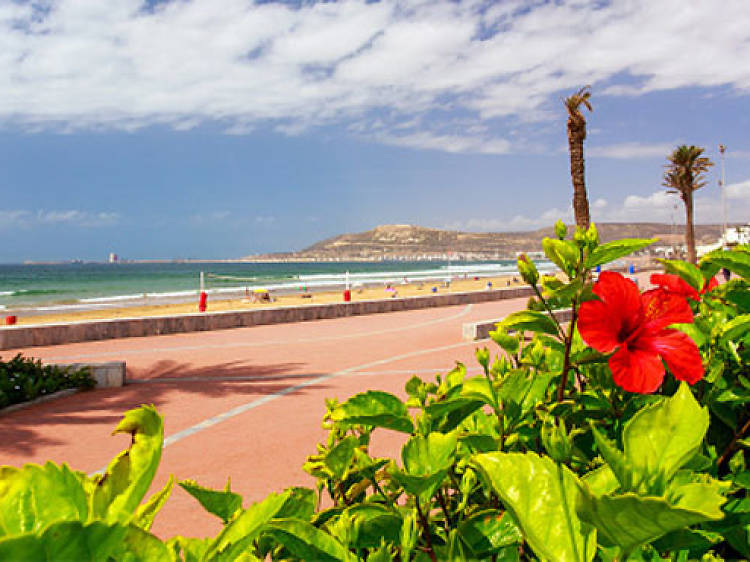 ©czekma13
The 3 best things to do in Agadir
After a devastating earthquake destroyed most of Agadir on 1960, the city was rebuilt with tourism in mind. Considered to be one of Morocco's hidden gems, Agadir has a different pace of life compared to the busy and bustling streets of Marakesh. Here it's about relaxing, surfing and, of course, watching the sunset with a cup of delicious mint tea.


1. See the old parts of town
Although Agadir is modern town, there are still old sights to see, like the port, the souk and the kasbah. The kasbah is an old fortress overlooking the town and visible from miles around. A guided tour of the city, taking approximately three hours, includes a visit to the local museum, a stop at the main mosque of Agadir, a visit to the port to see boat building in progress, a visit up to the kasbah and a visit to Souk al Had, said to be the largest souk in North Africa covering four square kilometres.
2. Feast on excusite local cuisine

There are no shortages of restaurants in the tourist sector but the better class are found on Boulevard du 20 Aout, close to the beach front hotels. Top restaurants are Le Jardin d'Eau, Catanzaro and La Scala which is frequented by the King of Morocco (which would result in the venues closure). In the Talborjt district, where the local people live and eat, there are many restaurants offering three course meals starting at 45Dh, an excellent one being Ibtissam.


3. Hit the waves
Blessed with some of the world's best waves and most diverse surf spots around, the Agadir region of Morocco is one of the top places to learn, improve or practice surfing, whatever your ability. There are a number of surf schools dotted around the city and beyond, such as Taddanga and Spot Morocco.