The 10 best things to do in Texas
From picturesque parks to out-of-this-world exploration, here are the best things to do in Texas
In a state the size of Texas, there are so many diverse and exciting attractions, monuments, cities, rural towns and landscapes (hello, beaches) that it's enough to make your head spin. Exploring the Lone Star State requires time, patience, a trusty car fit for road-tripping and a playlist chock-full of twangy Willie Nelson and Robert Earl Keen tunes. The state's seven regions are wildly distinct, but wherever your travels take you, you're bound to encounter a near-universal rebellious spirit and deeply entrenched sense of Texan pride. In short, the rumors are true: Texas is big, bold and absurdly beautiful.
Done something on this list and loved it? Share it with the hashtag #TimeOutDoList and tag @TimeOutEverywhere.
Find out more about how Time Out selects the very best things to do all over the world.
Best things to do in Texas
Photograph: Courtesy CC/Yelp/Jenny W.
1. Big Bend National Park
What is it? Situated in the far-flung, southwestern reaches of the state, Big Bend is one of the most remote and least visited national parks in the country. It's also one of the most beautiful.
Why go? With its cathedral-like canyons, lushly forested mountains, stunning desert expanses and unending stretches of wilderness, there's no overstating Big Bend's natural beauty and sheer biodiversity. Visitors can opt to float the mighty Rio Grande, hike in the gorgeously craggy Chisos Mountains or explore the fascinating Chihuahuan Desert. Do yourself a favor and spend at least one night in the park, in order to properly experience those famous West Texas starry night skies.
Photograph: Courtesy CC/Yelp/Victoria J.
What is it? Opened in 1888, Texas's three-story state capitol building is the largest in the union and arguably the most impressive structure in the state.
Why go? No visit to the Lone Star State is complete without seeing the Texas State Capitol. The building itself is architecturally beautiful, of course, with its ornate, pink-granite grandeur and the legendary, 218-foot rotunda. But be sure to walk around the lovely grounds and check out the outdoor monuments, as well, to gain a rich insight into Texas history and culture.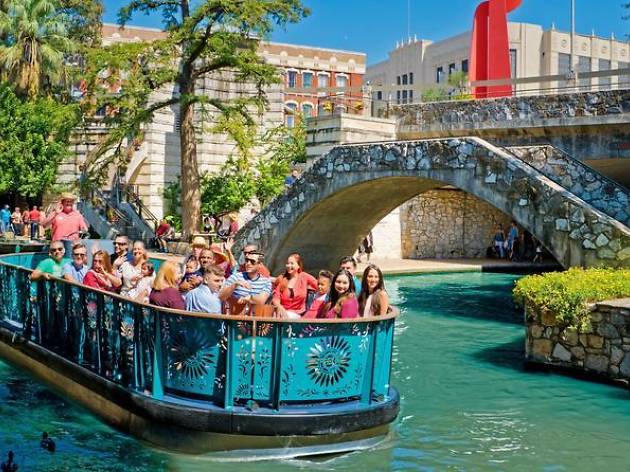 Viator
3. San Antonio River Walk
What is it? A winding, urban waterway lined with lush plantings, shops, museums, flashy hotels and iconic restaurants and bars that attracts millions of visitors every year.
Why go? Officially designated a UNESCO World Heritage Site, the River Walk in San Antonio is a one-of-a-kind attraction. Dripping with pretty Spanish colonial architecture and historical markers, in addition to popular dining and nightlife spots, the River Walk is the picture-perfect place to stroll around – or, better yet, hop on a river taxi for the best possible tour experience.
Photograph: Courtesy CC/Yelp/Amanda S.
What is it? Built in 1878, Gruene Hall is the oldest-running and most famous dance hall in the state.
Why go? Texas's musical history is storied, rich and steeped in tradition. Nowhere is this more apparent than at Gruene Hall, the historic dance hall and live music venue located in picturesque Gruene, about 25 miles north of San Antonio. The list of famed country singers and legends that have performed at Gruene is long, and the landmark venue still boasts a full concert calendar, dance lessons and other town events.
Photograph: Courtesy CC/Yelp/San M.
5. Padre Island National Seashore
What is it? 70 miles of protected, scenic stretches of coastline, prairies and dunes that separates the Gulf of Mexico from the Laguna Madre.
Why go? The world's longest undeveloped barrier island, Padre Island National Seashore is a Texas treasure, and one of the state's most important conservation areas. The island provides a safe habitat for over 350 migratory bird species, in addition to the rare Kemp's ridley sea turtle. Plan to visit the Malaquite Visitor Center upon arrival to get your bearings and plot out your beach activities for the day.
Photograph: Courtesy CC/Yelp/Greg L.
What is it? A historic cattle district steeped in longtime cowboy tradition, the Stockyards are now a hub for live entertainment, including rodeos, concerts, and shootout shows.
Why go? For a rich insight into Fort Worth's Wild West culture and its famous livestock industry, a visit to the Stockyards is a must. The city used to be known as "Cowtown", due to being one of the biggest stockyards and processing operations in the West, and today, strolling through the Stockyards is akin to stepping back in time.
Photograph: Courtesy CC/Yelp/Jonathon W.
What is it? Home of NASA's Lyndon B. Johnson Space Center and Mission Control, the monitoring center for the agency's manned space flights.
Why go? One of Texas's top tourist draws, the Space Center in Houston provides a captivating look into the world's largest space program. There are dozens of interactive exhibits, astronaut artifacts, space simulators, film screenings and other fascinating behind-the-scenes displays here. Diehard space fans should reserve a "Level 9 Tour" ahead of time, an in-depth guided tour of NASA and Mission Control.
Photograph: Courtesy CC/Yelp/Andrew S.
What is it? The tastiest BBQ joint in Texas, which, in a state that prides itself on producing the best-smoked meat in the country, is really saying something.
Why go? You've probably heard about the epically long lines at Franklin Barbecue (it's not uncommon to stand in line for three hours on the weekends), but trust us, the wait is well worth it – the food is just that good. Anthony Bourdain deemed it "the finest brisket I've ever had", and top food critic after top food critic has raved about the silky, succulent, meaty perfection of the meals here. Eating at Franklin Barbecue is a rite of passage for Texans.
Photograph: Courtesy CC/Yelp/Luis G.
9. Palo Duro Canyon State Park
What is it? The second biggest canyon in America, after the Grand Canyon.
Why go? Palo Duro Canyon State Park is characterized by astonishing natural beauty, brilliant colors and, of course, the rugged, breathtaking canyon itself, which is over 100 miles and over 1,000 feet deep in parts. Located just 20 miles south of Amarillo, in the Panhandle, this state park is a must-see. And for a real Lone Star State-themed treat, plan your visit around seeing TEXAS, an outdoor musical that runs during the summers in the park's Pioneer Amphitheater.
Photograph: Courtesy CC/Yelp/May A.
What is it? The site of the most popular Spanish mission and battle during the Texas Revolution.
Why go? To visit the Alamo is to better understand the state's eccentric pride and individualistic spirit – in short, to know the Alamo is to know Texas. This fortress compound was where the infamous Battle of the Alamo occurred in 1836, and today, it's Texas's most-visited landmark and its most revered historical site. Basically, anyone who's interested in American history and the history of the Republic of Texas should make time to "remember the Alamo".
Planning a trip to the beach?
Though Texas may not be as known for its beaches as it is for, say, its cowboy culture and savory BBQ, the Lone Star State is home to more than 600 miles of coastline, pristine beaches, charming seaside towns and emerald-green waters. Whether you're itching for a secluded island getaway, a bustling beach town with things to do galore or just a quiet stretch of sand, chances are you can find it along the Gulf Coast of Texas.
Best selling Time Out Offers