Birmingham has, at long last, awoken from its slumber. Often dismissed and long ridiculed, the UK's second city – and proud 2022 Commonwealth Games host city – has splashed its squares in colour, wrapped its buildings in branding and left its people quietly optimistic.
Truth is, there are umpteen reasons for Brum to be proud. Its diverse cultural offering will be seen by an estimated one billion viewers at its opening ceremony tonight, with local legends Duran Duran and Black Sabbath guitarist Tony Iommi among the performers, while its official song harks back to Birmingham's rich heritage: 'It's a Brum Ting' by Friendly Fire Band is a catchy reggae love letter to the city.
'Birmingham is a brilliant city, with a young, diverse and talented population, a world-class food scene, a thriving cultural sector, and of course an array of brilliant sporting teams and venues,' said Ian Ward, the leader of Birmingham city council.
'For too long Birmingham has been shy about itself,' he continued. 'Thanks to the investment over recent decades, and of course the £1 billion that has come into the city through the Games, Birmingham is now looking like a global city. Our "Be Bold Be Birmingham" branding ensures the city is dressed to host the Games, with colourful additions across the city.'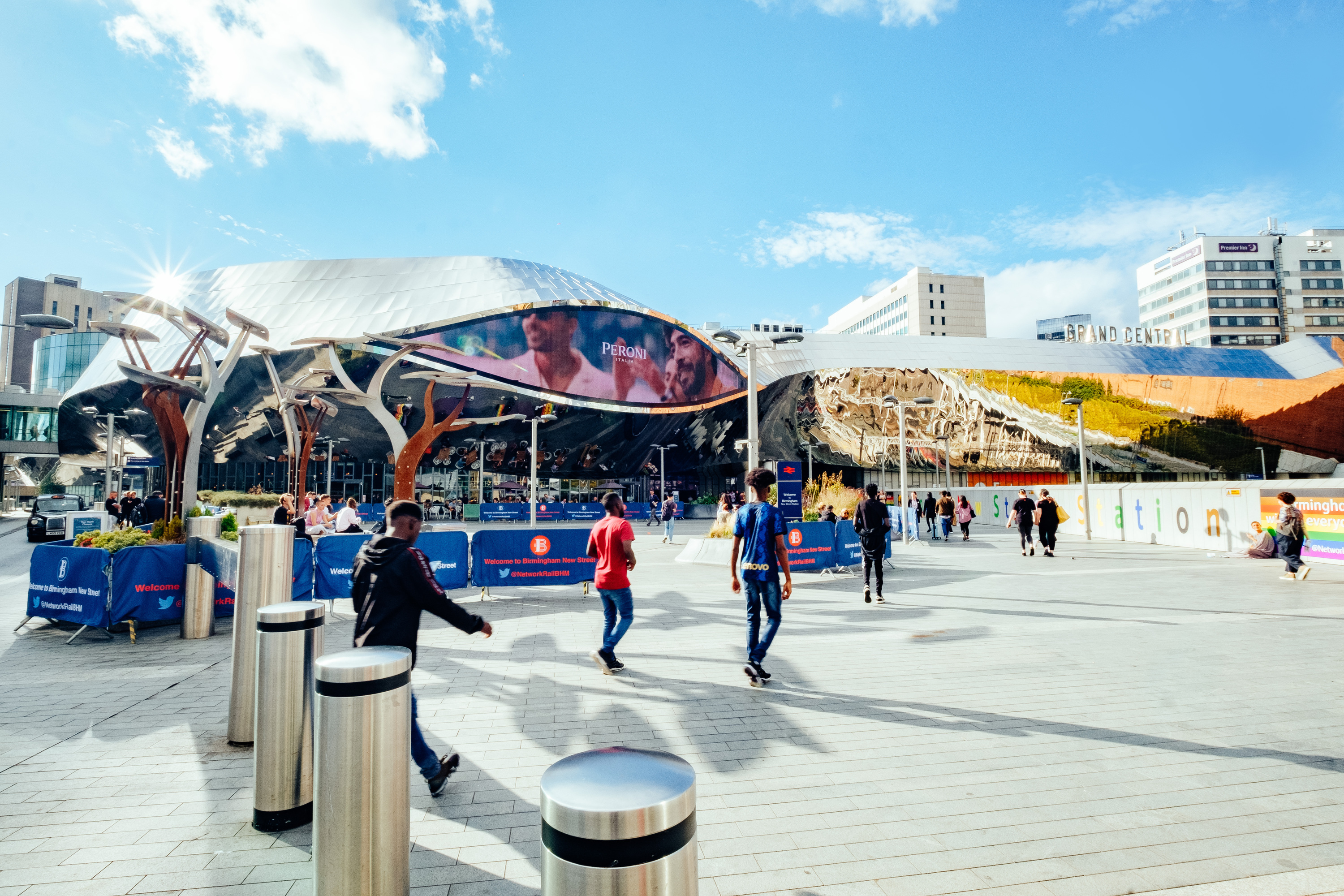 Birmingham has indeed undergone somewhat of a vibrant transformation. Stroll through the city centre and it's impossible to avoid larger-than-life building wraps featuring Perry – the 2022 Games mascot named after Perry Barr, home of the city's athletics stadium – or its rainbow-themed splash adorned over landmarks like Victoria Square and the Town Hall.
It's the legacy of the Games that everybody will talk about though, and while Smethwick will enjoy a brand-new swimming pool and leisure centre for years to come, and the future of the city-centre Smithfield site is currently up for consultation, Birmingham is banking on a legacy that benefits its citizens much further than that.
'I have always been clear that the Commonwealth Games are about far more than 11 days of sport. When the Games are over, and the flags have come down, we will be left with a superb legacy,' Ward said.
'We have improved rail facilities, including the newly renovated Perry Barr Station, improved bus connectivity, a plan to build 5,000 new homes in Perry Barr, and thousands of jobs created in our city,' he added.
When the Games are over, and the flags have come down, we will be left with a superb legacy
'We published our ambitious Birmingham Transport Plan last year which sets out our vision of a city where our residents can move around quickly, safely and affordably, in line with our vision to be a carbon-neutral city by 2030. We will work to eliminate road danger, connect people with new job and training opportunities, and reconnect communities by prioritising people over cars. The Games will help to demonstrate that we can build a city around public transport.'
Transport is hot on the agenda then, and rightly so in a city with more than 1.2 million residents. But is Birmingham prepared for an event which will welcome visitors from across the world – and with net zero and public transport as the focus?
'From an infrastructure perspective the city has done an impressive job pulling everything together given the short amount of time it had to do so, as well as the significant complication of a pandemic,' said city transport planner Jordan Quinlan.
'There have of course been some changes as a result,' he added. 'The athletes' village will never house athletes, with them instead calling university campuses home for the next fortnight. But the bus lanes, new cycle route and stations at Perry Barr and University will be operational, if a little utilitarian. The venues are ready and with the recent announcement that WM Cycle Hire bikes will be available for two 30-minute free trips a day during the Games, it seems that the city is prepared.'
Birmingham has indeed done well to prepare for the global stage with much less time than previous host cities. Awarded the Games in 2017, Brum has been blighted by two years of Covid and the rapid rise of material costs, and Quinlan thinks this is behind some of the mistakes made in the run-up to the Games – however necessary they may be.
'The location of the megastore [is] the most obvious,' Quinlan said. 'Centenary Square is a hugely successful public space with the reflecting pool and fountains popular with families and children in the summer, so the decision to plonk a big shed over 90 percent of it rather than derelict land behind it is completely mad. It must have been driven by cost.'
'It's also a shame that a number of road closures implemented last year to create spill-out space for bars and restaurants have not been repeated, despite their widely reported success,' he continued. 'Hurst Street will remain open to traffic despite it being the main walking route to Smithfield, and the Colmore Row/Waterloo Street loop, which hosted outdoor seating for a number of venues, has been re-tarmacked for traffic.'
Despite minor misjudgments, Birmingham is sure to reap the rewards of a hugely successful event. For this much-maligned region to host a sporting event of such prowess should be celebrated, and its legacy will only benefit its residents in future decades.
The quality of the homes is testament to what a council can do when it's adequately funded
'The only way to change habits is to encourage people to try new things, like public transport, and discover that they're more convenient, reliable, pleasant and cheaper than their present option,' Quinlan said.
'Perry Barr's new housing development is a high-quality, gently densified new community that prioritises public transport and active travel,' he continued. 'It has excellent transport links, a good variety of housing typologies from apartments to townhouses, and publicly accessible green space all delivered by a public-private partnership led by the council.'
'The quality of the homes there surpasses many of the private developments we're seeing in the city centre and it's a testament to just what the council can do when adequately funded.'
Birmingham 2022 takes place between July 28-August 8. To book tickets and find out more, visit the official website.