Walking in the countryside is one of my favourite things to do. There's nothing more invigorating than being surrounded by a sea of green; the crisp, fresh air filling up my lungs. But at the same time, I never feel completely free – and that's because I'm not.
Straying beyond the narrow confines of the footpath is likely to bring walkers like me face-to-face with 'keep out' or 'no trespassing' signs and barbed-wire fences. It means that anytime I struggle to follow the trail, I feel a prickle of school-girl fear that at any moment I could be told off.
This isn't paranoia. The public is excluded from legally accessing 92 percent of land in England, and 97 percent of its rivers. Wander into these restricted areas and, technically, you're committing the civil offence of trespassing.
But campaigners are fighting for this to change. Right to Roam believes the public should be able to wander freely in the countryside, no matter whether the land is privately or publicly owned.
And, inspired by generations of ramblers before them, they're leading joyful, non-confrontational mass trespasses into off-limits land to show the public what they're missing out on.
The public is excluded from 92 percent of land in England, and 97 percent of its rivers
'The idea of having to be on a footpath in order to exist outdoors is really quite absurd,' says Nadia Shaikh, a campaigner with the group. 'Trespass is this idea that the best kind of direct action is living as though you're already free.'
Last month, Shaikh helped lead a 'dark skies'-themed mass trespass in Northumberland. The location they chose is criss-crossed with public footpaths but the group did something they were forbidden from doing: stopped and set up camp for the night, gathering together to tell stories, play acoustic music and gaze up at the stars.
Despite an ominous forecast, they were treated to a sky so clear they were able to admire the milky way, Jupiter, Saturn and even light from the Andromeda galaxy through a telescope.
'I can't tell you how magical it was,' says Shaikh. 'There were lots of shooting stars… it was amazing.'
'It was just so spectacular,' agrees Harry Jenkinson, another Right to Roam campaigner. 'A lot of people were questioning, why are we forbidden from this?'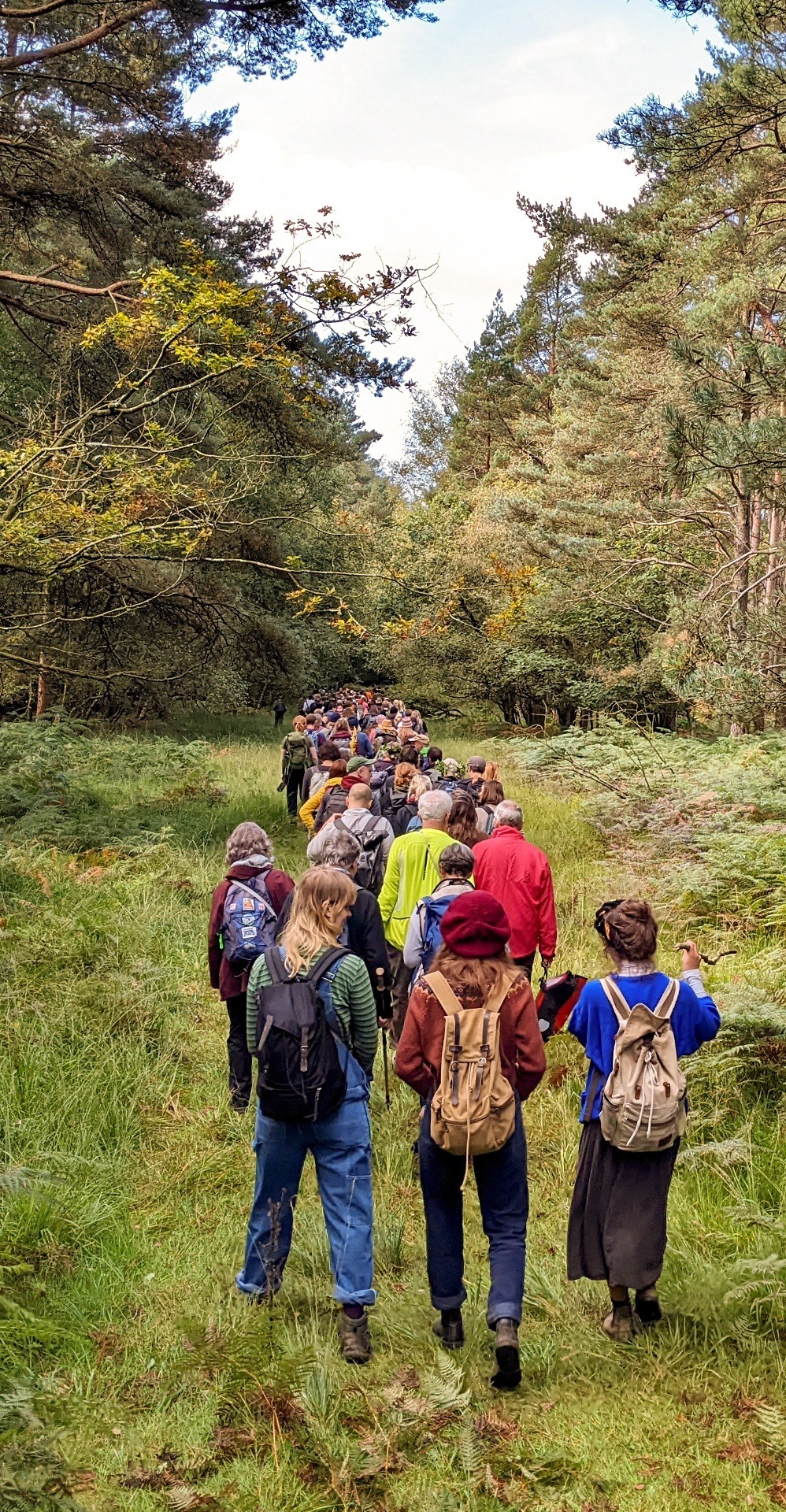 In fact, just 20 miles or so north of their camping spot, this isn't forbidden at all. Since 2003, people in Scotland have had the legal freedom to roam and wild camp almost anywhere they want, in what has already become a much-treasured right.
But in England, the idea of extending the right to roam is not popular with everyone.
In a blog post, Tim Bonner, chief executive of the Countryside Alliance – which campaigns for rural communities and fieldsports such as hunting and shooting – accused some right-to-roam promoters of 'politically motivated extremism'. He argues that 'managed access' is the best way to strike the balance between 'promoting and protecting the countryside'.
Meanwhile, the CLA – which represents rural land, property and business owners – told Time Out there were already more than 140,000 miles of public footpaths and 3.5 million acres of open-access land, amounting to 'one of the largest networks of public access of any comparable country'.
People should stick to these areas to protect 'environmental and natural habitat projects' and crops, a spokesperson said.
It's not the rambler who destroys nature – the vast majority of the destruction happens behind closed doors
But campaigners are adamant that excluding the public is not the best way to protect the environment. 'It's not the rambler who destroys nature, the vast majority of the destruction of nature happens literally behind closed doors,' says Jenkinson of Right to Roam.
Another recent trespass saw 300 people descend on Oldhouse Warren, an ancient woodland in Crawley which is mostly off-limits to the public, despite being just minutes away from a sprawling residential suburb.
'A few beats of the woodcock's wing over the motorway and you've got this huge and lovely expanse of tranquil forest that not only does no one ever go to, but most people in Crawley scarcely realise exists,' says Dave Bangs from Landscapes of Freedom, which organised the trespass. 'It's not on their mental horizon at all, because there's no public access.'
Trespassers were introduced to the rich flora of the forest, from groves of native yew trees and giant douglas firs to purple moor grass and scented mountain ferns. 'People were really taken aback,' says Bangs.
Campaigners want to see the forest opened up to the public as a natural resource, like Epping Forest is for Londoners. But instead, the area is in the sights of Center Parcs, which wants to build its sixth UK holiday village on the private woodland.
Bangs fears this would leave the forest an 'empty shell' (Center Parcs told Time Out it takes its responsibility to the environment and forests 'extremely seriously' and has more than 30 years' experience of 'sensitively managing' the woodlands in which its villages are located).
Discovering the forest is the first step to saving it, says Bangs, and – thanks to the trespass – 'over 300 people now know and have started to love something they knew nothing of before'.
Many more people could get to know green areas near them, if a so-called 'right to roam' bill tabled by green MP Caroline Lucas ­– which could get a second reading this week – progresses through Parliament.
The bill calls for amendments to the Countryside and Rights of Way Act 2000 which would give the public access to woodlands, the green belt, riverbanks and waterways, and the right to camp on access land.
While far more limited than the law in Scotland, it would see the amount of land in England the public can access rise from 8 percent to around 30 percent.
Opening up the green belt would improve access to nature for millions of people living in cities
Lucas argues that people must be 'intimately connected to nature' if we are to 'ensure its strength and survival'. 'It is our full immersion in nature which motivates people to care about it, and take action to look after it,' she tells Time Out.
There are obvious health benefits too: being in nature is so beneficial to our wellbeing that it is even prescribed on the NHS. Meanwhile, opening up the green belt would improve access to nature for millions of people living in cities.
Jenkinson says the bill would be a 'great first step' in transforming the country's relationship with nature.
It also marks an impressive achievement for a campaign that has only been running for around two years. For a 'rabble of ramblers' to see their demands echoed in the House of Commons is a 'really empowering feeling', says the campaigner.
'There's a big appetite for the right to roam,' he adds. 'We're very optimistic about how this campaign will go.'