Your ultimate guide to Accra
Accra restaurants and bars, films and theatre, art, gigs, clubs, shops and more...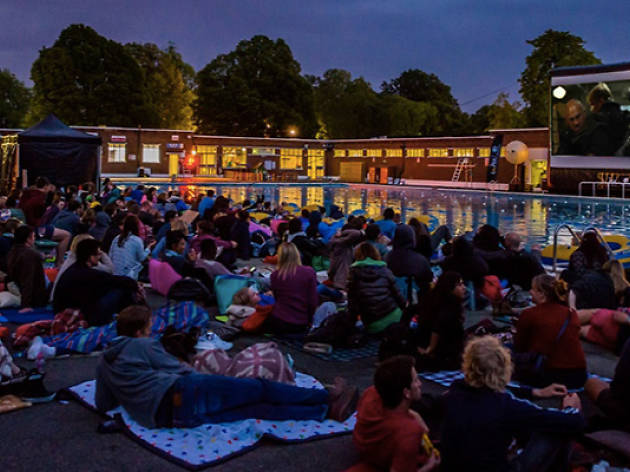 Opening soon: Ghana's first open-air cinema
Accra's first outdoor movie experience is debuting at Crystal Park in East Legon on January 21st, 2017. With claims of the biggest movie screen in Ghana, state of the art screens, digital projectors and bespoke sound equipment, 57 Open Air Cinema are offering a quality cinematic experience. More is to come in the future according to organisers. Besides the park screening, a combination of roof-top events, drive-ins, 3D films and football matches are all in the pipeline. Movie lovers can look forward to classic Hollywood favourites, kids movies, and recent releases. The first two movies to be screened are the Tom Hanks' film about the captain who bravely landed his plane in the Hudson without any injuries as well as X-Men: Apocalypse. The launch starts at 4pm with music, dancing and food stalls as part of 'a massive pre-movie party'. The first movie is at 7pm and the second starts 9.30pm. Although no outside food or drinks are allowed, there will be a variety of food and drinks for you to indulge in, including pizza, burger, sandwich, noodles and salads. There is a wide range of drink options too. A limited number of garden chairs and customised air sofas for couples will be set up prior to the event.  Bringing your own seat is allowed too. Worried about mosquito bites once seated? According to organisers insect zappers 'everywhere' will sort that out. Only weather can come in the way for a great movie night under the sparkly sky. Should the rain poor down and wind hit h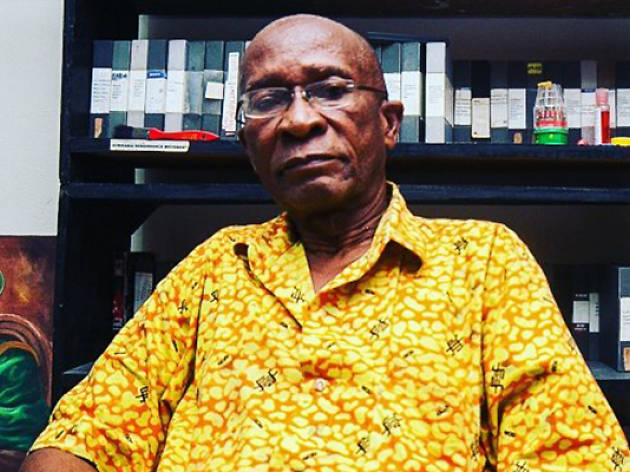 Classics in the Park with Nii Kwate Owoo
Africa Film Society's free outdoor film showcase 'Classics In The Park' will feature legendary Ghanaian Filmmaker, Nii Kwate Owoo for its 5th edition.   Slated for January 28th, 6pm at Akola Boni Park in Osu, Nyniba Estate, the award-winning director Nii Kwate Owoo will be available for a Q&A after the screening of his short film 'You Hide Me' (1971) and co-directed feature film 'Ama' (1991).   Nii Owoo is renowned for his rich narratives on African culture and spirituality. His short documentary 'You Hide Me' exposed the theft and concealment of African artefacts in the basement of the British Museum. The film garnered worldwide acclaim for its controversial subject matter and was subsequently banned in Ghana for fear of harming the relationship between Ghana and Britain.   Nii Owoo made his feature film debut with Ama: An African Voyage of Discovery, which he co-directed with Kwesi Owusu for Channel 4 television in 1991. Ama explored themes of African traditional storytelling in the context of contemporary Britain. It premiered in Ghana to a packed audience.   Africa Film Society seeks to preserve and promote Africa's rich cinematic legacy while cultivating new filmmakers and nurturing an audience for their work. Through our 'Classics In The Park' initiative, we are bringing free outdoor cinema to communities focusing on early African films (1950s - 1990s).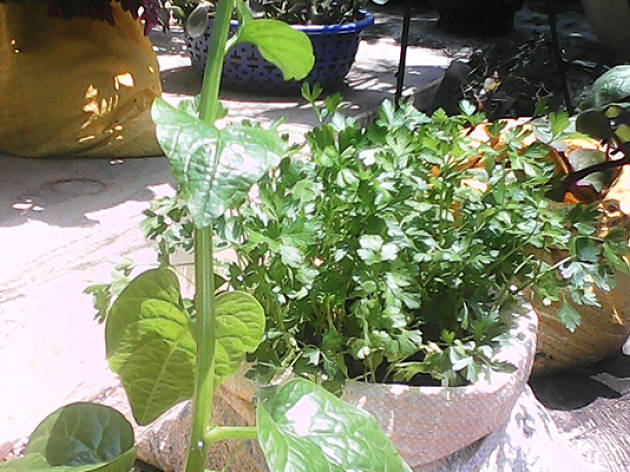 Grow your own groceries in Accra
It doesn't take much time living in Accra to learn that you need to be diligent about washing your fresh veg. or fruit if you'd like to avoid a grim case of gastro. But, watching my salad ingredients bobbing about in their salt and vinegar rinse one day, I pondered, "Why is this the case? What makes veggies so dirty here in Accra compared to elsewhere?"  Then, I read an article in a local newspaper recounting the results of a scientific study that had tested vegetable samples from a number of major vegetable markets in Ghana (the markets that typically supply your local roadside veggie stand). Nearly 80% of the samples were "fecally contaminated and carried fecal coliform populations." Yuck! To add to that, another study had found that, "vegetables consumed in Accra had more than a dozen chemicals, all above tolerable percentages, and these have serious health consequences for consumers." With that information and the rising prices of imported veg combined, I didn't need much more convincing… it was time to start growing our own!  But, where to start? Well, as Angeli Olorunsogo of Fat & Flourishing Botanic Organic Farmacy explains, "No space is too small. You can plant in the ground or in containers, in your yard or on your balcony, horizontally or vertically… the options are endless!" Driven by her passion for healthy living, author and raw food and vegan lifestyle advocate, Angeli teaches beginner and experienced gardeners alike how to grow their own organic (clean, toxic-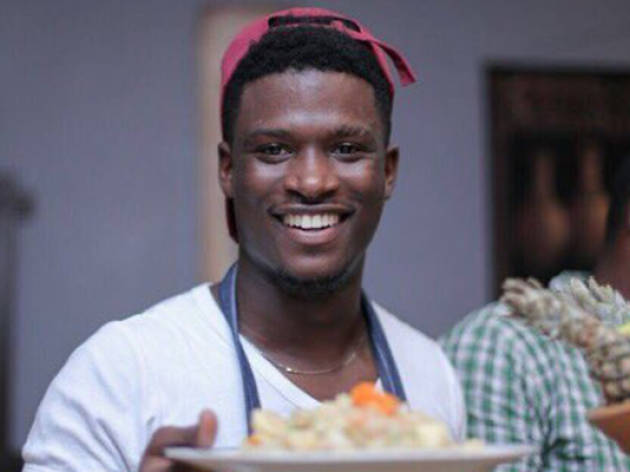 Accra's nomadic chefs
Welcome to Bishop's kitchen. Few things can compare to the feeling that takes over your body when food made with every ounce of tender love and care touches your palate. You are transfixed by the aroma and faced with the indecisiveness of the pace at which to devour this meal because you want to savour it for as long as you can.  If you share this appreciation for good food, you should be on the lookout for 'biishville'; pop-up dining sessions hosted twice a month by up and coming Ghanaian chef, Kwame Annom Amfo-Akonnor, popularly known as 'Bishop'.  After a couple of stints with acting and modelling, which Bishop describes as hobbies, the 'kitchen slayer' has found his way back to his first true love; cooking. Though some mothers in Ghana would have found the amount of time he spent in the kitchen odd, Bishop's mother was and remains to this day his biggest motivator and number one fan. He was twelve when he first discovered his love for cooking. After attempting and not quite pulling off a shepherd's pie, he has worked his way up the culinary food chain creating some really impressive delights.  Unfazed by Accra's pricey property market, which deflated his plans of getting his own place, Bishop is winning hearts all over the capital with his pop-up dining sessions.  A combination of local and continental home-made dishes, expect a menu that caters to a food lover's every need. The interactive three-hour sessions feature simple and healthy three-course meals born from Bi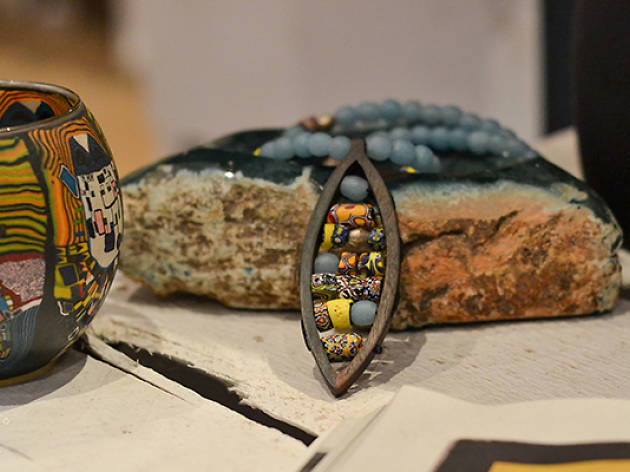 Boutique Bliss
Whether you're looking for a trendy but tasteful clothing ensemble, a beautiful bold bag to add to your clutch collection, or a gift for a fashion forward friend,  these six stylish stores are sure to provide you with an exciting array of women's clothing and accessories from Ghana's hottest contemporary fashion labels.   Charlotte Prive With their second store having recently opened in Labone, Charlotte Prive is not the closely-guarded secret it used to be. However, that doesn't mean you won't find the perfect piece for you. Far from it, in fact, as this luxury high fashion ready-to-wear label also offers custom-made clothing. Elegant flowing fabrics, sophisticated detail, and European cuts are the typical traits of this solely Ghanaian-owned fashion house. Visit the flagship Charlotte store in East Legon or its bright new twin in Labone. For more info see: https://web.facebook.com/charlotteghana/    Christie Brown Anyone with a finger on the pulse of Ghana's 'fash pack' will be familiar with long-time favourite Christie Brown. Having been featured on international runways and stocked both locally and abroad, a visit to the brand's attractive Osu store is a no-brainer in any search for African-inspired corporate chic, graceful evening wear, and one-of-a-kind accessories. To view the latest Christie Brown collection, and for contact information, see: http://www.christiebrownonline.com/    Elle Lokko Also in Osu, Elle Lokko is the epitome of urban cool. An exciting hy
Latest Accra restaurant reviews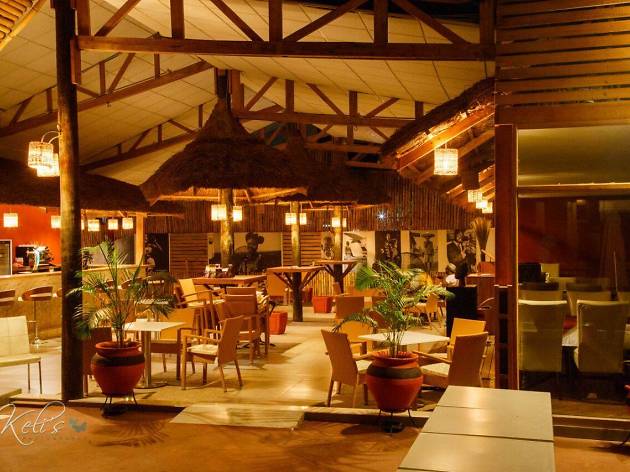 Gold Coast Restaurant & Cocktail Bar
Welcome to The Gold Coast Restaurant & Cocktail Bar. Decorated with lots of nostalgic pictures and pieces on the walls that take you back in time. Freshly cooked seafood, grilled dishes and pizza are on offer and an integrated cocktail bar area that provides friendly, attentive service.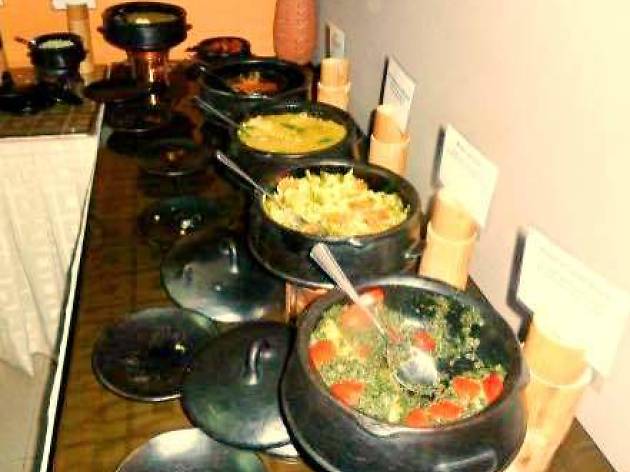 Simret: Taste of Ethiopia
Simret: Taste of Ethiopia is located in the quiet Roman Ridge area of Accra It is set out as a buffet allowing you to try home-cooked Ethiopian dishes such as Dor Wot, chicken with a stew made with home made spices, sega wot, cubed beef slow cooked with hot pepper and spices and njerja, originally named for 'teff', an Amharic word for grain.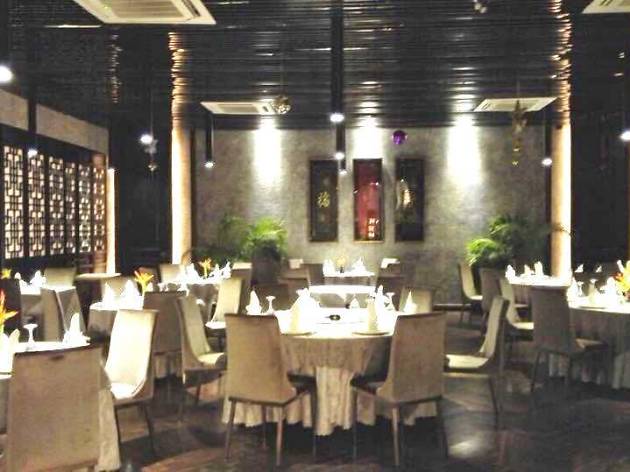 Imperial Peking
This well-known Chinese restaurant has opened up another branch near Koala in Airport. Pristine and clean-cut, the interior decoration is atmospheric and rivals not only the taste of the usually delicious food, but competes with the remarkable presentation as well. Ideal for business lunches or small parties, private rooms can be booked.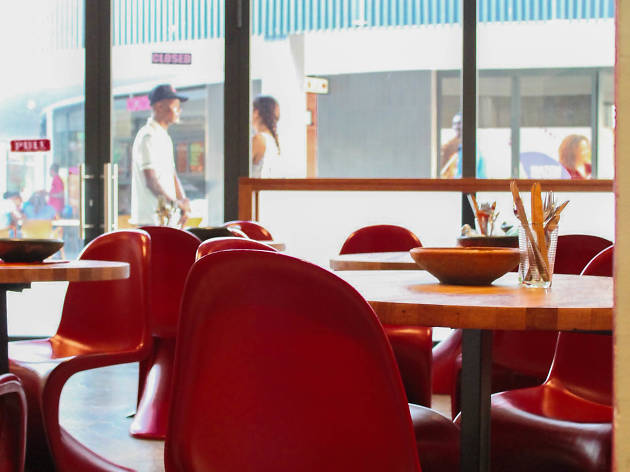 The Chop Bar
Enjoy authentic Ghanaian cuisine in a modern atmosphere at The Chop Bar. With all the mouthwatering Ghanaina dishes on the menu, you won't be disappointed. Reasonably priced and with great service, the Chop Bar is a great lunch spot.  Be sure to visit. Its Chop Time! You're Invited!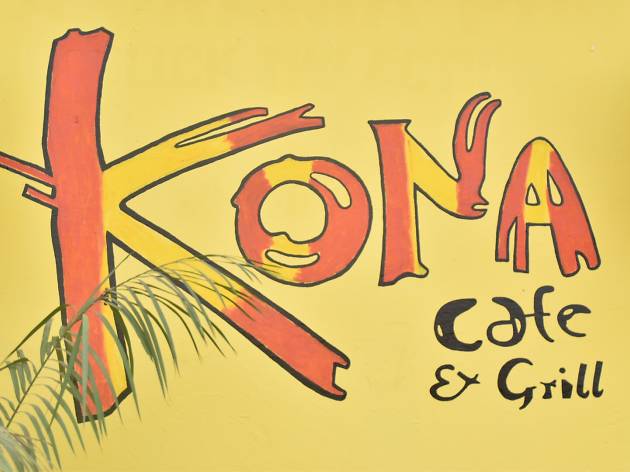 Kona Cafe & Grill
Welcome to Kona Cafe & Grill, offering excellent quality, freshly cooked local food and grills. Kona Cafe & Grill describes itself as a main stream casual restaurant with an integrated cocktail bar area that provides friendly, attentive service in a relaxed environment by staff and owners that truly enjoy their job. You can also find their ''Ab3asi'' bar serving the palm wine, pito, asaana and other local drinks.
See more great restaurants in Accra