Things to do in Chicago today
The day's best things to do in Chicago—including free and cheap activities, concerts, screenings, shows, parties and more. It's your social emergency savior.
From June through September, some 150 parks get a big screen for a night or two. Countless films are scheduled this year, ranging from old classics to new hits. All movies begin at dusk. See chicagoparkdistrict.com for the full schedule.  
All ages and skill levels are welcome at this annual series of jives, twirls and jumps. The dancing breaks out Thursday through Saturday nights and Sunday afternoons. A professional instructor conducts dance lessons for the first hour before you cut a rug on the 4,900 square-foot recycled-materials dance floor.
This 5-day event will feature Chicago-related films including The Dark Knight and The Blue Brothers displayed on a 350-square-foot LED screen for free in Pioneer Court. There will also be an onsite bar and sponsors will be giving away prizes so arrive early to score yourself a chair. Seating will begin at 6:30pm and movies will start at dusk.
Pioneer Court 401 N Michigan Ave, between Tribune Tower and the Chicago River
Thu Jul 31 - Fri Aug 1
More info
See more free things to do today
---
Love lobster? Get it on the cheap at Shaw's annual Lobster Fest, which features a three-course family-style lobster dinner for $38 per person, with a lobster, potaties, corn on the cob, coleslaw and key lime pie.
Celebrate under the sun at one of the largest Latino fests in the Midwest. The Pilsen event celebrates the morning star as a symbol for the Mexican-American people with rides, music, art and hearty Mexican meals. The fiesta also features a 5K race, the House of Sol DJ showcase and the Señorita Fiesta del Sol Pageant.
Started in the mid-19th century to celebrate the agriculture of Lake County, this Indiana fair continues today with carnival rides, truck pulls, demo derbies and live music. Plant passions still run deep: Check out the Crop Creations contests and Miller Petting Zoo.     
See more food and drink events happening today
---
---
Rated as: 3/5
Price band: 1/4
Critics choice
Price band: 1/4
Critics choice
See more of today's best arts and culture
---
Tonight's best comedy show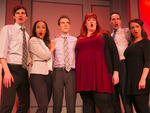 Rated as: 4/5
Price band: 2/4
Critics choice
Second City Mainstage. Directed by Mick Napier. With Chelsea Devantez, John Hartman, Mike Kosinski, Tawny Newsome, Emily Walker, Steve Waltien. 1hr 50mins; one intermission. Comedy review by Kris Vire The Second City's 102nd mainstage revue is among the jauntiest in recent memory, even as it mines the most pervasive of our modern social anxieties. The show's opening number establishes a recurring theme about the voices in our heads that overanalyze our every interaction, telling us we shouldn't have told that stupid joke or we should have handled an awkward situation with more grace.Much of the material centers on communication and identity in technology-obsessed times. Chelsea Devantez gets a cute solo song, "I Cry," detailing the ways her tears are motivated by text messages, Facebook likes, Netflix queue suggestions and BuzzFeed quizzes. The cast's three men, Steve Waltien, Mike Kosinski and John Hartman, perform a clever send-up of body-image positivity that focuses on the trio's physical uniformity (skinny, pale, brown-haired). Waltien plays half of a couple who accuses his girlfriend, played by Tawny Newsome, of "performing our relationship" by incessantly documenting and sharing their intimate moments.  A gawky teenager, embodied with delicious specificity by the fantastic John Hartman—one of four Mainstage newcomers, along with Devantez, Kosinski and Emily Walker—gives terrible seduction advice on YouTube.It's not all tech-focused; Kosinski and Hartman play two guys
See more of tonight's best comedy
---
---
You might also like
---